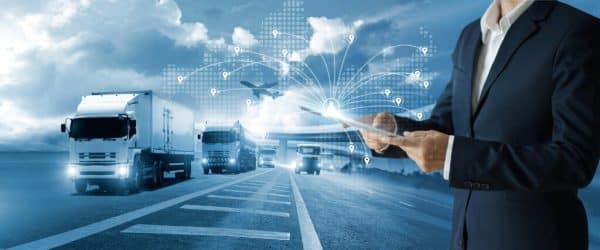 Over the last few years, there has been a massive shift in purchasing patterns and retail consumption. From small families to large corporations, consumers are increasingly opting for online transactions over traditional brick-and-mortar destination shopping.
Due to this shift, many fleets have had to increase productivity to avoid service disruptions. Manual fleet monitoring has become something of an archaic process, and companies that lack the foresight to automate may find themselves falling behind.
In this post, we'll discuss the benefits of digital fleet management, and how it can help your fleet improve operational efficiency, whether you're behind a desk or behind the wheel.
What is Fleet Management?
When we talk about "fleets", we're specifically discussing vehicles used for the purposes of work, including commercial delivery vehicles, construction machinery, and even non-powered assets such as shipping containers.
Fleet management incorporates the budgeting, safety, acquisition and maintenance of a group of vehicles. Fleet management helps the operator oversee all the activities of its vehicles to ensure that drivers are safe and following compliance regulations, while completing work on time.
A fleet management system can help managers increase visibility into their operations while automating and streamlining work processes to ensure safety, compliance and efficiency.
1. Vehicle Maintenance
Maintenance is the cornerstone of any effective fleet. Not only is it essential to keeping vehicles in good working order, but proper maintenance can prevent accidents and improve operational efficiency.
Fleet management systems, such as ZenduMaintenance, can keep your vehicles' maintenance schedules on record, provide custom reporting, maintenance cost accounting and much more.
Fleet management allows you to run your vehicle maintenance operation more effectively while staying ahead of potential mechanical issues so your vehicles stay on the road where they belong.
2. Lower Fuel Waste
Fuel costs are always top of mind for fleet managers, especially considering the exponential rise in price over the past few years. Averages have been bouncing around the four to five dollar mark for months, with June seeing a record high of $5.01 per gallon.
A fleet management system can track a vehicle's fuel economy, and identify areas of improvement, such as a reduction in idling, rapid acceleration or excessive cargo weight. 
Improving driving habits, optimizing routes and managing payload can all lead to significant reduction in fuel consumption.
3. Increased Safety
Even a single accident can lead to costly repairs, vehicle downtime, and potential liability. According to the FMCSA, there were over 5,000 fatal crashes involving large trucks in the United States in 2019 alone – 13.65 fatal large truck crashes per million people and an average of 1.12 fatalities per incident.
Fleet management can help reduce these numbers by increasing situational awareness for both fleet managers and drivers. 
For example, tracking provides real-time vehicle location, while diagnostics can monitor things like speed, acceleration, and braking. This data can be used to identify risky driving behaviour and take corrective action before an accident occurs.
Some fleet management solutions offer features such as driver coaching and scorecards, which give drivers feedback on their performance and help them identify areas for improvement. 
These tools can make a big difference in reducing the human and financial implications of accidents.
4. Improved Customer Service
Fleet management can help companies deliver better customer service by providing them with the data they need to make informed decisions.
For instance, fleet management software can identify where a delivery is and an estimated time of arrival. In addition, many many fleet management solutions offer features such as geofencing and route optimization, which can be used to plan more efficient routes and avoid delays. 
All of these benefits lead to shorter wait times for customers and improved customer satisfaction.
5. Fewer Errors
From stock management and driver scheduling to route planning, the fleet management process can be complicated. Managers are tasked with making numerous decisions on a daily basis, and even the slightest mistake can have major consequences. A fleet management system can help reduce errors by automating many of these tasks. 
For instance, electronic logging devices (ELDs) can be used to automatically track a driver's hours of service (HOS). This data can then be used to generate accurate reports and schedules, which helps ensure that drivers are not overworked and that they have the required number of breaks.
Some systems even allow managers to set up alerts that notify them when a driver is nearing their HOS limit. This gives managers the opportunity to take corrective action before an accident or violation occurs.
Fleet management offers a wide range of benefits for businesses, and it's easy to see why they're becoming so popular. If you're not already considering automating some of your work processes, now is the time to get on board. Can you really afford not to?