In Part I, we discussed how operational congestion is very costly and a major source of problems for businesses. If it is not addressed, it will starkly impact operation managers from a financial and productivity standpoint, and result in customer dissatisfaction.
In Part II, we will discuss how highly localized environments like airports must use a solutions-based management strategy to prevent congestion and work pauses/stoppages.
Why Data Collection Will Allow For A Better Understanding Of Operations
In order to solve the issue of congestion in any localized environment, it is critical for factors into what is causing the congestion to be broken down. After highlighting these factors, a complete review of the assets within the localized area must happen to better understand the need and intensity of the demand. A specific spotlight must be put on the time and dates of movement and the severity of the resulting congestion. When this is completed, only then can insight to what triggers congestion can be understood and addressed with a solution.
Airport Resource Management – Data Collection and Airport Congestion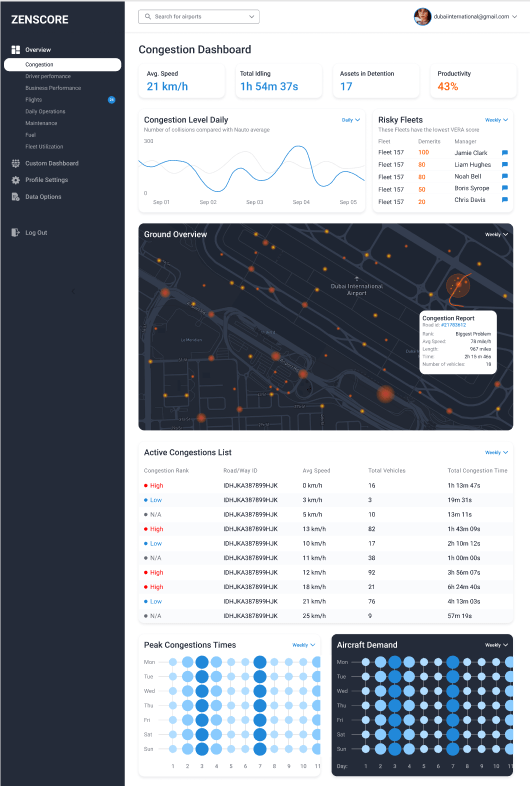 When dealing with airport resource management and congestion, this framework can be easily applied. The factors that cause the congestion can be analyzed – focusing on when runway traffic happens, what assets are involved, what the travelling speed of the assets are and what the posted speed of the roads are, as well as the intensity of the congestion. 
Generally, it is found that when more flights are landing or departing, more assets are required to service the aircrafts. This results in a buildup of congestion and only recedes once servicing assets are in detention.
Once this information is known and is cross analyzed with the speed of the roads, mapping can be completed to show the correlation of the average speed – what time slow downs are happening – and understand where major congestion points are.
What can operation managers do with this information? The answer is to source and implement a proper congestion management strategy. 
Implementing A Congestion Management Strategy
When information regarding what assets are causing congestion or when slowdowns happen, a congestion management strategy can then be implemented. By leveraging a heat map, businesses can effectively display asset types, the average speed traveled, the time of day travel, and the calendar date traveled. This new stream of information can guide a new and more effective strategy. 
A best practice to minimize the impact of congestion during high-demand traffic is to strategically divert traffic through travel routes. This will result in less congestion as there are fewer assets who require the road. Oftentimes, this means using detour routes so they will not be required to travel through the same routes. This may require certain assets to be directed to take specific detour routes – either permanently or during traffic spikes. Although it may seem counter-intuitive for assets to be taking the "longer route," these detour routes drastically reduce congestion and ensure that assets continue moving. 
To ensure success, policies and procedures must be enforced by the airport resource management strategy so employee behaviour changes during this strategic shift. Leveraging learning systems, like ZenduLearn, can help with this change, as staff are assigned new training modules that explain the new driving routes and the new congestion-reducing regulations. 
In fact, the GPS tracking solutions can be paired with the learning system to see whether drivers are following the new regulations and alert operations managers when a route infraction occurs. 
Reducing Congestion In Any Industry
Congestion happens in many industries. Whether it is distribution warehouses, construction sites or airports, not being able to locate or track the movement of assets can affect the bottom line of a business. 
Contact us today to learn more about how your business can benefit from a unique congestion management strategy and the solutions we recommend to help you see results.