As the world changes, businesses must react quickly in order to remain profitable. While this may be assumed, many still question how this should be done, especially within the commercial transportation sector. Below we discuss how in times of crisis, business owners must take extra precautions when managing a fleet during a crisis as regulations, demands and technologies are all changing. 
What To Do When Managing A Fleet During A Crisis
1. Follow The News As Regulations May Change
During times of crisis or uncertainty, it is not uncommon for officials to adjust regulations and rules that businesses follow. Typically this is to help organizations stay afloat if they are struggling or sometimes this is done to help better support the public. When speaking about current events, this tip of following the news for changing regulations and route information is extremely relevant for fleet managers who want to properly manage their team. 
During the recent and ongoing COVID-19 crisis, new regulations relating to HOS limits were announced as a way to help provide communities with more supplies. Specifically allowing drivers to operate commercial transportation vehicles even if they are over the previous hours of service limits. If fleet managers were unaware of this change, they would be unable to either cater to changing demands from customers regarding frequency of delivery (as depleted supplies will force businesses to place more strenuous orders), or provide adequate time off for drivers between routes. Both are troublesome for the well being of fleets.  
2. Follow Up-To-Date Information About Routes
On the topic of news about routes, information regarding a new 511 website and on-route screening was made available. The new 511 website was made available by officials so drivers could have better information about rest-stops, while information regarding possible on-route screen protocols were made available so drivers could anticipate possible delays. Both being critical for drivers to know about as it can affect their deliveries.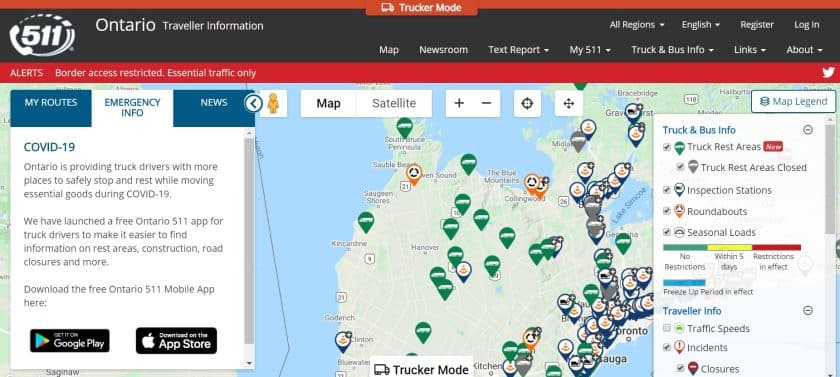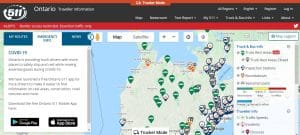 When discussing the 511 website, it's important for managers to update their drivers about this information as having access to this website can allow drivers to better understand where they can stop during routes and what is available at each stop. Without this knowledge, drivers can be left confused about where they are expected to rest with new COVID-related closures, or which stop will fit their needs. This is critical knowledge to share to drivers from managers because when a stop does not have adequate parking or resources, drivers will need to drive a detour route to find somewhere to rest. 
When discussing news related to on-route screening protocol, it's important that drivers understand how their routes may be impacted. Specifically, whether there could be additional waits related to health screening. This additional screening would be for the purpose of ensuring that drivers are healthy enough to complete deliveries by officials and even receivers. In addition to notifying drivers of possible screening protocols, fleet managers can help to alleviate possible wait times by implementing symptom monitoring apps like the GoFleet Health Check App. This screening app works by having drivers input not only their temperature, but whether they are showing any possible symptoms of illness. Ensuring that there is proper documentation of the health of a driver.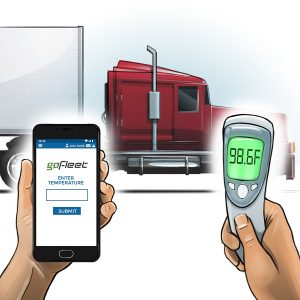 While managing a fleet during a crisis like the coronavirus pandemic, managers must be aware of possible impacts to drivers. Not only does this include changing regulations, but changing news and updates about route information. 
3. Review Current Technology And Tools
Being aware of your industry as a whole is only part of the process while fine-tuning your management tactics during a crisis. Fleet managers must also review their current operations and the technology they are leveraging. Doing so is crucial to ensuring that their team is working seamlessly and efficiently with no (sometimes hidden) losses. In order to do this, managers are suggested to perform a complete audit of their organization – the audit would be on everything from the software or solutions that are used to the protocols that employees follow. Such audits would focus on reviewing employee tasks in relation to the effectiveness of the tools used. Doing this will help ensure that your business is running like a well oiled machine with minimal hidden issues. While conducting an audit, watch for the following;
Keep an eye out for whether a tool or solution only has one limiting purpose or function,

Whether tools or solutions are unable to sync or integrate with other systems, 

Or, if current solutions are pulling incomplete data. 
For example, a dispatching system that only allows for the dispatching of drivers may be limiting if you also find yourself using supplementary tools to optimize routes, communicate with drivers or even send forms. As there are new solutions available like ZenduWork, all of these features can in fact be combined into one solution for one price. While managing a fleet during a crisis, having everything available in one location can make tasks and reporting so much easier and even reduce the chance of human error. 


While this review is performed, it's not uncommon for fleet managers to find that they are in fact overloading their organization with unwarranted solutions. Sometimes when looking at the effectiveness of a tool and the utilization of it, managers may find that they are overspending on multiple solutions when single tools can complete the tasks of many. Remember, cutting down on unnecessary solutions and moving forward with all-in-one solutions can help your bottom line not only when speaking about how much the business is spending, but how much the business is improving in regards to productivity and efficiency. 
4. Research What Tools Can Help While Managing A Fleet During A Crisis  
After you take a look at your current tools and solutions, it's important for managers to take a moment to see how else they can improve their fleet. Specifically by researching what additional resources can help them during this time and what their competition is using. Sometimes, during this audit process, fleets discover that they have new issues that they must address immediately if they want to remain successful during uncertain times. Some common issues that may come up are the following:
Poor driver performance as there is an increase in fines, complaints, fuel use or vehicle wear and tear

Discrepancies in paperwork, data and reports as documents are missing or incomplete 

Lack of streamlining as processes do not flow together 

Incomplete training resulting in improper processes 

Lack of communication 
Understanding exactly where any issues are can help fleets see where they need to direct attention if they want to move their team forward. For example, when speaking to driver performance, fleet managers may be made aware of an issue as drivers are continuously receiving penalties, fines or complaints in addition to requiring more maintenance and fuel fill ups. Finding these issues and bringing them to a solutions provider can help fleets find the right product to solve it. In this case, proper driver training through solutions like ZenduLearn would be useful to implement. As the solution would focus on using driving data and unique training modules to improve driving behaviours, events like speeding, harsh braking, acceleration and idling can be expected to happen less frequently. In fact once implemented, fleets can see drastic changes in skill, and even lowered costs associated with poor driving behaviour.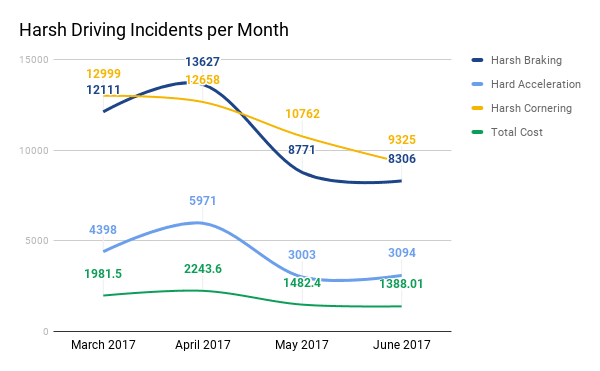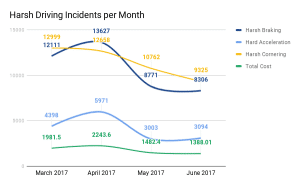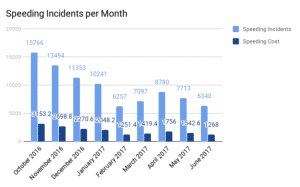 If you're interested to learn more about what solutions may help when managing a fleet during a crisis, contact us today. When it comes to addressing the issues mentioned above, we have solutions that focus on boosting efficiency, productivity and success!