ZenScore
A powerful analytics and driver engagement software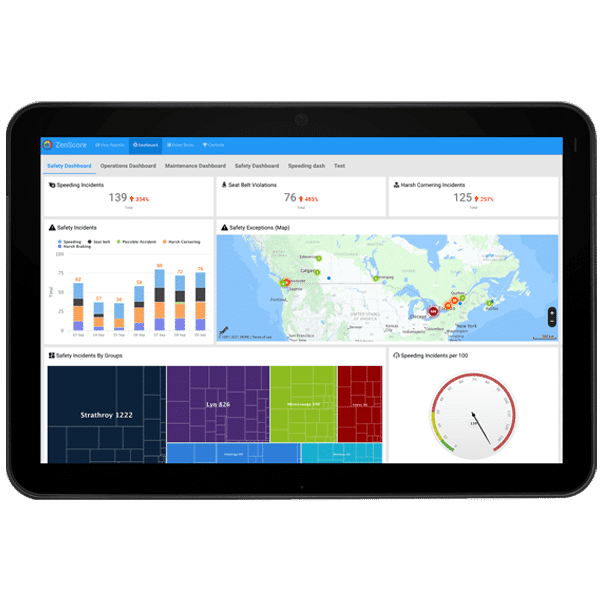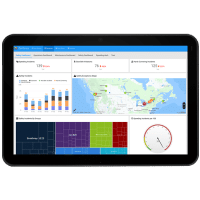 Drive Fleet Safety and Performance
Powerful customized dashboards for driver safety, productivity, utilization and job management. Set targets for KPIs and monitor progress over time. Make better decisions on driver training.

Full Fleet Visibility
The only dashboard that can provide full visibility into a fleet's KPI progress while displaying the Live Map for real-time tracking.

Extensive Safety Data
View important safety metrics that relate to compliance and identify risky driver behavior.

Make More Strategic Decisions
Identify drivers in most need of coaching so you can enhance coaching to help them improve safety and performance behind the wheel.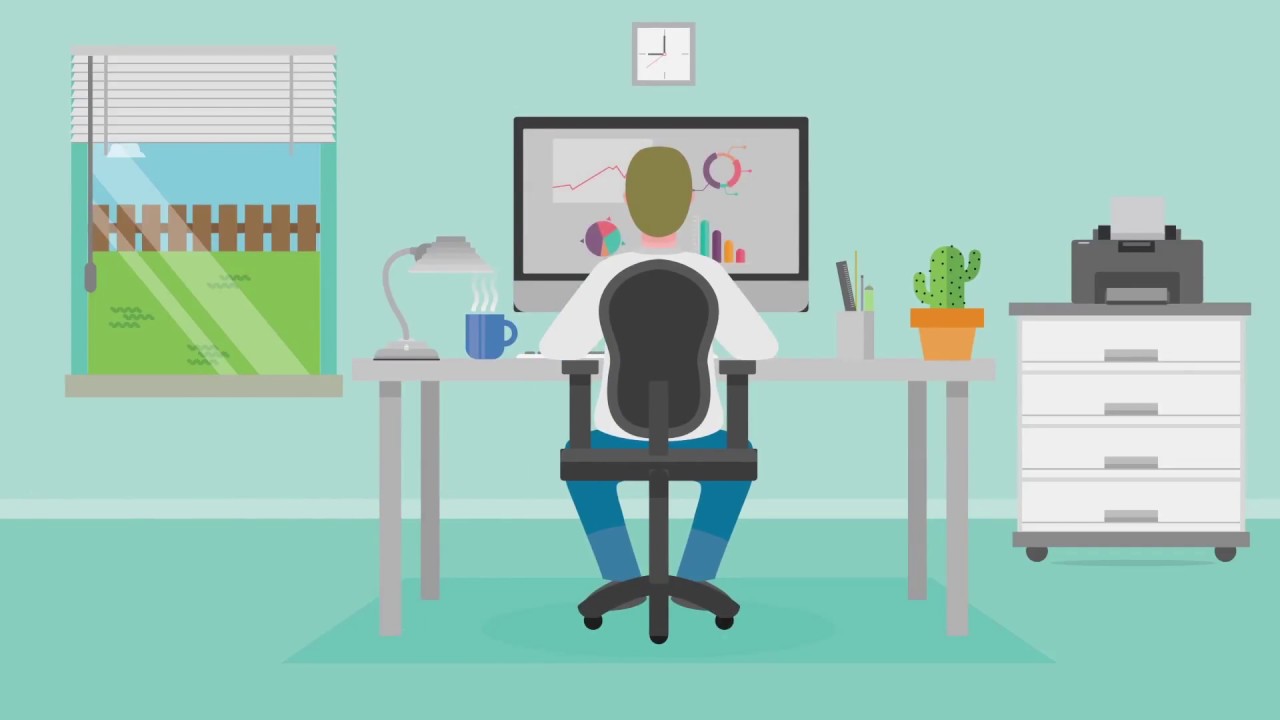 Complete Visualization
Monitor KPIs that are specific to your fleet and track vehicles live at the same time. Designed to be displayed on both television and computer monitors, users are able to view graphic visualizations of key reports and driver rankings against KPIs that are selected.
Create a Custom Dashboard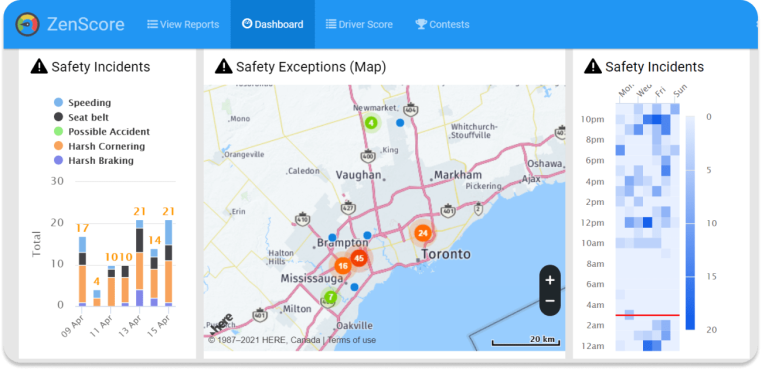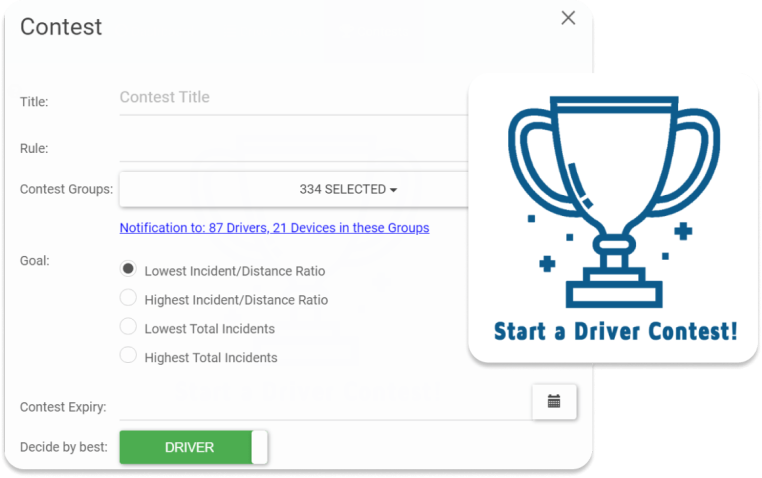 Gamify Safe Driving
Start contests that focus on motivating drivers to perform better. Review contest results to see how each driver is performing while on the road and who may need additional training.
Start a Driver Contest
Monitor KPI Progress
Select key performance indicators of your choosing and set targets that you would like to hit. Also have the ability to monitor your fleet's progress over various time periods.
Monitor KPI Progress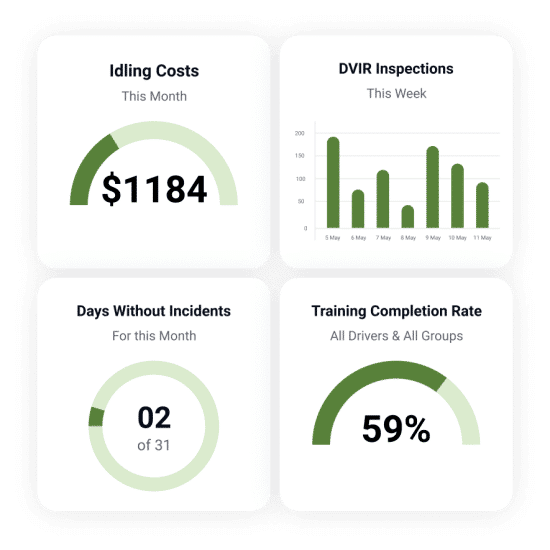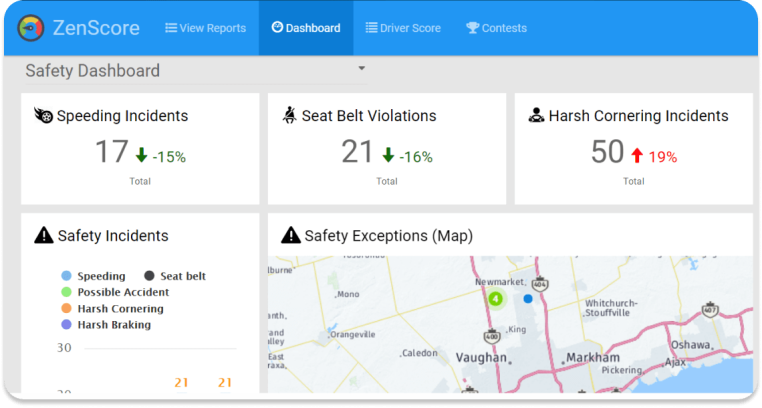 Customize Your Dashboard
Add predefined Geotab rules or custom rules specific to your operations to the dashboard easily with the user-friendly design.
Book a Demo
Email Report Function
Receive reports directly from the ZenScore dashboard to your email with the click of a button. Review your fleet's data regularly by scheduling the reports.
Learn More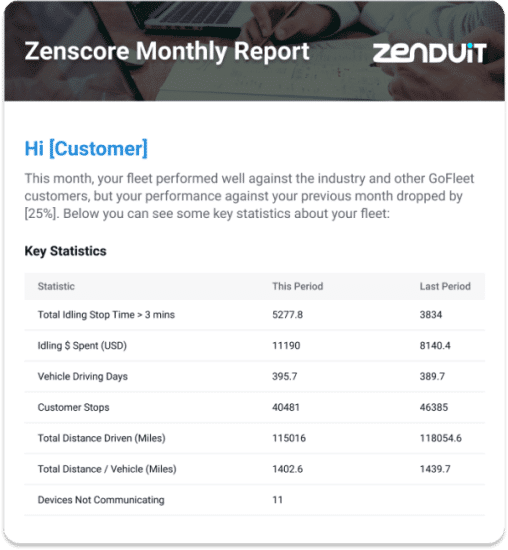 How it works?
Here's how you can run safety contests to encourage driver safety compliance.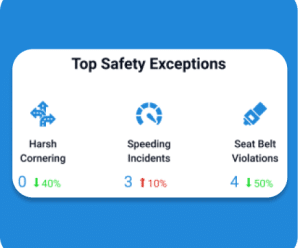 01
Review your fleet's safety performance through built-in or custom reports. Use it to see where your fleet can improve.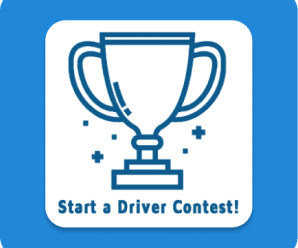 02
Start a Driver Contest where drivers can score points for good practices related to the metric you want to improve.
03
Analyze the results of the contest. Reward winners and assign training to those who need it.
More Features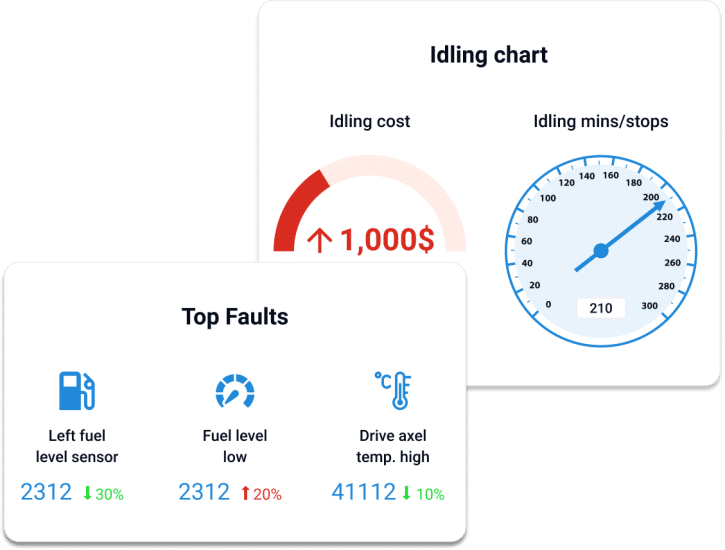 Generate KPIs From Extracted Geotab Data
Extract Geotab data and generates key performance indicators to see how your fleet is doing on dashboards.
Consolidated and Convenient Management
Consolidate key Geotab features all in a single view, eliminating the need to toggle between numerous modules to view important information.
Segment Data By Group
Filter data between different vehicle groups and departments to gain greater visibility into the entire fleet.
Documentation