When businesses require a fleet of vehicles to move their products from one location to another, it's critical that they are focusing on promoting safety while on the road. When they are not doing this, sometimes drivers can accidentally drive in dangerous ways. Putting everyone on the road around them at risk. With technology improving to boost safety and reduce fleet collisions, managers and business operators must use it to their advantage.
Where The Concern Comes From 
Any vehicle accident is concerning. However, when a commercial motor vehicle is involved, sometimes the outcome of the incident can be much worse. As the size of the vehicles and the cargo carried are factors into making the collision worse for all parties involved, it sheds light on why commercial trucking is considered to be in the top 10 most deadliest jobs. In fact, in 2017, FMCSA reported that there were approximately 450,000 police-reported crashes involving large trucks. 
With the most common fatal accidents being transportation incidents, managers and drivers themselves can't be forgoing certain precautions to reduce the risk of collisions and accidents. Below we list various ways fleet employees at every level can do their part to reduce fleet collisions. These tips must remain top of mind as by 2030, it is predicted that road crashes will be the fifth leading cause of death in the U.S. 
Commitment From Management 
Firstly, in order to reduce fleet collisions, there must be a specific level of commitment from management in regards to maintaining safety. This means that management must continually put the right enforcement in place. This can vary from strict policy to the adoption of new technological solutions, and everything in-between – all of which we touch upon later in this article.  
How Managers Can Reduce Fleet Collisions In Their Fleet
Enforcing Strict Policy
Strict policy enforcement by management is critical to lowering the risk of collisions in fleets. As fleet drivers represent a business, they must act responsibly and abide by company policy at all times. This includes when commercial vehicle drivers are behind the wheel of a company vehicle as they travel to a new work site or when they are delivering cargo. Such policies should look to reduce any risky behaviour like; distracted driving, driving under the influence (regardless of if the substance is legal), driving tired, or even driving over the set hours-of-service (HOS) in your country. 
While some of these policies could be hard to enforce and rely largely on trusting your drivers, it's important to know that there are technological solutions available to help you! When monitoring the behaviour of your drivers, there are innovative dash camera solutions available that use facial recognition to watch facial movements as well as the vehicle movement on the road. So when a driver appears to be distracted, under the influence (swaying over the line), or even tired, managers can be notified to make contact with the driver to ensure they are okay to drive. As well, many ELD and GPS tracking tools like the GO9 device are designed to track not only driver movement, but compliance to HOS. So drivers are well aware whether they are compliant.

Pre-Trip Inspection And Proper Maintenance 
In addition to enforcing strict policies, managers must also reiterate the importance of keeping company vehicles in tip-top condition. This includes not only educating drivers on how to perform proper pre-trip inspections of vehicles, but scheduling maintenance so all commercial motor vehicle parts are in good condition, are working properly, and are safe to use. Doing this can lower the risk of a collision (that is caused by malfunctioning or broken parts). Such inspections should look at visually checking the engine, checking fluid levels, the wheels, the brakes, and more. A more extensive list about what should be checked can be found here. 
If a vehicle is placed on the road when there is a pending problem that requires repairs, it places the driver and others around the vehicle at risk. One way to combat the issue of poor maintenance is to use a maintenance management software solution. Solutions like Zendu Maintenance monitors not only the activity of the vehicle but it places the data in algorithms to determine and schedule when preventative maintenance should happen.


Proper Incident Investigations And Training 
As briefly mentioned, to reduce fleet collisions, managers must not only offer the right training, but complete proper investigations into driving incidents when they are reported. This includes using all of the available data and reports to determine what the cause of the incident was and put efforts in place to reduce the likelihood of a similar incident happening again.
For example, if an incident occurred because your driver was distracted and speeding while on the road, you can review dashcam footage as well as engine data to confirm the speed they were travelling at, as well how they were distracted (whether they were looking at scenery or even a mobile device). After this is confirmed, the information can allow for a new training module to be created and assigned to the driver to complete. This ensures that they are aware of how their behaviour puts themselves and others around them at risk, while showing how they can act more safely. 
Encouraging Safe Driving Habits
Similar to the above tip of management conducting proper investigations into driving incidents and implementing new driver-focused training, management must also encourage overall safe driving habits! This means constantly having drivers review training material surrounding this topic, sending out internal communication with tips or even conducting one-on-one driver driving to highlight poor driving trends that are happening. 
Some safe driving habits that can reduce fleet collisions are: 
Following distance while driving

Maintaining visibility 

Anticipating turns 

Keeping attention forward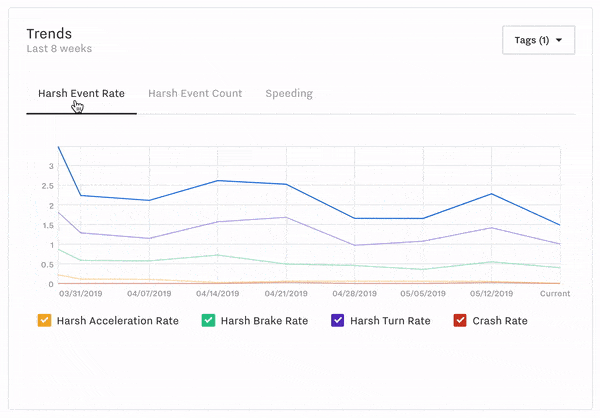 Tech Adoption Via Telematics
The last way management can reduce fleet collisions is to adopt and embrace new technologies. This not only speaks to hardware solutions that have been designed to boost safety (such as dash camera solutions or electronic logging devices) but telematics software solutions as well! While some newer commercial motor vehicles are being fitted with such innovative tools while at the factory through OEM (original equipment manufacturer) programs, it can still happen for fleets with older vehicles. There are now a number of simple-to-install plug-and-play style devices that can have software solutions integrated via satellite connectivity. Such hardware and software can automatically collect data about the trip route and driver behaviour so management can always know how their drivers are performing. So when an incident happens and management is alerted by the telematics solution, they can quickly and efficiently address it. Not to mention, there are innovative devices that can be installed within vehicles to monitor the road ahead, alerting the driver if the sensors detect a possible collision coming. 

Safety should always be a top priority in fleets regardless of their size or purpose. Whether the driver is transporting large amounts of cargo or the driver is a technician who is travelling to their next site visit, you can't risk them behaving dangerously on the road. With the above tips management should have the right insight to begin to reduce fleet collisions. However, if you're looking for a little more guidance in how you can increase safety in your fleet to reduce accidents and dangerous behaviour, contact us today! With our experience and knowledge of nearly every industry, we're confident that we can address all of your safety concerns with cutting edge technology.