There are so many cellular asset trackers in today's markets for fleet managers, that things can sometimes seem overwhelming. How do you know which hardware you need to buy or how you can get the best value out of it? We will be discussing the different hardware devices for various fleet management needs and the scenarios in which fleets can use each device.
Cellular Asset Trackers? Why Not Satellite Asset Trackers or BLE Beacons?  
When speaking about asset trackers, there are many options available. However, the way they differ from each other initially is based on how the device transmits information. 
Cellular asset trackers use cellular network coverage to transmit data and information about an asset. As coverage varies based on specific locations, assets using these trackers that enter no coverage zones will not be able to transmit data.

Satellite asset trackers use satellite connectivity to transmit data about an asset and can be the more reliable option if your asset is travelling out of cellular coverage.
BLE beacons have pre-requirements (like asset trackers or BLE readers) in order to transmit data and information about an asset or group of assets.


Below we discuss 6 cellular asset trackers that are available, and how their features differ.
6 Top Performing Cellular Asset Trackers 
Flex Solar Asset Tracker 
The Flex Solar Asset Tracker is an asset tracker that syncs with MyGeotab and works similar to a Geotab device as it allows the tracker to be visible on a map. The tracker is solar-powered and is utilized primarily for the general tracking of bulk cargo containers, vehicles and other large assets that may not have a direct power supply – thus requiring solar energy. The ability to power the device through environmental conditions is critical as certain large assets that are travelling far distances or are being stored outside for long periods of time (like shipping containers) are often standalone assets with no power connections. It should be noted that a full charge can allow the Flex tracker to last up to 4 months with multiple pings per day. It's also important to note that this tracker can be expandable for door sensing, temperature probing and tire pressure tracking.


Use-Case: How Long-Haul Transporters Are Using Flex Solar
The Flex Solar Asset Tracker is praised for its ability to remain powered with solar energy. Meaning, businesses no longer have to worry about removing trackers to replace batteries. Instead, they only rely on the sun to power the device so data about the asset tracker can be transmitted. This is particularly useful for commercial transportation fleets who conduct long-haul deliveries. As the device can continue to charge and transmit information via the sun, the asset tracker can always send real-time data. Typically, this solar power feature is praised by those who enjoy a 'set-it and forget-it' device, or for those who are looking to take advantage of renewable and free sources of energy.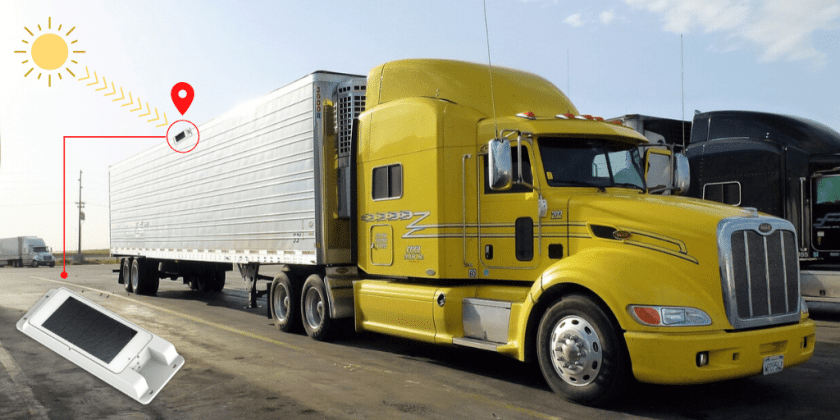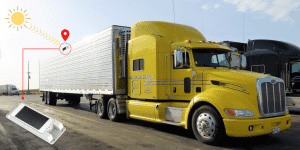 Blackberry Radar
The Blackberry Radar device focuses on asset tracking for cargo, more specifically, for vehicles and non-motorized assets like bulk containers, trailers and various equipment where content quantity needs to be monitored. The tracker is unique as it requires a specific installation to allow for its radar feature (which analyzes the quantity of cargo within a container or trailer) to be used. Once the device has been placed at the predefined orientation, it can analyze the content capacity of the asset it is attached to. This is explained as acting like a camera that measures how much cargo is present. Having a radar function like this is new and allows for users to complete better planning as there are more accurate (and visual) load-stats available.
Use-Case: How Delivery Vehicles Are Using Blackberry Radar 
As previously mentioned, the Blackberry Radar tracker allows for radar sensing and load analysis of the quantity of content within an asset. Meaning, users can see exactly how much is within a trailer, truck or container in real-time. This radar tracker is particularly useful in delivery fleets who constantly receive new delivery requests. Using this tracker allows dispatchers to analyze and review the content quantity of each delivery vehicle. Essentially judging which vehicles are full and whether near-empty vehicles have enough space to pick up additional deliveries to complete that day.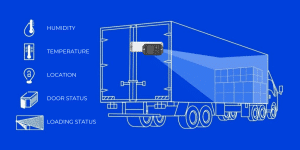 Remora2
The Remora2 tracker is utilized for general asset monitoring and has expandability opportunities with BLE beacons. As the tracker uses a Bluetooth 5.0 gateway, which allows it to communicate with other local asset tags to report on them, it is the ideal investment if you will later need to invest in various BLE beacons. As a standalone device, this tracker is similar to the Flex tracker that was mentioned previously as it allows for general location tracking. However, what differentiates itself from the Flex Solar tracker is that it has an ion battery. Meaning, depending on where an asset will be stored or used most of the time, having a battery option may be the more powerful and reliable choice. As well, when compared to the Solar Flex, it's important to mention that it is the cheaper option as there is no solar-power technology required. It is also important to note that the Remora2 device has an anti-theft mode, tamper detection, is geo-fence aware, and functions as a 3rd party device on MyGeotab.

Use-Case: How Commercial Transportation Fleets Are Using Remora2
Similar to the Solar Flex tracker, the Remora2 tracker is typically used within fleets who are conducting long-haul deliveries that require more pings daily or are spending some time in a location where solar changing is difficult. Meaning, having an ion battery rather than a solar-powered battery would be the more reliable option to suffice reporting needs.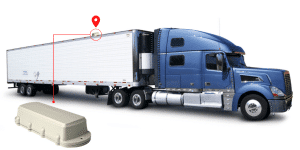 Falcon 
The Falcon device is a temperature-sensitive tracker which allows for fleets to monitor temperature and humidity. The device embodies a 5-year battery life with hourly reporting so users have continuous monitoring of temperature-sensitive cargo. Similar to the Remora2 device, the Falcon device has an anti-theft mode, tamper detection, is geo-fence aware, and functions as a 3rd party device on MyGeotab. 

Use-Case: How Food Transporters Are Using Falcon 
When tracking goods that are sensitive to temperature and humidity, the Falcon is the go-to tracker for many fleets. Since the device focuses on allowing users to monitor the environmental conditions of containers, trailers, trucks and more, it's the perfect tool to use when moving food products. As improper storage is not an option for food products as it can lead to spoilage, the Falcon tracker can monitor the temperature and humidity of the location where food products are stored to ensure that conditions meet strict regulations. Forgoing a device like the Falcon leaves food transporters at risk for being found incompliant as there are numerous rules  regarding the proper storage and handling of frozen food, fresh produce and meat products to keep consumers safe.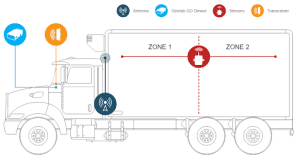 Sensoneo Bin Fill Level Sensors
Sensoneo Bin Fill Level Sensors are a smart, enterprise-grade waste management solution that focuses on monitoring waste content quantity. The sensor is a robust device that can withstand harsh conditions such as water and is shock resistant which is perfect for its use in waste management. Sensoneo focuses on allowing fleets to remain efficient and optimized as it monitors how full a waste bin is, alerting users when the bin is approaching capacity. Additional features of the device include; Bluetooth, pick-up recognition, temperature measurements, fire alarms, and overturn alarm options. 

Use-Case: How Waste Disposal Fleets Are using Sensoneo 
Sensoneo is leveraged by waste disposal fleets who empty waste bins. Typically, the device is attached to a specific bin to monitor how full the container is getting overtime, alerting users of when it is near-full and needs to be emptied. When the tracker sends an alert about the quantity level, fleets can create a route that only visits the bins that are full or are at least 80% full – passing bins that are less. Doing this helps to ensure that time is not wasted visiting bins that do not need to be emptied so work is optimized and resources can be saved.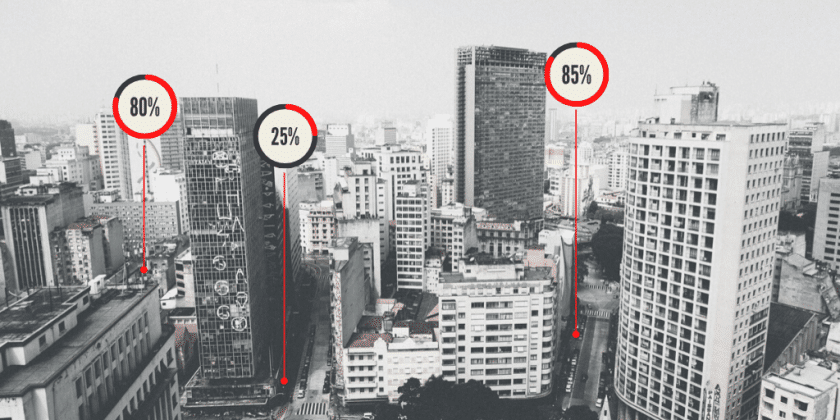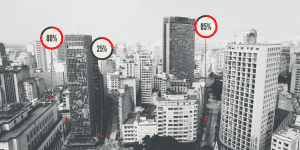 A Cellular Asset Tracker Cheat-Sheet
When it comes to cellular asset trackers, there are numerous devices available that any business can use and sometimes, their features can become confusing. To help businesses better understand what their cellular tracker options are, we created a feature comparison chart below based on our analysis above.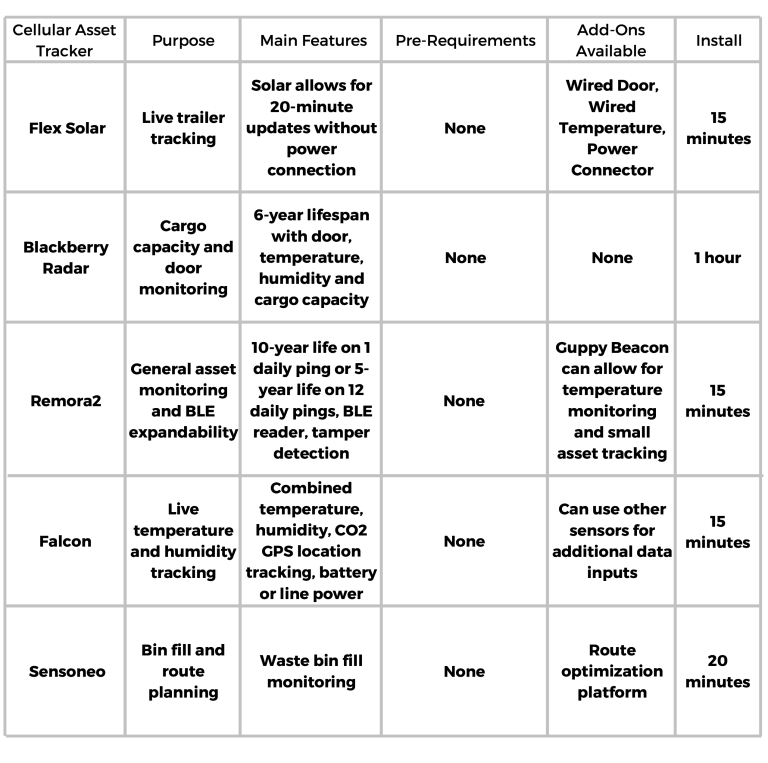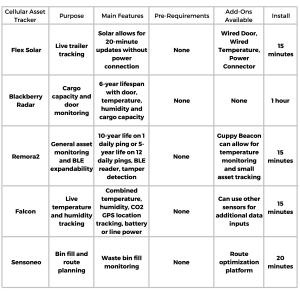 Still unsure about what cellular tracking device may work best for you, or would like to learn more about a specific tracker? Contact us today so we can set up a time to chat about your unique needs.