In recent news, not only has the medical community been affected by the outbreak of coronavirus, but the global supply chain as well. On March 11, the World Health Organization declared the recent outbreak of COVID-19 as a pandemic due to its sudden and concerning spread. In order to combat the spread of the virus, the public has been told to practice social distancing and many businesses have even been told to close their doors. However, it's important to note that these are not the only changes that are happening as a result of the outbreak. In fact, the commercial transportation sector is finding that the public's new way of living (as a result of being impacted by COVID-19) is also changing their operations. 
Below we discuss an overview of how the transportation industry is affected by leveraging fleet data provided by Geotab via intelligent solutions. Please note that the data was gathered on April 10, 2020, via their blog. 
How The World Is Impacted By COVID-19
With coronavirus infection numbers growing, there have been numerous efforts put into place to limit the spreading of the virus. One effort, the closing of numerous borders, may have affected travel, but not commercial transportation. Borders still remain open for those transporting goods because of the increased need of supplies and equipment in wake of the city lockdowns, community social distancing and more. 
Initial Changes In Commercial Transportation 
When discussing how essential the transportation sector is, as they are still able to travel across borders for deliveries, it's important to highlight how there has even been movements towards making transporting essential cargo easier. Specifically the Emergency Declaration issued by the FMCSA and the Essential Freight Transport Exemption which was put into effect by Transport Canada. Both of which focus on adjusting the hours of service (HOS) regulation that drivers within the transportation sector must abide to. These changes allow drivers to drive over the maximum HOS in their country (meaning strict HOS regulations have been changed as a result of COVID-19). However, even though transportation seems more important than ever as they provide relief to communities needing essential supplies, it's important to look at how the volume of commercial transportation vehicles may be changing. Specifically how the volume (which includes the number of trips and the amount of fuel used) has changed since the month of February.
Affected Volume In Activity 
As one can imagine, there are countless changes happening to various industries. But when speaking to transportation, a decrease in commercial vehicle activity has been noted. Analyzing data that was collected from Geotab (from the dates March 15 to April 10), a noticeable decrease can be noticed in the percent of normal activity. With a baseline starting before March 15, continuing to April 10 – the time when many countries and industries started to be greatly impacted by COVID-19. Below is a graph which depicts the longitudinal view of commercial traffic volume that is being discussed. Specifically measuring the number of trips relative to normal activity, as well as the type of vehicle used.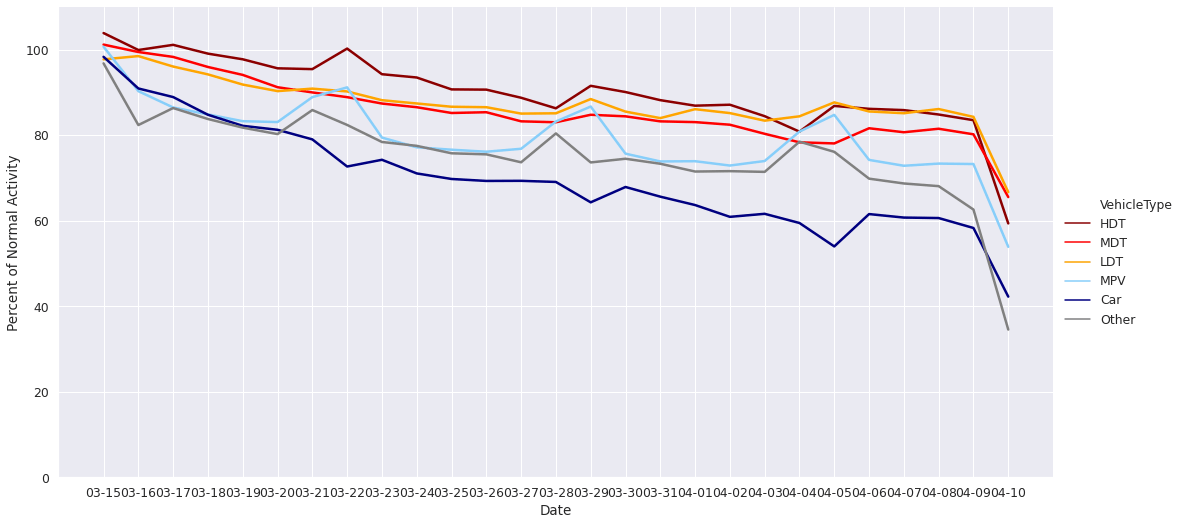 Source: Geotab; The impact of COVID-19 on commercial transportation and trade activity 
As illustrated on the graph, various vehicles including heavy-duty trucks (HDT), medium-duty trucks (MDT), light-duty trucks (LDT), multi-purpose vehicles (MPV), as well as cars declined over time in regards to the amount of activity tracked. 
This decline is visible in a heatmap provided by Geotab when looking at data in regards to operating percentages and locations (micro regions in the U.S. and Canada). The chart compares what the normal operations percentage was in February 2020, to currently, in April 2020.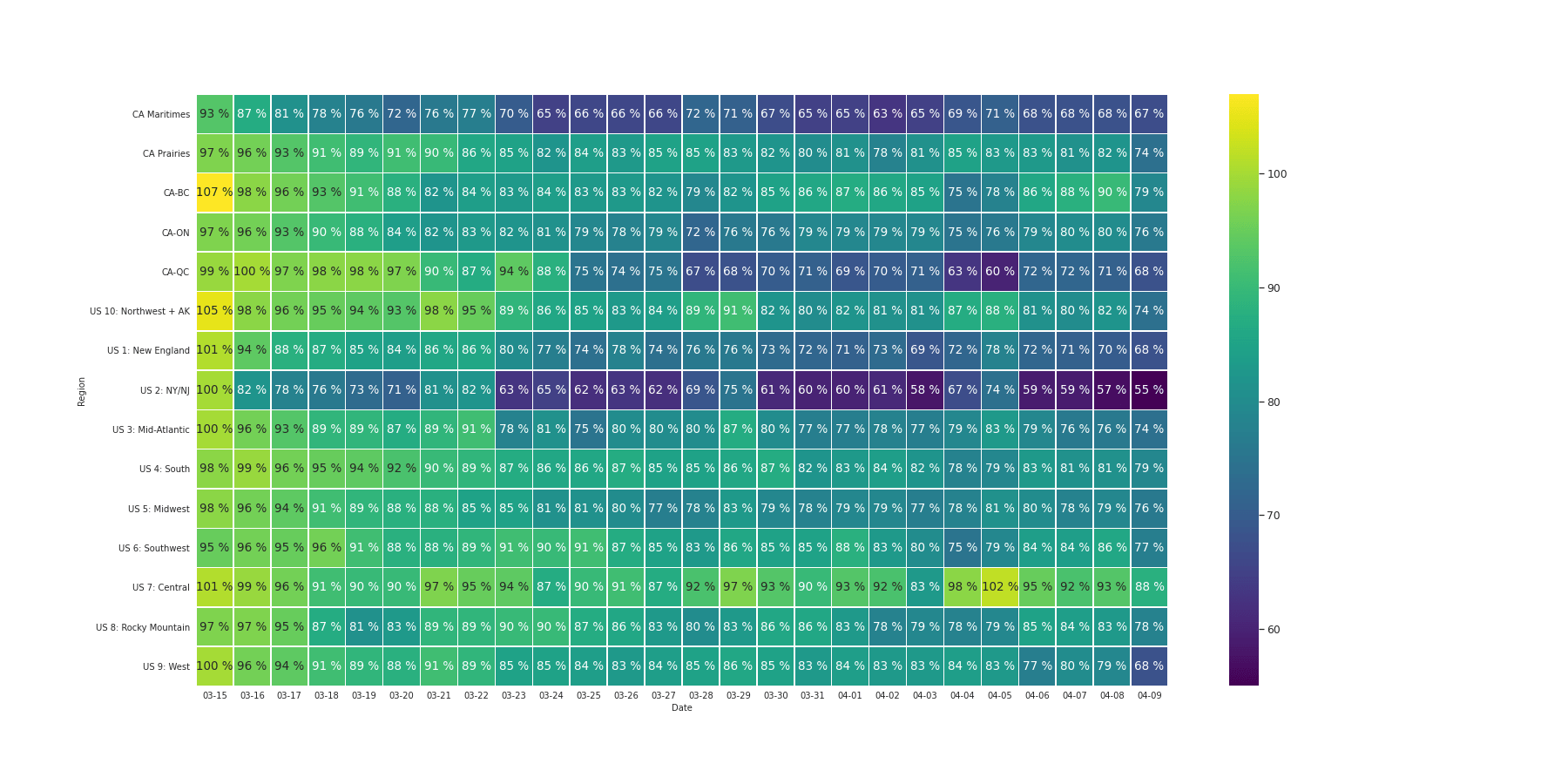 Source: Geotab; The impact of COVID-19 on commercial transportation and trade activity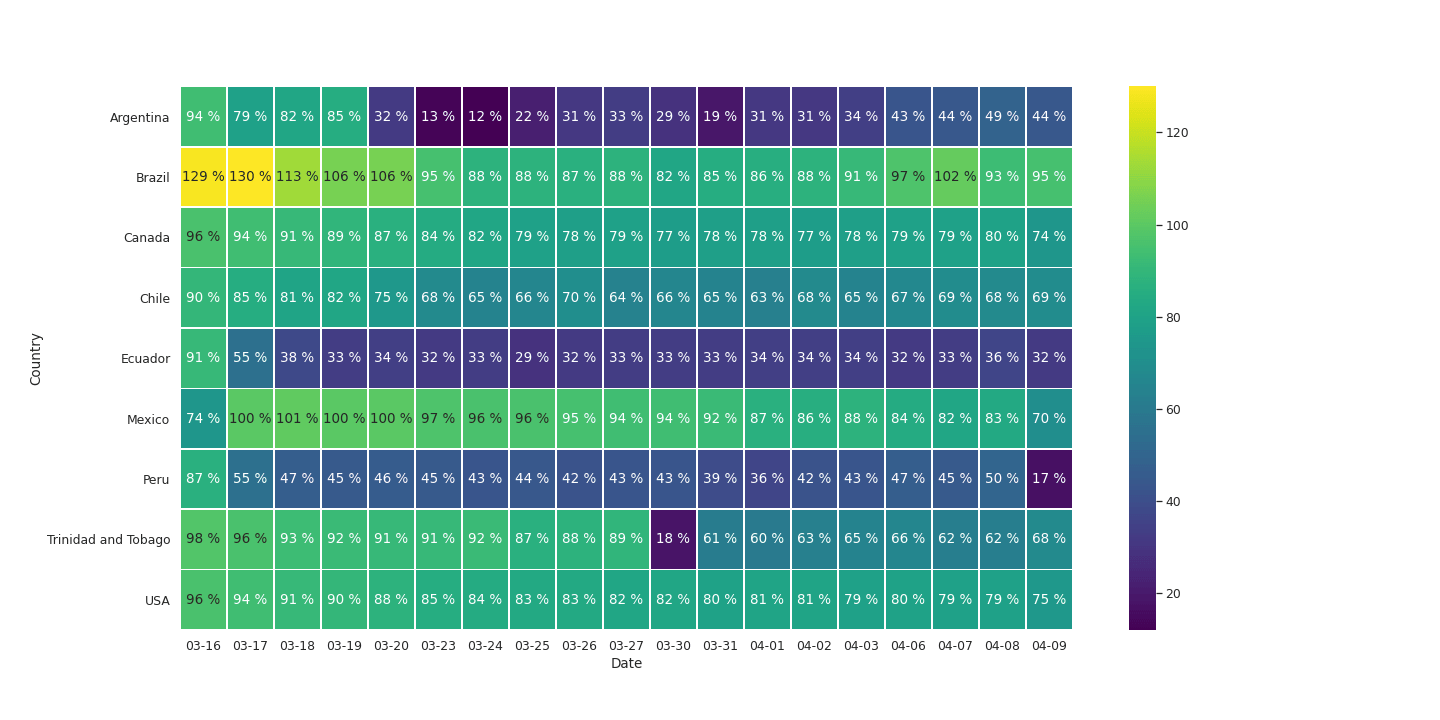 Source: Geotab; The impact of COVID-19 on commercial transportation and trade activity 
In terms of Canadian changes, when looking at data from most recent weeks, compared to data from February 1 to March 15, Canada appears to be operating at 74% of normal commercial transportation activity. It's important to note that the Maritimes is operating at the lowest when compared to normal – 67%. In comparison, the U.S. has also felt a large impact. The U.S. is operating at an average of 75% of normal commercial transportation activity. Reporting that the State of New York and New Jersey are the most impacted. They are only operating at 55% of normal activity. 
In brief, some other changes to highlight are; 
Ontario operating at 76% in comparison to 97%

Quebec operating at 68% in comparison to 99%

The West (US) operating at 68% in comparison to 100%

The Mid-Atlantic (US) operating at 74% in comparison to 100% 

The Midwest (US) operating at 76% in comparison to 98%  
Affected Fuel Usage 
With countless vehicles contributing to the commercial transportation sector, it's also important to look at how these vehicles and usage are changing in terms of fuel during this time. Specifically looking at how fuel usage may be impacted by COVID-19 through decreasing commercial transport activity. 

Source: Geotab; The impact of COVID-19 on commercial transportation and trade activity 
The graph depicts that at the start of March 2020, there was a steady quantity of fuel being used among commercial vehicles. The data focused on vehicles that included buses, HDT, LDT, MDT, MPV, and passenger. A general decrease started on March 15, and continued until March 26. Since the end of March, the use of fuel in most cases did not recover to quantities previous to COVID-19, but is occasionally going through dips.
It is important to note that decrease was not as apparent within the trucking economy. Some may assume this is because while some operations may have changed, many commercial vehicles are still essential to transport supplies and equipment during this time. When reviewing the data of how the fuel usage of buses and passenger vehicles has dropped greatly, many assume it is because those vehicles are typically not operating at a high frequency due to health and safety recommendations. This includes how the public has been told to work from home (so there are less commuters) as well how the public is told to socially distance themselves from each other and stop public gatherings or events (so there is less travelling for leisure purposes).  
During This Change, Safety Is Critical 
With commercial transportation still remaining steady (with only minor dips) in terms of fuel use and volume, it's safe to say that the industry is still steady. What this means is that even at a time where so much is in flux, the transportation sector is critical for many communities as they can provide essential supplies among other necessities.  
However, with so much uncertainty surrounding coronavirus and how businesses are impacted by COVID-19 in terms of safety and the length of the pandemic, it's important for those who are on the frontlines to do what they can to stay safe. One way when speaking to the transportation sector, is for drivers and other delivery personnel to monitor for potential symptoms. Proactively monitoring for coughs, fevers and other signs of viruses can help reduce the possible and unknowing spread of the virus. Especially when speaking about individuals who are travelling constantly and moving cargo. Tools like ZenduCheck, a digital symptom monitoring app, allows drivers and other essential personnel to monitor their health. To learn more about how symptom monitoring can be useful in promoting safety in fleets, click on the button below.