Running your commercial fleet requires more than simply sending vehicles from point A to point B. The success of your drivers and your business depends heavily on optimizing the things you can't see once a vehicle leaves your warehouse. Vehicle Tracking Devices can optimize your fleet by providing real-time GPS updates, collision notifications, and even engine fault detection.
In this post, we'll break down what Vehicle Tracking Devices are, the latest generation of tracking devices currently available, and how your business can benefit from this advanced fleet protection.
What Are Vehicle Tracking Devices?
A vehicle tracking device is like the black box of an airplane; it receives GPS signals, collecting and sending navigation data and other critical vehicle information. This small piece of hardware can be as small as a matchbox, or as large as a shoebox.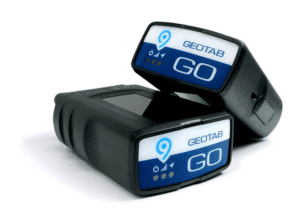 Most tracking devices come equipped with a SIM-card slot and an On-Board Diagnostics (OBD-II) plug to connect to your vehicle. Once connected, it receives GPS signals and sends vehicle information — such as vehicle location or driver speed — using the internet, satellite networks or cellular services. Tracking devices differ with regards to the data collected, how they attach to the vehicle, and their respective power source. Types of devices include:
Factory-fitted Original Equipment Manufacturer (OEM) devices

Plug-In devices

Hardwired after-market devices

Smartphones or tablets enabled with real-time GPS tracking
Installing tracking units can be as simple as plugging into a vehicle's OBD-II port, or may require a qualified technician to connect the tracking device to the wiring harness of the vehicle. Most light commercial vehicles purchased since 1996 already have an internal OBD-II port, often found behind the panel below the steering wheel.
Once connected, GoFleet's specialized tracking software can collect GPS and vehicle data. It then transmits the data in real-time to a wide variety of pre-programmed devices, such as a cell phone or a computer IP address.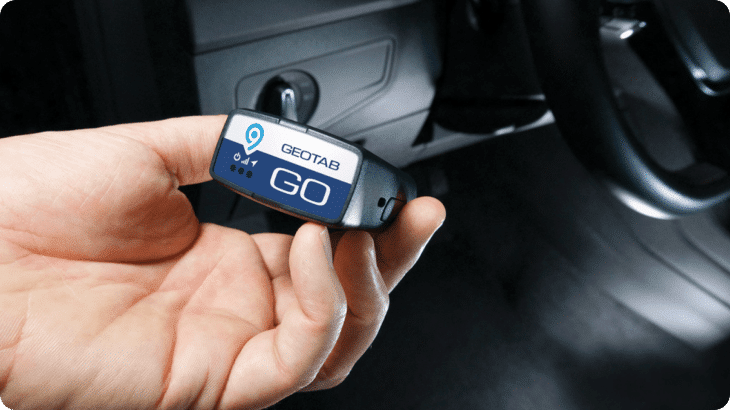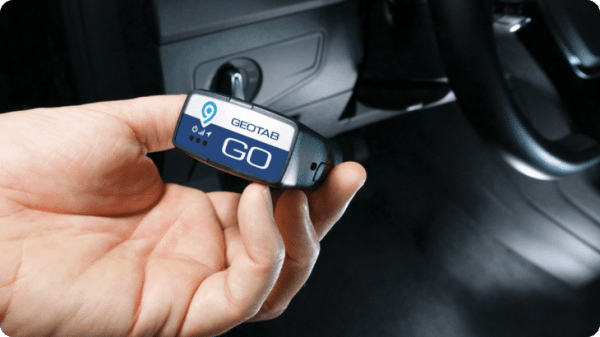 Internal Data-Protection Safety Features
Each of our vehicle tracking devices has a unique code, known as the International Mobile Equipment Identity (IMEI) number. This allows GoFleet's patented tracking software to match the unique code of each vehicle, preventing confusion and maintaining fleet management integrity.
The information collected and sent from GoFleet's tracking devices also has a range of security features that prevent third-party penetration. These cryptographic features include:
Data encryption

Authenticated end-to-end telematic security

Verification of message integrity and unique IMEI tracker codes

Non-static security keys, which impede faking a device's unique identity

Firmware with digitally-signed pre-programming to verify the source of updates

Validation of technology by independent third-party experts
What Type of Data is Collected?
GoFleet's vehicle tracking devices collect and transmit a rich array of information. Even when the vehicle is parked underground or indoors, the telematic tracking unit begins recording the moment the key turns in the ignition.
Using AI and the enhanced data security features, some of the telematic information collected by GoFleet's tracking devices include:
Precise Vehicle Tracking:

This includes vehicle location, driving speed, engine idling, trip distance, time markers, driver ETA and more.

Fleet Health Assessments:

Our software extracts and collects essential vehicular information such as engine faults, odometer readings, service maintenance needs, vehicle VIN, even risky driving habits such as acceleration, fast cornering or harsh braking.

Advanced Telematics Capture:

Our trackers receive data from a variety of internal vehicular sources, such as the engine, instrument clusters, drivetrain, diagnostics and other subsystems. This allows for methodical and data-driven dashboard reports.

Collision Notifications:

If a collision is detected, GoFleet's superior tracking devices use AI and patented algorithms to collect and send detailed forensic data. This allows for forensic reconstruction of road events, including in-vehicle reverse collisions. This data is automatically uploaded from the tracking device, and collision notifications are sent in real-time via email or desktop alerts.

Driver Coaching:

By providing your drivers with immediate feedback, you can improve fleet integrity and security, reduce risk to your drivers, and encourage immediate corrective action. Visible or audible alerts, as well as spoken guidance, can be given in cases of speeding, excessive idling, or unsafe driver behaviour.
GoFleet's Advanced Vehicle Tracking Devices
Below are the latest and best vehicle tracking units available on the global market. They also come equipped for IOX expansion. This means that your tracking system and third-party integration management can expand with your fleet, allowing for scalable telematics solutions and greater fleet flexibility. IOX add-ons include: satellite tracking, driver ID, temperature tracking, hours of service (HOS), dash cam systems and more.
GoFleet's GO9+
Welcome to the future of vehicle tracking devices. The GO9+ is the most advanced telematics device on the planet, providing industry-leading insights on the health of your fleet vehicles, as well as trip details, driver safety and much more. The GO9+ provides everything needed for advanced telematic capture and transmission, all in a tiny, compact package.
Best of all, the GO9+ brings its own Wi-Fi hotspot on-board, allowing your vehicle to stay connected to high-speed Internet without siphoning data from individual plans. In addition to reliable Wi-Fi wherever your drivers go, GoFleet's GO9+ offers the following state-of-the-art features:
Unparalleled GPS tracking technology

G-force monitoring

LTE connectivity and secured communications capability

Intelligent in-vehicle driver coaching and alerts

Advanced collision detection and notification

Expandability of the external device via IOX Technology

Built-in gyrometer and auto-calibrating accelerometer

Instant vehicle data, including engine and battery health assessments

Accelerated GPS acquisition time via Almanac OTA support

GPS+GLONASS support and connectivity

Advanced native support for a variety of vehicle protocols

End-to-end cybersecurity measures, including non-static security keys

Easy installation
Recommended for: Small businesses, heavy-truck fleets, corporate vehicles and ride sharing.
GoFleet's GO9 RUGGED
If you need a vehicle tracker built for harsh environments, meet the GO9 RUGGED. This device is designed to withstand external installation, protecting against elements such as dust, water, dirt and other solids. 
The GO9 RUGGED builds on the GO Rugged family, providing even more speed, reliability, security features and telematic power. That's because the GO9 RUGGED is powered by a 32-bit processor, offering 4 times the memory and 5 times the RAM of its predecessor, the GO8 RUGGED. Using GoFleet's AI algorithms and tracking platform, the GO9 RUGGED can accurately recreate vehicle trips, analyze incidents, provide in-vehicle alerts to notify drivers of infractions in real-time, and provide end-to-end data encryption. Features include:
State-of-the-art GPS technology

G-force monitoring

Simple and sturdy design for covert installations

Smart, live in-vehicle driver coaching capacity

Industry-leading collision detection and notification

Instant vehicle data, including engine and battery health assessments

On-board auto-calibrating accelerometer and gyrometer

Accelerated GPS acquisition time via Almanac OTA support

GPS+GLONASS support and connectivity

LTE connectivity and secured communications capability

End-to-end cybersecurity, including authentication, encryption, message integrity verification, and non-static security keys

Advanced native support for a variety of vehicle protocols

Expandability of external device via IOX Technology

FIPS 140-2 validated by the NIST

IP68 & IP69K certified for protection from water, dust, sprays and other external pressures

Does not require a dash-mounted antenna or wire splicing for installation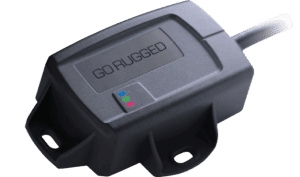 Recommended for: Fleets using heavy equipment, farm machinery, powered trailers, yellow iron and other major assets.
Main Benefits of Fleet Vehicle Tracking
GoFleet's tracking devices provide businesses with the hard data required to ensure smooth operations and peace of mind. Our software works seamlessly with vehicle tracking units to integrate command centre visibility into your fleet operations.
We recommend using tracking devices for businesses that manage fleets of any size, including cars, trucks, limousines, ride-sharing, pickup trucks, trailers, farm equipment, plumbing, roofing or construction vehicles. Our devices are scalable and can connect you to your vehicles, whether you have one or 100.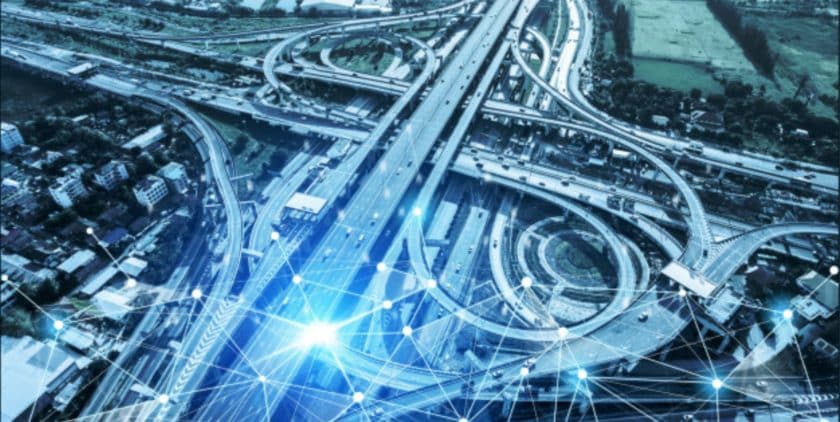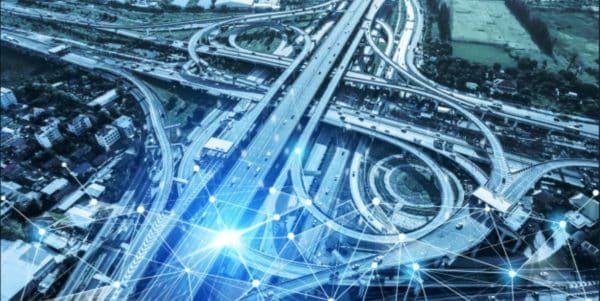 Among the most prominent benefits to using vehicle tracking devices are improved fleet management and maintenance, enhanced driver safety, lower labour costs, reduced fuel costs and superior theft deterrence. Additional benefits include:
Precision GPS technology, eliminating guesswork

Live updates and visibility, providing regular updates as often as every 2 seconds

An integrated, user-friendly fleet command dashboard; giving you access to your fleet with just a few swipes

Individualized regular servicing dashboard with service records for your vehicles

The ability to capture and view telematics data such as vehicle speed, direction, and fault codes

Asset monitoring, such as temperature data and asset location

Immediate 24/7 support for fleet owners
Integrated Software and Dispatch Performance
GoFleet's tracking units let you view your entire fleet simultaneously, regardless of their location. Our devices work synergistically with individualized driver management software, letting you streamline and fine tune your fleet's performance to ensure peak performance and compliance.
Our integrated software monitoring system allows businesses to capture when the driver's workday starts and ends, displays routes in real-time, and records driver stops — both scheduled and unscheduled. Our data captures also record idle periods, fuel consumption, driving speeds, mileage, and even provides alerts on lost drivers or thefts.
The benefits of our integrated platform command centre to monitor dispatch performance include:
Ensuring drivers are on schedule and automatically sharing ETAs with customers

Confirming driver HOS & PTO availability, which reduces check-in calls

Recording Driver Scorecards and 365-day performance history

Alerting to acceleration, harsh breaks and collision detection

Streamlining routing options and dispatch management

Recording miles-by-state for IFT

Assuring FMCSA 395.15 compliance

Locating lost drivers and aiding the recovery of stolen property.
Ready to Protect Your Assets?
With all of the benefits of vehicle tracking devices, can your business afford not to invest in a telematics solution that saves you time, money and resources? Our experts can help you determine which asset tracker best suits your fleet's needs. Schedule your free consultation and demonstration today.