Harnessing the Power of IOX Expansion
Providing clients with ways to further increase the value of their fleet management solution has always been a top priority for both GoFleet and Geotab; IOX expansion is a prime example of this. Through the introduction of MyGeotab web-based fleet management software and the development of a wide range of hardware, GoFleet and Geotab have always built upon expandability to allow our clients to extract valuable data from its products.
What is IOX Expansion?
The Geotab platform can be further extended to provide added integration and flexibility with third-party providers through IOX Expansion Technology. The IOX Input/Output Expander has been around since the Geotab GO6 device was first introduced, but we continue to innovate and introduce IOX hardware for new and exciting applications.
The IOX functions on a basic principle. Each IOX performs a simple task and relays information to and/or from the GO device. An IOX connects to the GO device using the specialized mini USB port found on the side of all GO6 and GO7 devices, and it's easy to set up and connect. While some IOX expansion products require the install be done by a certified installer, others can be connected to the GO device and easily installed on your own.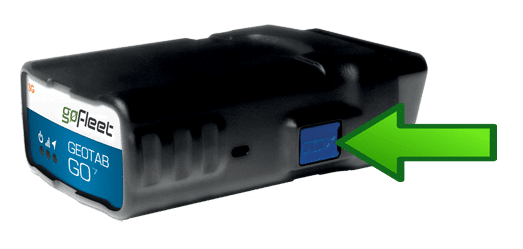 A number of different components can be measured by the IOX hardware and can be customized to meet a fleet's specific use. For example, a fleet that relies on a dispatcher to organize and direct drivers can see a lot of benefit in using the IOX-GARMIN line, which can push messages and routes to the GARMIN to quickly advise the driver of the next stop on the route.
Types of IOX Expanders
More detailed information on IOX Expanders can be found on the Geotab Marketplace.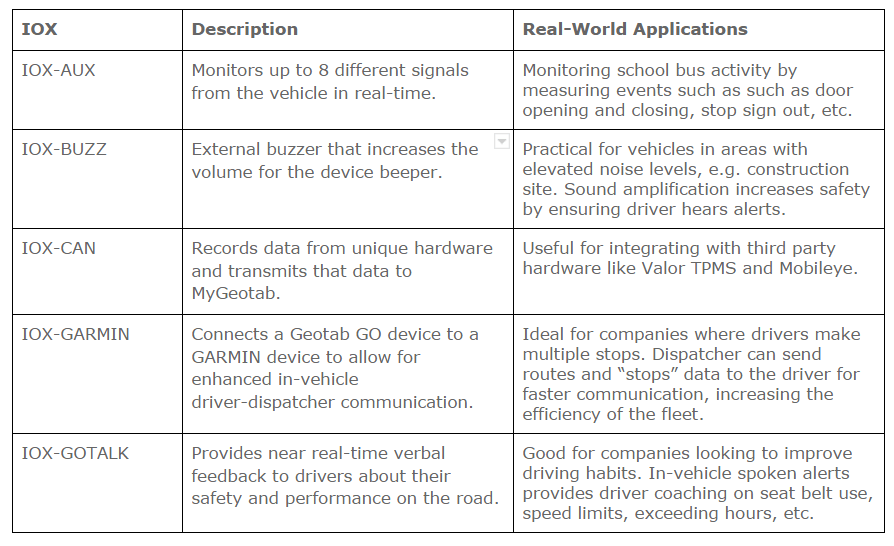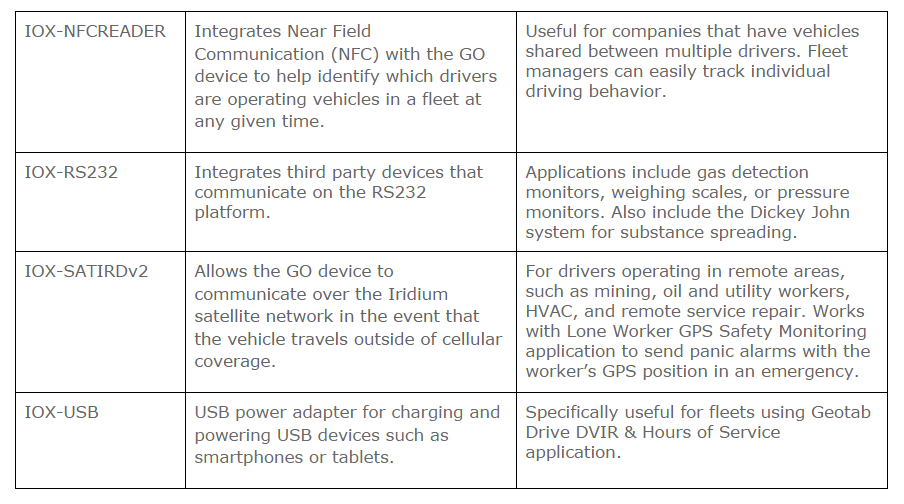 Fleets that measure a number of different metrics for their vehicles, or ones that use third party products from which data is recorded, can benefit from the use of the IOX-CAN. The IOX-CAN allows fleets to record data from unique hardware and transmit that data into MyGeotab. Geotab also uses this IOX to support partner integrations, such as Mobileye for Driver Distraction Systems and Valor for TPMS (Tire Pressure Monitoring Systems) and Reefer Monitoring (Temperature Monitoring).
Some other great IOX Expanders include the IOX-BUZZ; it's an external buzzer for the GO device that raises the volume of the device beeper to make it easier for drivers operating loud engine vehicles to hear audible alerts. The buzzer will sound when driver feedback or rule based audible feedback is configured within MyGeotab. The IOX-USB is great for powering USB devices like tablets and smartphones in Geotab Drive applications, whereas the IOX-NFCREADER can be used to identify the driver operating a specific vehicle using our specialized NFC keys.
One of the most powerful IOX from Geotab is the IOX-AUX. With this IOX a fleet can measure four inputs (up to eight with two IOX-AUX). Essentially, the IOX-AUX is connected to a signal that enables a fleet manager to monitor a variety of vehicle inputs such as sirens for emergency vehicles, refrigeration units, and seatbelt sensors. Using an On/Off built-in logic, the GO device can pick up a change in state of an object and attribute it as a signal. Then this information is sent to MyGeotab where it can be used in conjunction with the powerful Exception Rule logic in MyGeotab to create relevant and strong conditions and metrics for fleet vehicles.
How the IOX Works
The GO device uses the pre-programmed firmware to intelligently detect the IOX that is connected. Then, it adjusts the logic on a device level to account for the new IOX and the data that may be sent/received. While some IOX read information only, such as the IOX-AUX, others can actually push information as well, like the IOX-GARMIN.
Once the device is able to configure itself to receive the specific IOX information appropriately, it will start logging and transferring the data to MyGeotab. This process can take up to a couple of minutes. Some IOX transfer information as soon as the data is received, such as state changes for IOX-AUX or when drivers swipe their keys on the IOX-NFCREADER. Other IOX transmit information similar to GPS and speed data at regular intervals based on the logging algorithm.
IOX Expandability
The IOX is further expandable and up to five can be connected in series to one GO device. If a fleet requires multiple IOX, each supports further expandability using the in-line port with a termination shunt inserted upon shipment. Once the termination shunt is removed and the secondary port exposed, additional IOX can be connected to a total of five on one device. Essentially, fleets are getting six devices working independently as well as together to deliver a wide range of information to the equally powerful myGeotab web application.
The Future of IOX
Geotab has plans to extend the IOX line in the future. One such example is the IOX-GOTALK. GO TALK is a new product that provides real-time verbal feedback to drivers on their driving habits and performance en route. It can be configured to speak a number of pre-programmed notifications. Unique customized notifications can also be created to have the GO TALK speak different statements. Keep an eye out for other new and exciting IOX hardware down the road!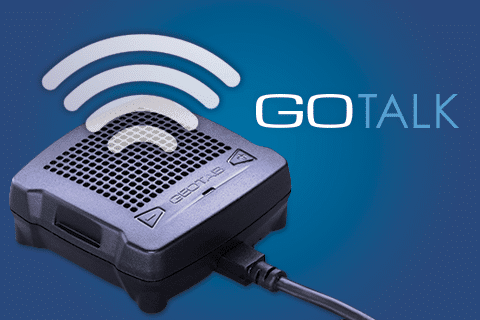 IOX Hardware Learning Resources
By providing more intelligent hardware, intricate firmware and feature packed software, the GoFleet and Geotab product line has evolved into an ecosystem of its own. The IOX is a simple, yet powerful, aspect of this system as it provides much of the data that is used by other components, like MyGeotab and the excellent SDK. With the data provided to our clients, fleet managers can create reports and rules in MyGeotab, harnessing the full potential of the Geotab fleet management solution.
Original Article By: Taimoor Khan, Technical Services Engineer
https://www.geotab.com/blog/iox-expansion/