Given the current economic environment, many commercial transportation fleets can't afford to have hiccups in their operations. When speaking about food transportation, this remains true as food products are at a higher risk of being rejected by receivers if they do not meet strict temperature requirements. As a result, more stress has been placed on enforcing food safety regulations and using the right telematics tools to reduce cargo losses of temperature-sensitive goods. 
Financial Implications of Temperature Sensitive Products 
Food transporters are at risk financially if they are unable to abide by strict temperature storage guidelines. In the past, when loads are found to not meet strict transporting guidelines, receivers may deem the products within the load unsafe and refuse to accept them. Meaning, if even one shipment in a 36-foot trailer gets transported at an improper temperature, businesses can lose up to $30,000. 
In an attempt to mitigate financial losses resulting from the improper transportation of temperature-sensitive goods, telematics technology is steadily gaining popularity.
Why Shipments Get Rejected
Regardless of how far a delivery is, transporters with subpar temperature monitoring systems may not meet specific temperature qualifications. When this happens, receivers may decide to reject the shipment, as previously mentioned. For example, if frozen goods are on the brink of thawing when they arrive, or if heat-sensitive dairy products are delivered warm, receivers could refuse to accept the load. Consumers are at risk of bacterial poisoning if these products are allowed to reach the store shelves.
Regulations to Ensure Safe Food Transportation 
To reduce the likelihood of spoiled products being sold to the public, in 2017, the FDA introduced the Food Safety Modernization Act (FSMA). The focus of the FSMA was to create a strict, standardized playbook. The regulations would prevent improperly documented and unsafe transportation of human and animal food products regardless of whether the products were in open or closed containers. 
According to the FSMA, individuals in food transportation must ensure the following: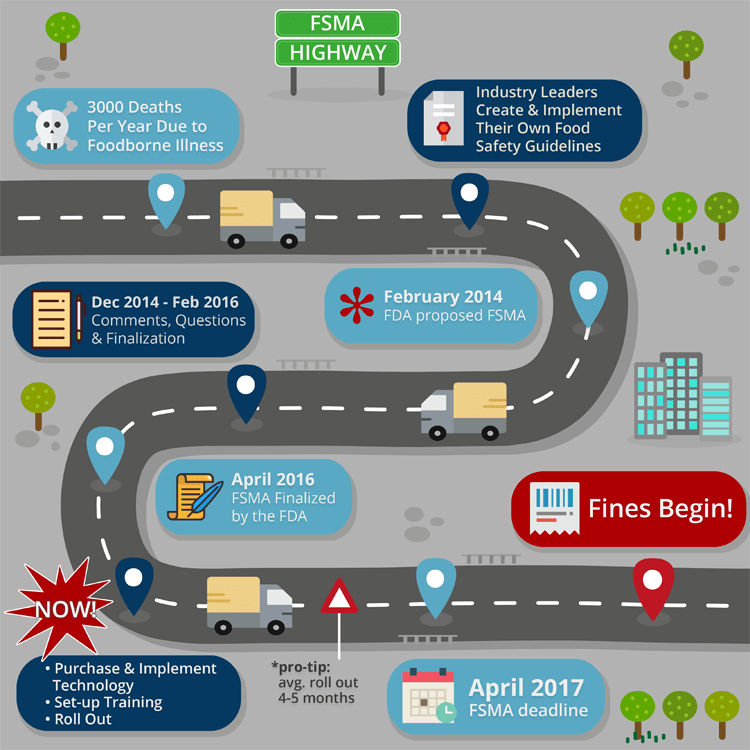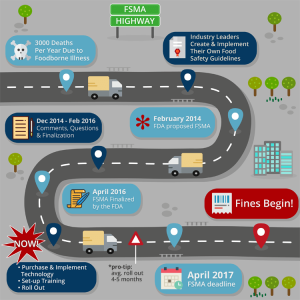 Vehicle trailers transporting food products must be pre-cooled to specific temperatures by shippers prior to the goods being loaded;

 Cold-chain integrity must be maintained during the entire trip, and transporters must explain any temperature breaches along the way;
For at least one year, shippers and transporters must record the last three shipments of trailers for each delivery.
With these rules in mind, it's important to note that the FSMA did not mandate the use of telematics. However, it is easy to understand why telematics would make meeting compliance easier and more precise.
Initial Compliance Concerns 
When the Food Safety Modernization Act was introduced, many found that their fleets were at risk for not meeting requirements. This is because their drivers were relying on outdated and inaccurate temperature monitoring tools. Such systems typically only provided drivers with basic information about trailer temperatures as they did not use advanced telematics technology to see what the actual ambient air temperatures are. Older systems would only show temperature readings on in-cab displays of the blower output air temperature. These readings can be misleading as the device does not take into consideration the conveyor effect of cold and warm air variations caused by opened and closed doors.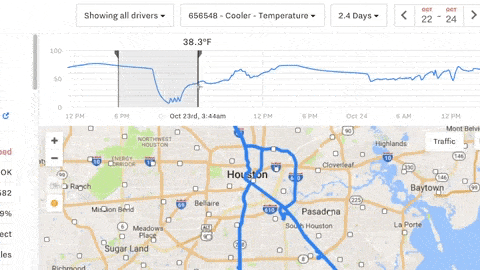 What Consultants Recommend For Food Transportation Businesses 
With strict regulations in place, many businesses are finding that older processes related to reporting and temperature monitoring are no longer sufficient. Meaning more loads are at risk for being rejected and more businesses are at risk for not being able to provide proper cold chain custody reports. When speaking to industry consultants like GoFleet, food transporters are offered a 360 telematics solution that focuses on temperature monitoring, GPS location tracking, and digital reporting to ensure FSMA compliance. 
Temperature Monitoring and Maintaining Appropriate Trip Temperatures
Telematics temperature monitoring solutions are suggested for food transporters because smart systems can be utilized to monitor the indoor environments of trailers. They ensure that the temperature is correct and meets compliance. This is possible as solutions can be placed strategically throughout the trailer to continuously report on the temperature when the vehicle is in motion and even whether specific pre-cooling temperatures have successfully been met prior to loading. 
When discussing the capability of monitoring the ambient temperature of the trailer throughout the entire trip, solutions can notify when temperatures begin to change to unsafe levels. This is critical because the temperature can drastically change in just a short period.  When a trailer is loaded after pre-cooling requirements are met, the ambient temperature in a reefer can drop by 10 degrees within 5 minutes, depending on the outdoor weather conditions. 
Even after a drop in temperature after loading, some trailers could have a chance at re-cooling if the blower is able to distribute cold air without interruptions continuously. However, if there are frequent stops which require the trailer doors to open and close (introducing warm air), re-cooling the trailer to a safe temperature may never be possible. In cases like this, telematics systems could notify drivers that they will need to set aside time for the trailer to cool back down to the appropriate temperature before continuing their route. Forgoing this cooling break puts fleets at risk for not complying with FSMA requirements. 
When temperature monitoring technology is associated with a GPS tracking solution, teams can even collect temperature data and relate it to unique location points. Meaning, teams can see possible temperature changes with the distance traveled and stops made. This helps in predicting when cool-down stops may be necessary.
Digital Reporting to Keep Cold Chain Custody Reports For Investigations 
Digital reporting solutions are crucial to food transporters because of the reliability, accuracy, and easy storage benefits that comes with it. Specifically, telematics reporting solutions stop drivers from having to manually record temperature data. Instead, the solution does it automatically and even associates specific GPS locations to the report. Human error is reduced, and the necessary paperwork is always completed. In fact, when a GPS location is associated with a change in temperature, it can allow the fleet to confirm how much of the shipment was affected and whether any cargo can still be delivered. 
When discussing cold chain custody reports, digital reporting solutions automatically complete and keep temperature reports in a digital format. Meaning, if there is an investigation about a previous delivery, a fleet manager can easily pull the appropriate reports required from the cloud where they are stored. In fact, solutions like this can help reduce warehouse costs as physical storage locations will no longer be necessary as every report can be stored digitally on the cloud for infinite periods. 
Food transporters can't afford to overlook temperature monitoring any longer. If you're interested to learn more about how you can ensure that your team is always remaining compliant when moving loads, contact our Compliance Specialists!