Any logistics company or fleet manager should be concerned about improving driver safety. Some of the worst road months of the year are during winter which is fast approaching. In winter months, snow, ice, poor visibility, and freezing temperatures can make driving hazardous and dangerous. The chances of road accidents in winter increase when you add distractions and poor driving habits to adverse weather conditions.
One way to protect drivers and improve road safety during the worst road months is to install a fleet camera system. One such device is the ZenduCam. This unit provides real-time, live streaming with 360-degree visibility and from inside the cab. This, along with electronic logging devices can greatly improve road safety.
Of course, the Canadian ELD Mandate requires all trucks to have ELDs by June 21, 2021, and they are compulsory in the U.S.
How can technological solutions such as the ZenduCam protect your drivers and improve road safety? You will find the answers to this question in this article.
Dangers of Driving in Winter
Statistics about the impact of weather on driving are very sobering.
The Canadian government released information in 2017 reporting a rise in the number of drivers involved in fatal crashes. Compared to the previous year, an increase of 69 fatalities brought the total of road deaths up to 985.
Also, CBC reported about worrying trends in the increase of fatal transport truck crashes. Many of these accidents could have been avoided by improving driver safety and road habits. The police also reported that 354 truck drivers were fined for distracted driving and 1,615 for breaking the speed limit.
The U.S. Department of Transportation also reports worrying statistics about wintertime driving. Over the 10 years between 2007 and 2016, snow, sleet, icy roads, slush, and fog were significant factors in 15% of all fatal crashes in the U.S.
How the ZenduCam System Helps Protect Drivers
Unfortunately, distractions can often affect fleet drivers on the road. While ELDs can record data on driving habits, an in-vehicle camera system can help to identify the reasons for poor driving behavior. A camera inside the truck cab can record if drivers have been eating, texting, or, worse still, nodding off while driving.
Of course, in-vehicle cameras in themselves can't improve driving habits. However, they are a valuable resource for fleet managers to educate, train, and improve safety for their drivers.
Installing in-cab video surveillance in commercial vehicles such as buses, taxis, trucks, and other vehicle types can also protect drivers from criminal behavior. In the event of violence against a driver, HD footage is available for the police for investigation.
Protects your liability in case of an accident
Another protection the ZenduCam fleet solution offers is to document who was responsible for an accident. Setting up 4 cameras in a vehicle records the road in front of the vehicle, what is going on behind, and the driver's response. This type of solution gives 360-degree visibility to get a clear picture of what caused the accident.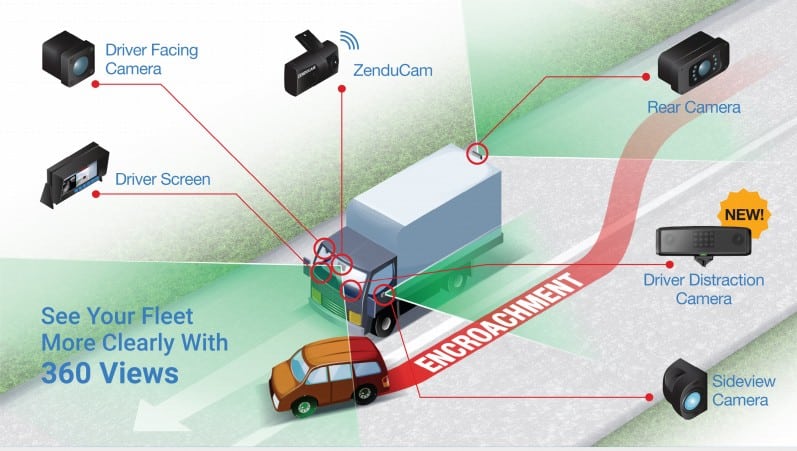 So, in cases of conflicting reports or disputed insurance claims, the clear HD footage of the incident can help exonerate your driver. This could save your company $1,000s in cases of disputed insurance claims or even protect drivers from criminal liability.
According to a driving association in the UK, dashcams can help to quickly resolve insurance disputes and reduce the instances of fraudulent claims.
How the ZenduCam Works
How does the integrated 4-camera system help to protect your drivers during the worst road months of the year?
Here is a possible scenario to demonstrate why having HD, 360-degree footage can protect your driver and company.
Let's say a car traveling in the opposite direction overtakes another car and is in the lane directly in front of the truck. To avoid a collision, your driver takes necessary evasive action. However, an accident still occurs. Footage from the ZenduCam clearly shows what led up to the accident. It provides evidence for the authorities as to who was to blame for the incident.
Logging your driver's activity at the time, the speed traveling, and the actions of other drivers mean that your driver and company are protected from liability.
ZenduCam System: Features and Benefits
The ZenduCam multi-camera solution works by continually recording footage in HD while driving.
However, this is not just a simple dashcam that is popular with car drivers. The sophisticated ZenduCam has a 3-axis G-sensor, panic button, microphone, and GPS receiver. This fully integrates with devices such as the GO9 vehicle tracking device to provide complete fleet management solutions.
Another benefit of installing the ZenduCam in commercial vehicles is that Geotab rules can trigger event recordings. Fleet managers can set up specific rules and receive recorded footage of any violations. This can include accidents, speeding, harsh driving events, and other violations. These events are automatically uploaded to the cloud which means that important events are never deleted and are always available when needed.
One of the biggest benefits of the ZenduCam multi-camera solution is to improve road safety. Fleet managers can monitor driving habits to promote responsible driving. Also, you can integrate the Mobileye collision avoidance system with the unit to offer even more protection.
Try the ZenduCam
Installing the ZenduCam in commercial vehicles is a small investment to protect your drivers, especially during winter months. This can save your company $1,000 by helping to promote better driving habits and prevent fraudulent insurance claims.
Contact u today for a free quote or demo to see how the ZenduCam can benefit your organization.