Worried About Switching to ELDs?
GoFleet's Got You Covered.
New regulations for electronic logging devices (ELDs) mandate the use of ELDs for records of duty status. If you currently need to log hours of service (HOS), you need to switch to ELDs. Whether your fleet is made up of delivery vans or heavy duty trucks, GoFleet has everything you need - at an affordable price - to meet compliance.
We're the go-to source for everything you need to know about ELD Compliance.
We provide affordable, industry leading ELD solutions to help you meet compliance with ease.
Our fleet consultants and expert support team are here for you every step of the way.
Full Fleet Compliance Management:
HOS, DVIR, IFTA
One Solution to Meet ALL Your Compliance Needs.
It is essential to choose a partner that will grow with you when it comes to technology and staying compliant. By bringing together user friendly telematics solutions with in-cab mobile connected device choices we make it easy to stay ahead of potential issues.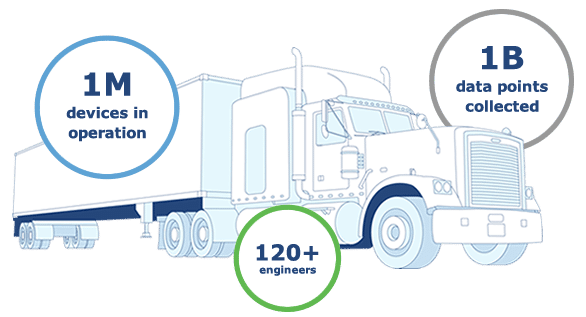 Why Gofleet
Since the late 1990's, Geotab has brought its innovation, expertise and open platform technology to businesses of all sizes — including Fortune 500 companies and North America's largest fleets. With over 120 engineers on staff, nearly 1 million devices in operation and 1 billion points of data collected annually, Geotab consistently ranks among the top leaders in technology innovation. GoFleet has been partnered with Geotab for over 10 years; let us help you optimize your fleet, increase productivity, meet compliance and much more.
Get The Facts on ELDs
What's is an ELD?
The Federal Motor Carrier Safety Administration (FMCSA) defines an electronic logging device (ELD) as "Technology that automatically records a driver's driving time and other aspects of the hours-of-service (HOS) records."
What is the ELD Rule?
The ELD rule will "improve roadway safety by employing technology to strengthen commercial truck and bus drivers with hours-of-service regulations that prevent fatigue" according to the FMCSA.
Increase Safety & Productivity.
ELDs are often portrayed in a negative light, but they are actually your friend. They will help you save money, time, and lives by letting you do the following:
Save time and money by cutting down on paperwork
Prevent accidents, save lives, and minimize violations
Increase efficiency of inspections and record-keeping
Reduce administrative costs
Gain real-time access to information
Show up-to-date logbook information to law enforcement/DOT
Effectively manage the factors that drive your HOS BASIC score to improve your CSA safety ratings
Geotab Drive Can Help
Ready to Get in Compliance? Geotab Drive is the Affordable Solution.
Geotab Drive is an easy-to-use solution for Hours of Service (HOS) and Driver Vehicle Inspection Reporting (DVIR) compliant with the FMCSA. It syncs data between a tablet and our GPS device to provide various functions including violation alerts, automatic duty status changes, and a complete end-to-end inspection workflow. Plus, it's open and flexible platform allows for additional applications to be added to suit your specific needs.
Resources and Support
Still want to learn more about what ELD compliance means for your fleet and
how we can help? Check out the resources below:
Additional ELD Information