Real Time GPS Fleet Tracking
Live Track Your Vehicles with Real Time GPS Fleet Tracking
Real time GPS fleet tracking can be an important money-saving tool for any sized business. From the ability to reduce fleet idle times, improve driver behaviours and measure maintenance costs, the solution is designed to control expenses that can eventually affect your company's bottom line.
Live tracking is an important and interesting feature offered by GoFleet's solution. Designed to help locate the current location of your company vehicles; the solution is capable of playing back trip details, generating reports based on location visits and optimizing routes for customer visits.
How to locate fleet vehicles?
Locating vehicles within the database is fairly easy and accessible. You can select multiple vehicles at a time which will automatically populate on a map as shown in the image below or select individual vehicles to locate in real time. The status of each vehicle selected will then be displayed on the map, helping you quickly see the position of that particular vehicle. The application is also capable of automatically saving records of each trip made when vehicles are driven from place to place. The telematics device will record the distance travelled, time spent driving/idling and other important engine diagnostic events which take place along the way. Such data can later be generated (within specific time periods) to verify driver location needed from the past or even the current route taken during the day.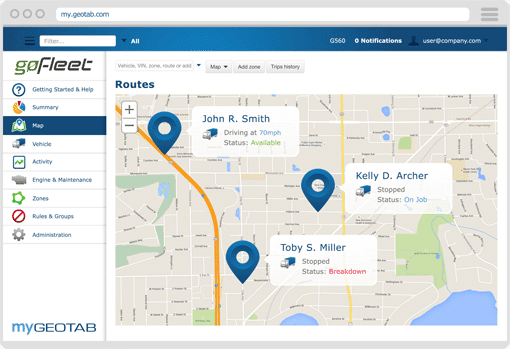 Reports containing such information can also be downloaded to better understand the data or used for important decision making. For instance, mangers can obtain reports of fuel efficiency based on the route taken and whether the drivers were idling along the way. These reports can be scheduled to determine areas where drivers may be wasting fuel. Increase in fuel usage might occur at times when there is needless idling, unapproved vehicle usage and speeding. Managers can then eliminate irrelevant fuel expenses by using the GoFleet's real time tracking solution.
A few drivers may not like the idea of being monitored, but the overall savings of real time GPS fleet tracking will be worth the potential dissonance. With live tracking we can help managers regulate scheduled vehicle maintenance, monitor drivers in real-time and verify log times of employees. All of these aspects are important to saving the company time and money allowing you to never lose sight of your vehicles, but instead effectively manage your fleet to eliminate labour costs and bring forth positive changes.
For more information on the important features of real time GPS fleet tracking, and how it could help your business save thousands of dollars, contact one of our highly trained fleet consultants today!