Driver Scorecard: What it is & Why it's Important
What is the Driver Scorecard & Why is it Important?
What is the Driver Scorecard?
The Driver Score card report helps measure risk and safety scores based on various key indicators such as, speeding, harsh braking, over acceleration, and after-hours vehicle use. Designed with advanced safety technology, users can gain incredible insight into driver's on-road behavior and make changes that will benefit the company in more ways than one. With the use of rules, the solution is designed to calculate the number of infractions and display data as shown in the chart below. The report, can be customized to each user's preference to help identify safe or dangerous practices and further develop a fleet-wide safety program.
Why It's Important?
Lack of safety can be crippling to any business, whether it's fuel costs, labor costs, or just vehicle wear and tear. Driver safety is often overlooked as it's tougher to gain quantitative data over behaviours and performance. This causes many companies to learn the harder way through higher insurance costs, maintenance costs and negative business reputation; proving that nothing has a greater impact on operating expenses than driver performance.
The margin of error within driver safety and compliance becomes narrower every year. Any tickets, accidents or claims impacts the entire company and forces harsher penalties, liability, and ultimately higher overall operating costs. There are numerous ways through which companies can implement measures as discussed below. These actions will not only help improve customer satisfaction but have a positive impact on the company's bottom line.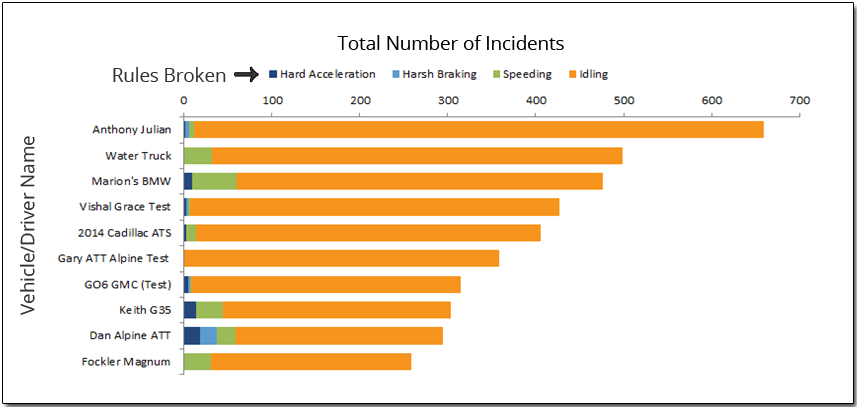 Action Steps:
Post a weekly driver scorecard report for drivers and management. Allow drivers to self-evaluate and make efforts to improve poor driving habits.
Define penalties around unsafe driving which puts your company at risk. Communicate that unsafe driving will not be tolerated.
Develop baseline measurements of driving habits through a driver scorecard. Evaluate current liability and insurance costs. Set goals for improvement based on the measurements and measure against these goals at 3-6-12 month intervals.
Implement driver training for high risk drivers. A study by SAFED showed that the average driver reduces fuel consumption by over 10% following fuel efficient driver training. Additionally driver training reduces risk and claims by as much as 50%.
This Article Was Provided By GoFleet Support