How to Detect and Stop Fleet Idling
Many drivers idle without even thinking about it. For example, an employee waits for their coworker in the car outside a local coffee shop while the engine is humming in the background. Unfortunately, fleet idling can end up being quite costly to business operations, in terms of wasted fuel, the possibility of fines or infractions, accumulation of vehicle maintenance costs, and the environmental impact of excessive emissions.
Increased awareness of idling behavior, through the Geotab solution, can help reduce overall fleet costs. Read this article to learn how to identify and manage idling in MyGeotab.
True Idling Versus Operational Idling
A common trucking myth is that diesel engines need a warmup time of five minutes before driving. Nowadays, no more than three minutes of warmup is recommended by most diesel engine manufacturers; longer than that may actually cause engine damage. It's important fleet managers make sure they understand the difference between true idling and operational idling.
By comining our high-resolution data logging points of the GO device and the IOX-AUX Add-On, fleet managers can easily see whether assets are wasting time or being used for stand-still job applications right within MyGeotab.
True Idling or Non-Operational Idling — In MyGeotab, a vehicle will be in true idling when the vehicle ignition is on and there is no power take-off (PTO) usage identified either through engine status data or through IOX-AUX based input. IOX-AUX is an Add-On for the Geotab GO7 device which measures external vehicle inputs.
Operational Idling — If a vehicle is idling but the fleet manager can see PTO usage through engine status data or through IOX-AUX, then this is classified as operational idling. PTO is a mechanism which drives the engine power from the engine to another external application, high-powered vacuum or a lift on the back of a trailer. Most often, PTO will be used when the engine is running and the vehicle is standing still. Three to minutes of vehicle warm up time can also be considered operational idling as well.
How to Manage Fleet Idling in MyGeotab
We offer a number of tools within our fleet management system to effectively manage idling.
Set Up a True Idling Rule and Notification
Software-based rules can be set to identify drivers who are idling for any non-business purpose, i.e. detect true idling for longer than five minutes. Fleet managers can then be notified of any exceptions generated from these rules via text message or email.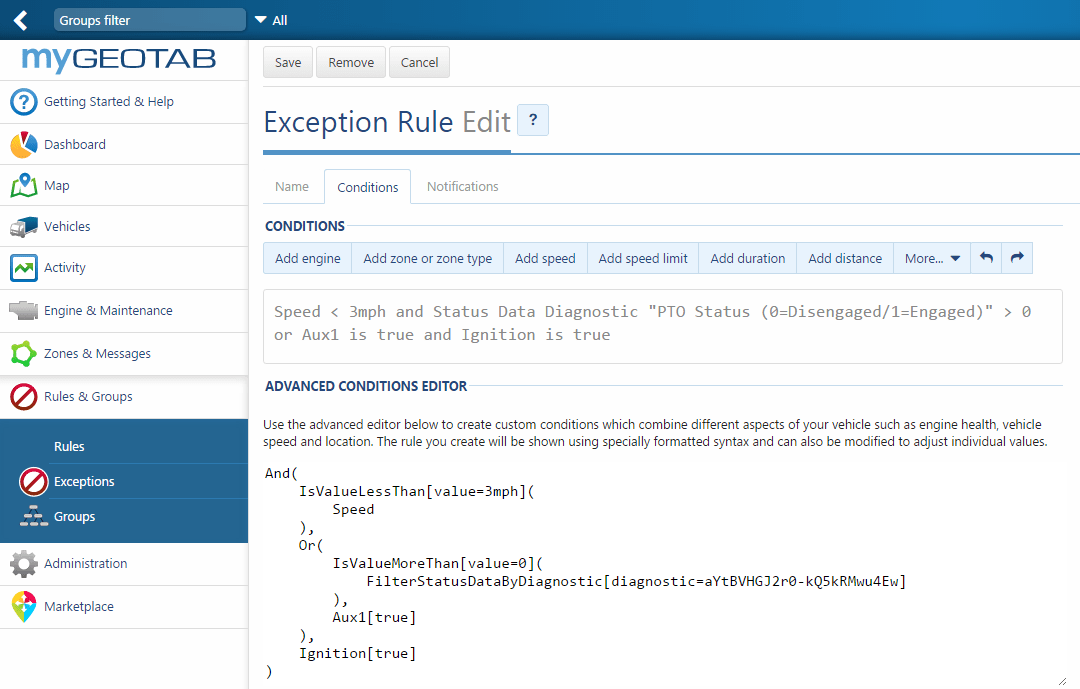 PTO comes through as engine status data. Depending on the OEM and make and model of the vehicle, the engine data is variable. PTO activity can be sporadic and there isn't a solid pattern to track. Therefore, a more reliable indicator of true idling is PTO state. Looking for that flip of the switch (i.e. 0 or 1 value) can show whether the PTO was actually activated.
To develop a rule to capture this information, we need to consider both conditions, which are engine status data and info from the IOX-AUX.
The rule can be defined as:
Speed < 3mph and Status Data Diagnostic "PTO Status (0=Disengaged/1=Engaged)" > 0 or Aux1 is true and Ignition is true
Driver Coaching Tools for Idling
Driver feedback helps reduce idling occurrence rates within a fleet by notifying drivers when idling occurs, so they can immediately adjust their behavior. The Geotab GO device can be configured to produce in-cab audible beeping through the device's built-in buzzer or deliver a spoken text-to-speech message using the GO TALK Live In-Vehicle Verbal Feedback Add-On.
Track Trends with Custom Reports
The standard Exception Details report, included by default within each MyGeotab database, shows when, where and for how long true idling or wasted time events occurred. By using rules that differentiate between operational and non-operational idling, it becomes possible to calculate a breakdown of time spent within each category. From there, some report customization can provide a scoring element that ranks vehicles and drivers on their performance.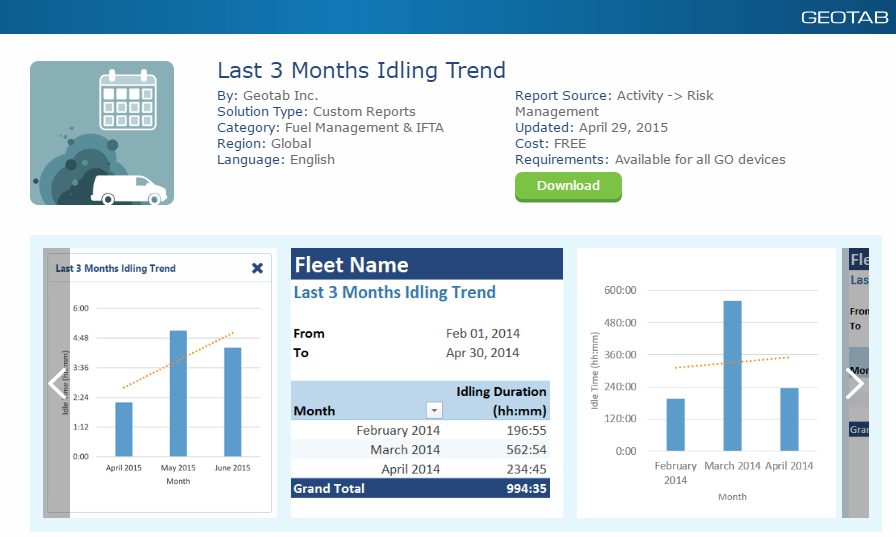 As you can imagine, there are limitless possibilities when it comes to visualizing this data. Thankfully, for those of us who are not Microsoft Excel experts, we provide useful Custom Report templates which can help add firepower to the fight against true idle time reduction. Here are some examples:
Weekly Idle Cost – Daily Trend Report: Shows the overall cost of idling for the fleet. Intended to be run for a week's duration, broken down daily for trending analysis.
Last 3 Months Idling Trend: Displays the total idling time for the entire fleet over the last three months.
Trended Exception Report: Showcase how your drivers are doing compared to each other on a trend. Designed to be reporting for a monthly or weekly data set, showing daily or weekly trends.
Driver Awareness and Training are Key
The driver is the one who chooses to let the vehicle idle, making driver training and awareness key. Telematics data collection, driver coaching, and reporting can all assist fleet managers to create more efficient and sustainable fleet. Perhaps, in the future, driverless and electric vehicles will become a solution to this problem.
Source:
How to Detect and Stop True Fleet Idling
By: Jason Widla, Solutions Engineer Specilaist at Geotab
https://www.geotab.com/blog/detect-stop-true-fleet-idling/