Customize your company reports to gain tailored fleet information
Organizations are constantly looking for new ways to improve their yearly profits. With growing competition and rapid technological advancements, countless companies are turning to telematics for vehicle cost savings, driver management and improved insurance rates. Fleets posses the ability to extract an enormous amount of valuable data from their vehicles. This data when turned into meaningful information can help management make smarter fleet choices as well as improve their ROI.
With GoFleet, understanding your fleet behaviour can be further made simple with custom reporting. Reports within the database can be easily accessed and generated for decision making and driver behaviour analysis. With over 30 standard reports to choose from and the ability to create limitless custom reports using excel; information on driver events can be downloaded, customized and scheduled to be emailed on a daily, weekly or monthly basis.
Understanding your Reports
Using excel to create custom reports allows for limitless options when analyzing your fleet data and driver behavior. Variables that best align your business objectives can be included to create graphical reports that match your organizations requirements and can also be placed on your dashboard for a summary view. Below is an example of a safety report that can be enabled on the dashboard.
The Driver Score Card Report: Data concerning risky driver behaviours based on accelerometer data and rules created around sensitivity is used to generate the report.
This report can help:
Management understand driver performance and measure how their habits affect fuel efficiency and safety
Easily measure driver behaviour trends and take any appropriate action to improve performance
Compare individual drivers against organizational targets and recognize employees for good driver behaviour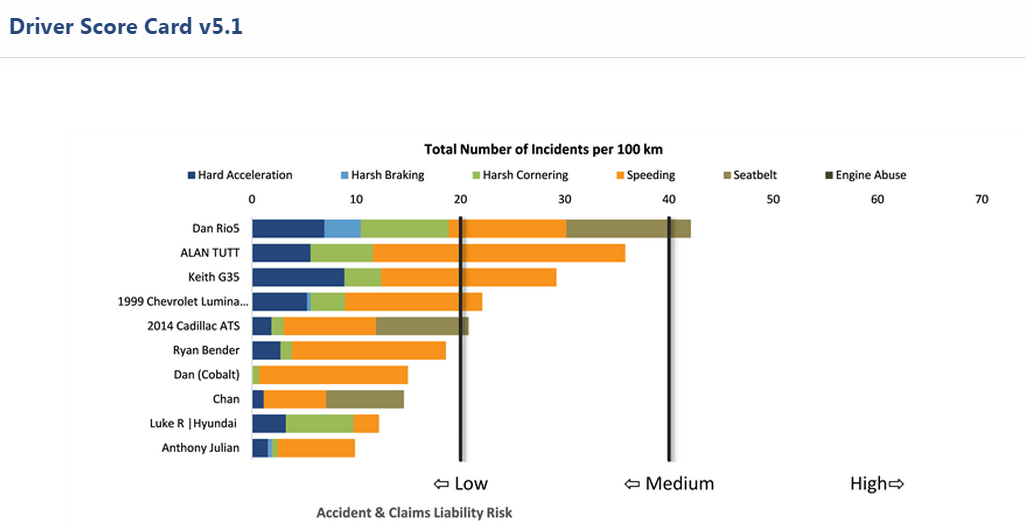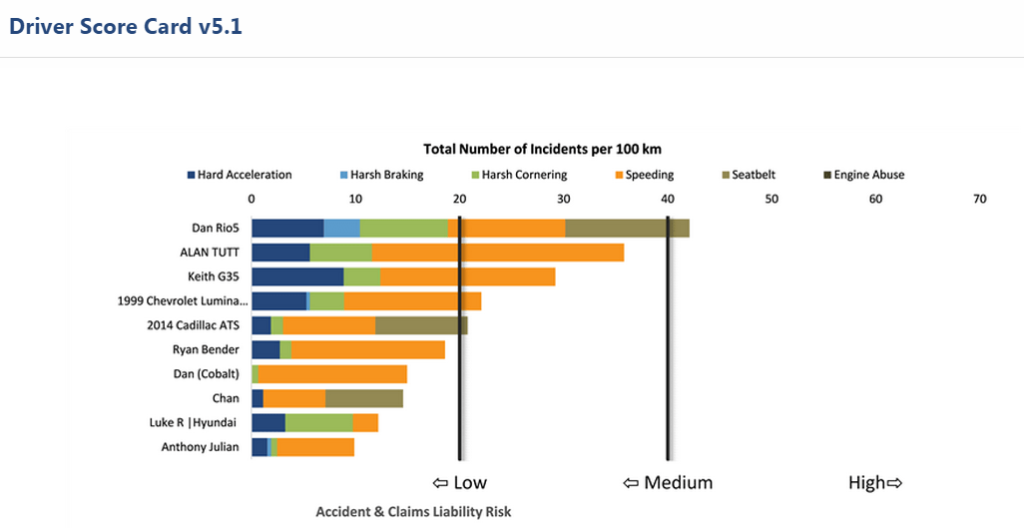 Customizing Reports
Customizing reports within the software solution is fairly easy. You would select the specific report and customize either of the following options.
Report View: allows you to decide who can view the report
DashBoard: allows you to display the report on the dashboard. Select the date range of the information (This week, Last week etc) and who can view the report on the dashboard
Email Report: allows you to add email receivers, select the date range of the information to be sent and the type of report to be sent
Custom reports progress and provide you with a means of comparing data withing certain periods of time and also measure company growth. The numbers can help your company formulate your budget and implement strategies to improve vehicle costs. In addition to helping you make decisions about the company and it's future, reports help keep a trail of vehicle history which can be used for so many purposes such as maintenance records, employee behaviour trends, insurance purposes and more.
For more information on the important features of GPS fleet tracking, and how it could help your business save thousands of dollars, contact one of our highly trained fleet consultants today!
[email protected] | 1-888-998-1122