How to Increase Fleet Productivity with Telematics
Telematics is here to stay, and in order to remain competitive within your market you may have started using some version of the technology. If not, you're missing out.
There is so much more to telematics than simply GPS tracking; telematics can help decrease fuel costs, increase fleet productivity and safety, and so much more.
Fleets reported an average of 21.1% decrease in accident costs, and a 10% decrease in fuel consumption in a recent Bobit Business Media Survey. Some respondents saw up to a 40% decrease in fuel consumption and an average of 12% decrease in labor costs.
59% of fleets said productivity was a major benefit of implementing telematics.
However, almost all benefits from telematics can boost productivity.
The survey included over 1,000 government and commercial fleet responses from fleets of all sizes and 92% reported telematics had a positive impact on their fleet.
So, how exactly can telematics increase fleet productivity?
It is not a magical solution that you plug in and notice results – it is however an extremely powerful tool and when used correctly can result in a ton of savings. Through proper use of the software, paying attention to detail, small changes made over time and communication with your drivers, you will definitely get the results you are looking for.
Real-Time Visibility
Better tracking of your assets means saving you time and money through more efficient job/field tracking, dispatching, billing, and reduced theft.
Maintenance Management
Schedule preventative maintenance based on actual engine hour data instead of your drivers guessing.
Improved Routing & Dispatching
By knowing where your drivers are in real-time you can respond quicker and increase fleet productivity.
Monitoring Safety
Through tracking metrics like speeding, seat belt use, etc. you can educate your drivers and help prevent incidents on the road. The collected data can also be used to clear up any false claims.
Increase Employee Efficiency
The factors above are important but without employee support, it won't work. Educate your drivers and even make it a healthy competition to see who can get the best driving record.
+ so much more!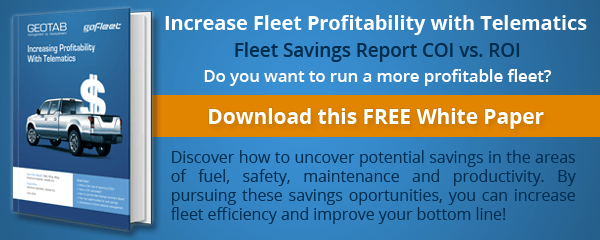 Source:
Automotive Fleet: How to Increase Fleet Productivity Using Telematics by Kelsey Nolan