Reviewing Fleet Management Trends in 2017
As we approach the last few months of an eventful year, let's review some of the fleet management trends in 2017.
Some of the biggest trends this year include: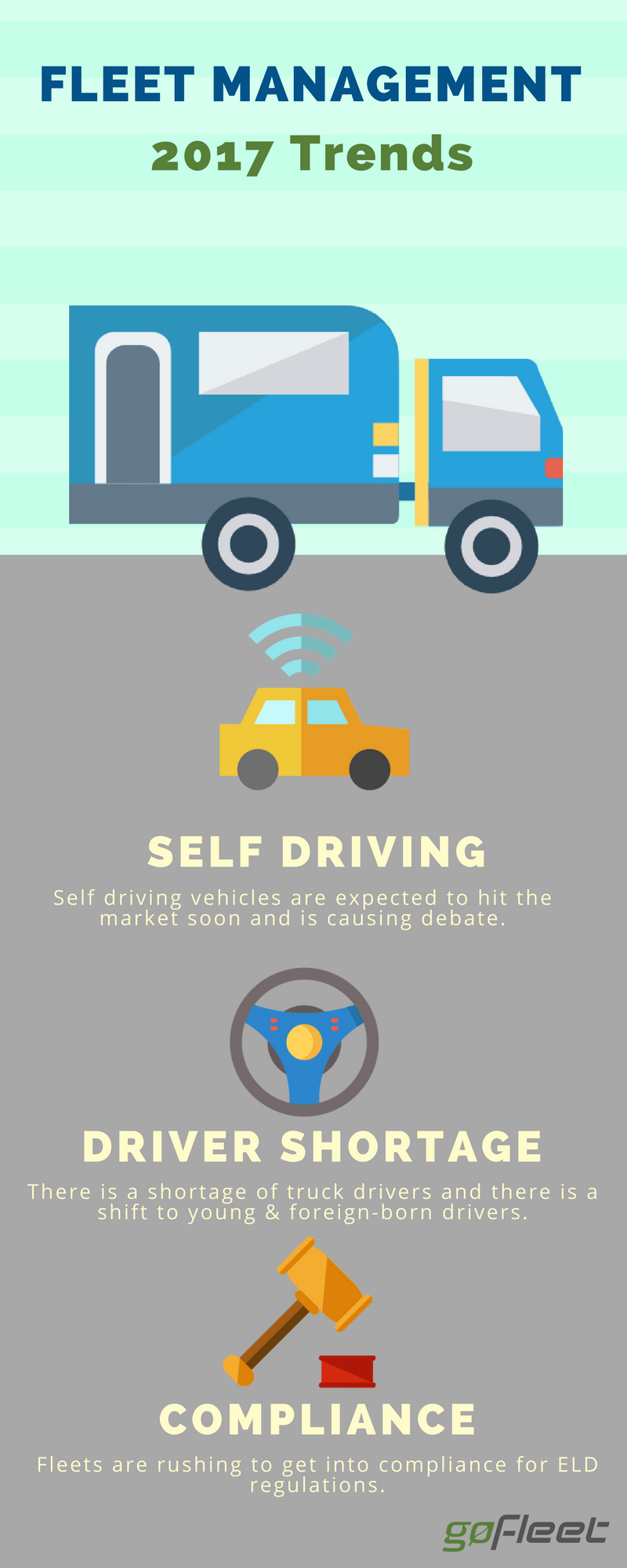 Autonomous vehicles. Self driving vehicles are a hotly debated topic. According to industry experts, autonomous vehicles should readily hit the market by 2020.
Driver shortage. The fleet industry is losing drivers. Older drivers are retiring. They are replaced by younger drivers and minority drivers.
Compliance. As 2017 is approaching its end, so is the deadline to get in compliance with logbook regulations.
Autonomous vehicles
Self driving vehicles have been in development for several years. Some vehicles already have automated functions. Mobileye, a global leader in autonomous driving, specialize in installing computerized driving systems.
Mobileye outlines several levels of autonomy. In the lower levels of autonomy, Mobileye uses computer systems to assist with driving. These include systems that help drivers stay in a lane and brake before a collision. Mobileye is working on progressing through autonomy levels and installing fully self driving vehicles.
Due to the advancing technology, the FMCSA hosted a listening session about self driving trucks earlier in 2017. There was heavy debate from both opponents and supporters. One side argues that self driving trucks will cost jobs and will pose security risks. Another side argues that self driving trucks reduces human error and increases traffic efficiency.
The debate makes it clear that self driving trucks need regulations. Suggested regulation includes outlining how trucks will prioritize human safety over property damage and how to increase cybersecurity.
Driver shortage
In the first half of 2017, the fleet industry noticed a major labour shortage challenge. Lane Jacobson, president of the Southern Alberta Truck Exposition Association, commented that the original projected shortage of 80,000 drivers was off. "They're now saying shortages of 200,000 drivers in North America by 2020.", said Jacobson.
A fleet management trend in 2017 is accepting more younger drivers and minorities on the driver roster. These groups are helping fill the labour gap. The American Trucking Association reports that the average driver age decreased to 49 and minority drivers increased to 38.75% of the driver force. How are fleet managers engaging new drivers?
One approach is to build a long term relationship. Many companies thought outside the box to engage new drivers. Some ideas include pairing younger drivers with an experienced mentor, establishing personal communication, and increasing training.
As part of increasing training, businesses are relying on driving behaviour reports. Some businesses use vehicle tracking reports to identify which drivers need more training. Another way of training is to use camera footage. Cameras, especially livestream cameras, are a great way to visually train drivers or provide live in-cab training.
Compliance
One of the biggest fleet management trends in 2017 is preparing for regulations. The year's biggest regulation is the ELD mandate. There is still a significant number of fleets that need to prepare for compliance.
A reason for the delayed preparation is that some people thought the mandate would be overturned. It is apparent, however, that the mandate is here to stay. Over the summer, the Supreme Court rejected an appeal to overturn the mandate. Congress also denied a bill to delay the ELD mandate.
In the final quarter of 2017, remaining fleets are rushing to get compliant. Compliance "is not a simple flip of the switch", warns Mike Millan, president of the Private Motor Truck Council of Canada. "You need to research suppliers, schedule installations, train your operations, IT department, and drivers."
Curious about keeping up with fleet management trends in 2017? Contact a fleet consultant to share your business objectives.
Links