Samsara Temperature Tracking
Temperature Tracker for Cold Chain Applications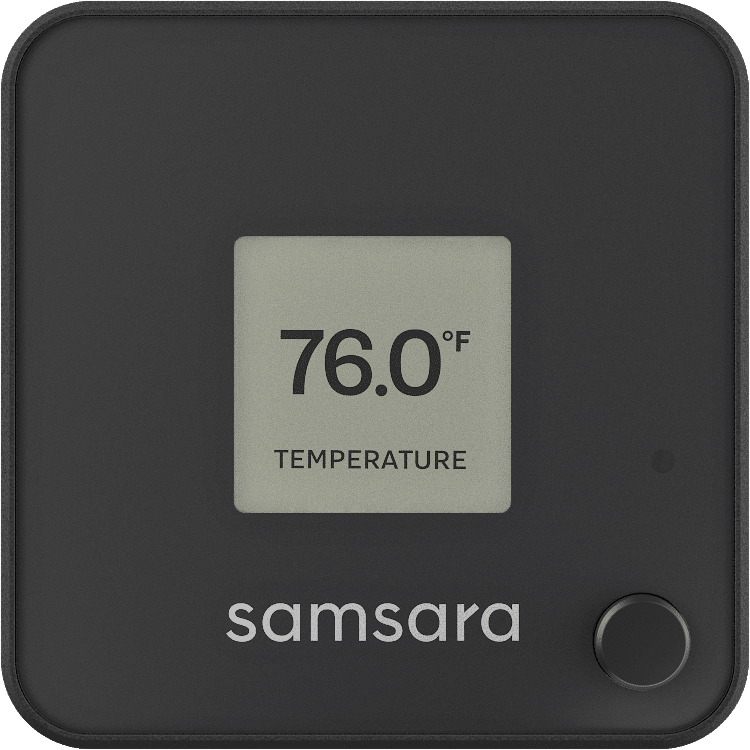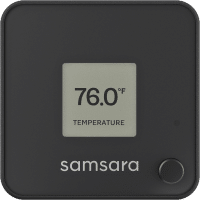 Low Cost Monitoring & Compliance for Refrigerated Assets
Wireless, waterproof sensors capture real-time and historical temperature and humidity data to simplify FSMA compliance and prevent lost loads.

Ensure Product Quality
Monitors temperatures in-transit to prevent product spoilage and rejected deliveries.

Simplify FSMA Compliance
Automated, continuous temperature logging pull temperature records on-demand.

Increase Operating Efficiency
A powerful combination of wireless sensors and instant alerts provide visibility and control of your entire operation.
Temperature Tracking and Reporting
Real-time, to the second, cloud-based alerts for fluctuations in temperature. Automatic alerts notify users when temperature is out-of-range so you can avoid spoilage and protect your bottom line.
Track Temperature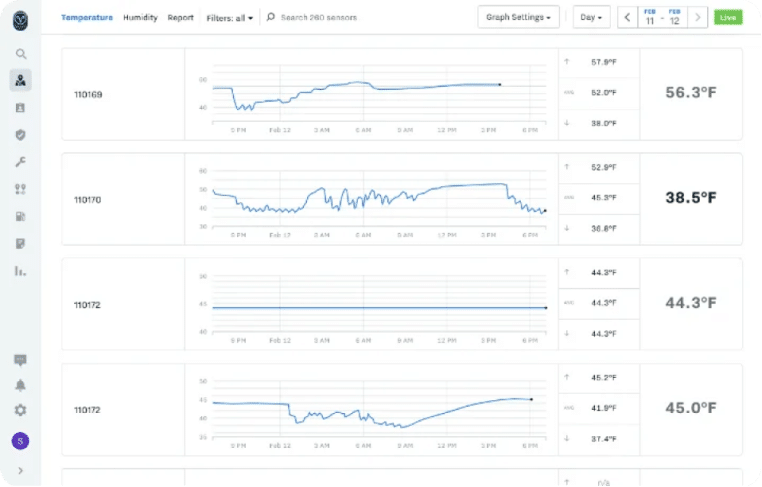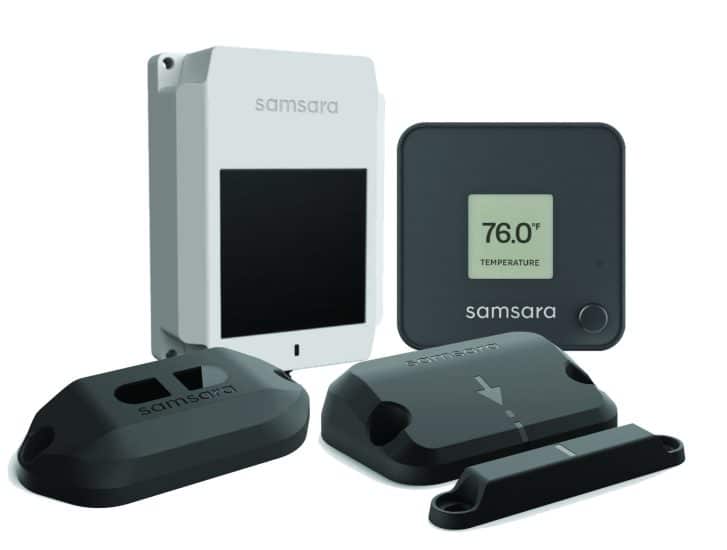 Fully Integratable
This sensor works seamlessly with Samsara's suite of trackers, is easy to install with its plug and play design, and has no software configuration, SIM Card provisioning or IT infrastructure. Connects to full suite of wireless Samsara sensors including: Vehicle, Trailers, and Asset trackers
Integrate Sensors and Trackers
Monitor Reefers Easily
Constant temperature reporting means you can spot and correct fluctuations before they become a problem
Get Temperature Reports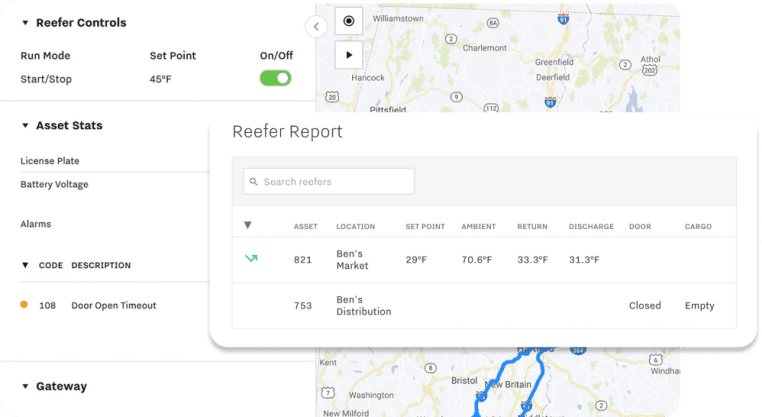 How it works?
Here's how you can track your asset's delivery.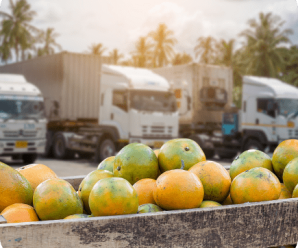 01 - Review
Temperature controlled Shipment Confirmed for customer delivery. Pre-trip check passes.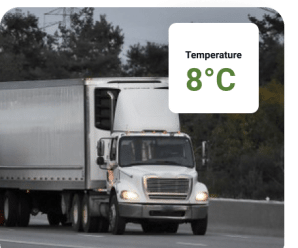 02 - Track
Tracker pings temperature information in regular intervals. Real-time Analytics solutions can be used to catch any anomaly as soon it happens.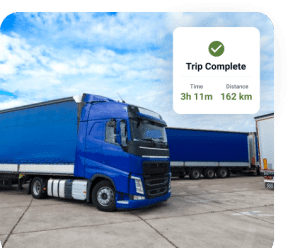 03 - Go
Upon delivery at the customer location, data can be compiled and certified that the product is safe to use.
Technical Features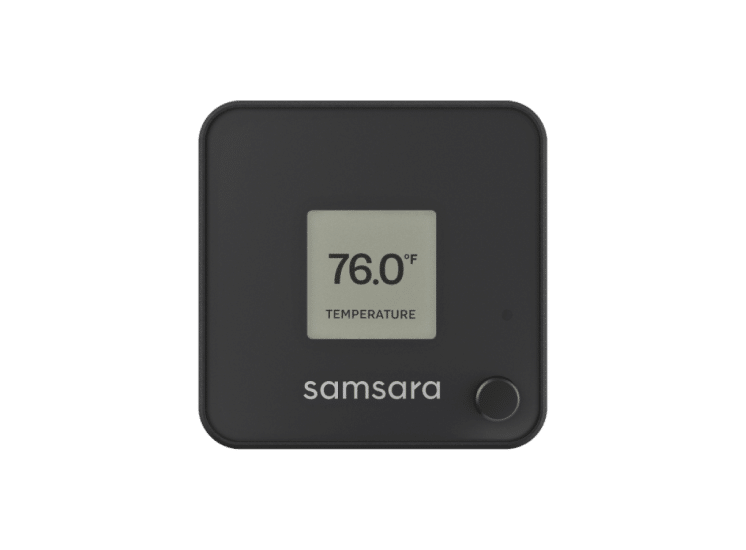 Wireless monitoring
Easy-to-install wireless temperature and humidity sensors that are ideal for ensuring food safety during transportation, monitoring warehouse conditions, and applications that rely on environmental data.
Durable waterproof design
IP67-rated weatherproofing protects against splashes, spray, dust, and other environmental wear and tear - ideal for refrigerated trailers and food storage facilities subject to moisture and power-washing.
Long battery life
Even with always-on wireless networking and data-logging, the EM runs for three years off of a single AA battery.
Affordable asset tracking
The AG46 is an affordable, GPS location tracking device designed to protect mobile assets. Whether equipment is left at public construction sites or expensive equipment is leased out, the AG46 provides security and peace of mind that assets are safe and where they should be.
Detect & recover lost or stolen assets
Easy-to-use geofence alerts enable users to instantly detect and respond to theft and unauthorized use. Alerts are sent via email or SMS when assets move outside of designated areas, such as a job site or street address. Customizable ping rates allow you to configure the device to your needs.
Automatically compile inventory and dormancy reports
Gain complete visibility into the locations of your assets, and eliminate the need for manual inventory checks. The AG46 syncs with Samsara's cloud-based dashboard to provide automated inventory reporting and a visual map of all of your assets in one place.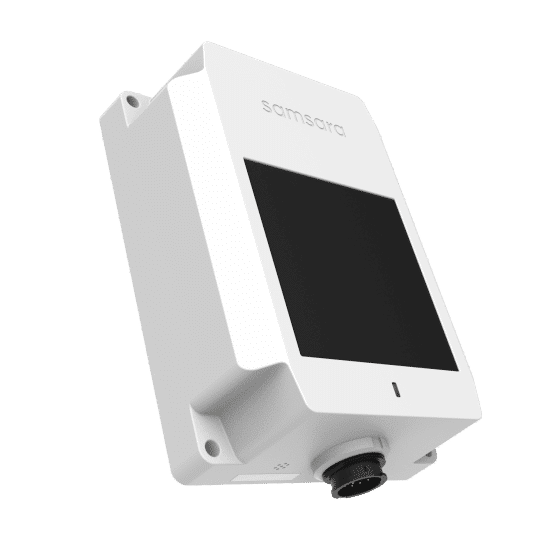 Deep visibility into mobile assets
Samsara provides location visibility for both powered and unpowered assets, enabling operators to instantly find trailers in the yard, streamline utilization, and improve customer service.
Measure and optimize utilization
By collecting and analyzing inventory and usage data, Samsara identifies underutilized trailers and assets that could be moved to higher-demand locations or routes with more revenue potential.
Detect & recover lost or stolen assets
Samsara provides easy-to-use geofences and alerts, enabling operators to instantly detect and respond to theft or unauthorized use. Samsara's real-time location tracking enables law enforcement to quickly recover stolen assets.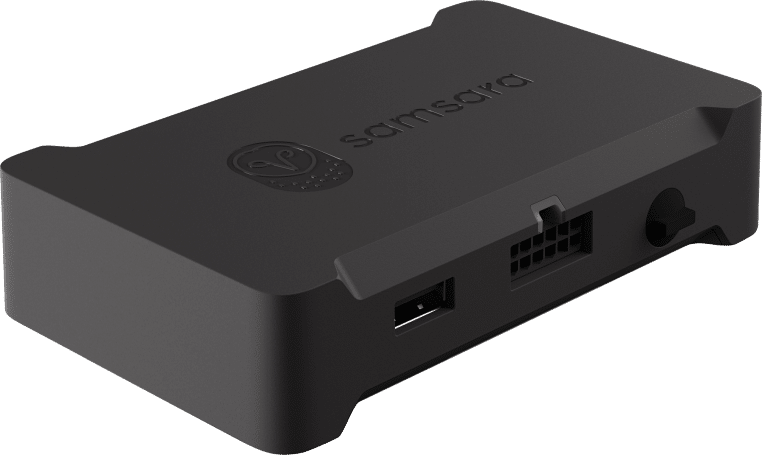 Precise GPS tracking with real-time visibility
Simultaneously reads from multiple independent satellite systems, providing precise, real-time location even in challenging geographical environments.
Vehicle, driver, and operations visibility
The VG34 is ideal for refrigerated fleets, supporting wireless temperature monitoring, and specialized fleets with visibility into power takeoff, lift arm, plows, sweepers, fluid tanks, gas pressure, and more.
A platform for location, ELD, dash cams, and more
The VG34 is the hub of Samsara's complete solution, enabling operators to implement ELD-ready hours of service logging, dash cams for improved safety, connect wireless sensors to monitor reefers and cargo, and more.