Canadian Environment Week: Clean Air Day June 4th
The first week of June is Canadian Environment Week, June 1st to June 7th. Protecting Canada's environment offers a world of benefits for Canadians, from enhancing health and the quality of life to strengthening the economy. Canadian Environment Week is a great opportunity to celebrate our achievements and work towards reducing air pollution even further.
Clean Air Day, celebrated on June 4th this year, raises awareness and encourages action on clean air issues. It is a celebration of environmentally friendly activities that promote clean air across the country.
The transportation industry is one of the largest contributors of air pollutants and greenhouse gas emissions. For Clean Air Day why not begin or renew a commitment to greener transportation? In making the commitment to greener transportation not only will you be helping the environment but you will also be saving money on fuel.
It would be great if we could all transfer over to electric vehicles or hybrids overnight but we realize it is not that simple. New vehicles can be very expensive and may not even be properly suited for the job. Our fleet management solutions help monitor the amount of gas your current vehicles are using on a regular basis and find the areas where you are using unnecessary amounts of fuel. We want to work with you lower your emissions and fuel costs.
Fuel is often the highest operating cost for some fleets; a measurable method that leads to fast fuel savings is our fleet management system. It helps reduce fuel consumption by:
Reducing idling time, hard acceleration, harsh braking and speeding
Reducing total miles driven by incorporating route optimization
Detecting engine faults that may be contributing to increased fuel consumption
Analyze your miles per gallon (MPG) reports to pinpoint your most fuel efficient vehicles
Our fleet management system offers the most extensive metrics available to help you effectively run a greener fleet and save on fuel. GoFleet can help you manage the driver behaviour that leads to high fuel consumption. You can view information directly in My.Geotab (our fleet management software) and monitor any drivers spending too much time idling using our idling report, see below: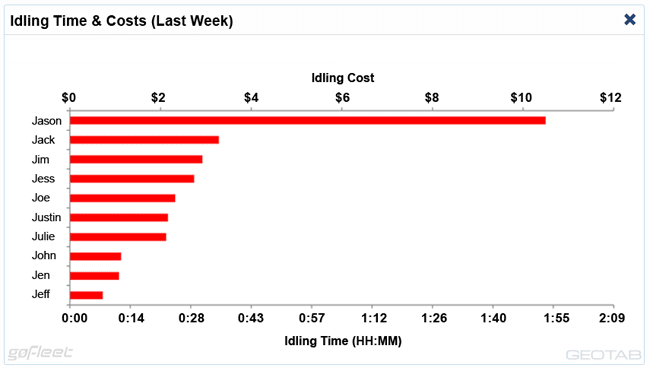 You can also monitor their hard acceleration, harsh braking, speeding, and idling (all factors in fuel consumption) in one easy to view report, our Driver Score Card Report: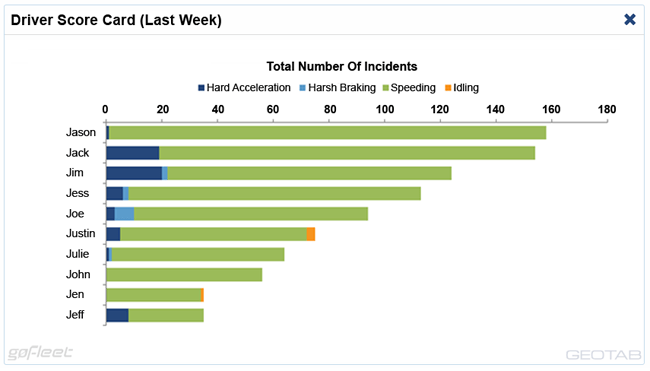 Many of our customers like to print off the Driver Score Card Report and post it in the lunchroom or somewhere all employees can see it. It then often becomes a competition between employees to see who can get the lowest number of incidents, and sometimes the winner at the end of a certain time period will win a prize. This keeps it fun and helps encourage your drivers to reduce fuel consumption without having to tell them off directly.
Dispatch drivers more effectively to reduce fuel consumption, CO2 emissions, mileage, and increase the operational efficiency of your entire business. Get to your customers faster and more efficiently while lowering your fuel consumption with our Route Planning Tool: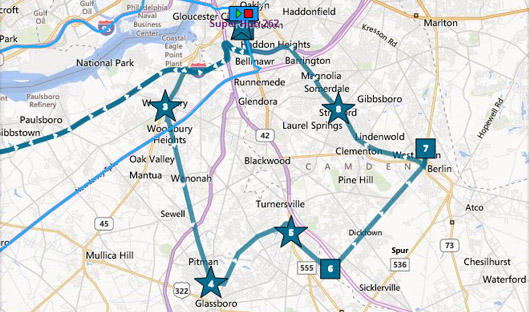 Implementing a Green Fleet Program targeting improvement of fuel economy with the use of innovative fleet management software allows business owners and fleet managers not only to help the environment but also reduce fuel expenses.
Want to learn more about GPS fleet tracking and the environmentally friendly benefits? Contact one of our fleet management consultants today for more information and start lowering your emissions and saving on fuel!