Do I Need a Fuel Management System?
Businesses with vehicles often ask, "Can I manage fuel all by myself or do I need a fuel management system?"
On the business expense report, fuel accounts for 70% of variable cost. For that reason, fleet managers are paid big bucks to control fuel expenses. Fleet managers often target fuel as the #1 expense to control.
What happens to fleet managers who are successful in controlling fuel cost? They get rewarded and recognized. In a list of Top 20 Fleet Managers Under 40, several managers were recognized because of their effort to manage fuel.
So, let's get started.
The answer is "YES" if you care about the following.
1) I care about buying fuel at the best value.
Fuel management includes buying fuel at the best value. Does this mean I can just search for where is the cheapest gas station? This sounds easy – why do I need a fuel management system if I can just look it up for free?
Well, effective fuel management is a bit more complicated. Fuel price is a big factor for buying fuel at value, but there are other factors that are equally as important.
Jeff Pape, Global Transportation & Marketing Manager of US Bank, explains that effective fuel management requires looking at these other factors:
Are drivers using preferred vendors?
Where is the location of the fuelling station and how far do drivers have to deviate from set routes?
Does the fuelling site support trucks?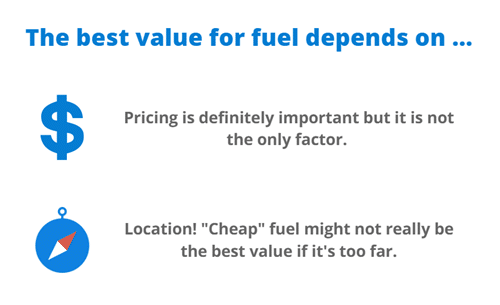 Pape mentions cheap fuel might not be worth it if the location of the fuel station offsets the price. Imagine a driver spending fuel just to drive to "discount" fuelling stations, only to consume more fuel than the amount of money saved at the pump. This is not just wasteful for fuel but also wasteful for valuable delivery time.
The most successful fleet managers, as a result, choose to use a fuel management system. They understand that saving money at the pumps is a bit more complicated than watching for the cheapest price.
2) I care about making sure fuel is efficiently consumed.
Congrats, we found the best value for fuel. What's next? After spending so much effort on purchasing fuel, fleets should also care about how fuel is consumed. A great way to present fuel savings is to increase the efficiency of fuel consumption.
Fleet managers rely on fuel management systems because they monitor costly habits. In fact, some fleets saved about 40% on fuel by focusing on these two categories.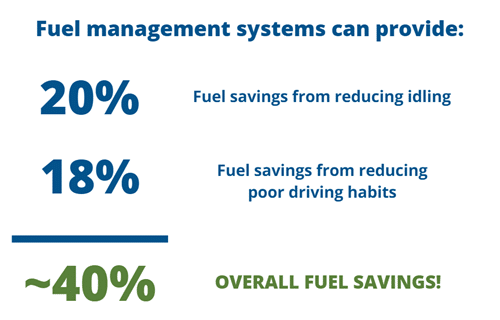 Idling. A huge waste of fuel is when drivers idle. Drivers may make several stops throughout the day in order to service a customer. Imagine how much fuel is wasted if these drivers stop several times a day and for 10-15 minutes each time. PNL Communications, for example, saved fuel by cutting idling costs by 60%.
Driving habits. Bad driving habits also lead to excessive fuel consumption. When drivers speed or accelerate & brake harshly, they burn through fuel quicker. In order to control these costs, a fuel management system can be used to report and coach drivers. Fleets can experience an 18% increase in fuel savings by correcting driving habits.
3) Wait a minute, I have a small fleet. Do I really need a fuel management system?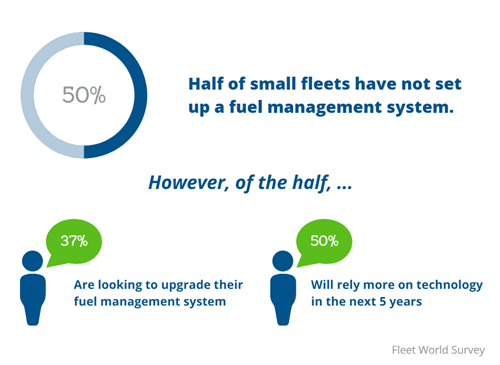 Small fleets are split on the issue. Half of small fleets still manually manage fuel, while the other half use a system. Of the half that have not yet set up a system, there is growing acceptance. 37% of these fleets plan to upgrade their fuel management system, while 50% expect to rely more on technology in the coming 5 years.
Small fleets are investing in fuel systems because they too are seeing the business savings. It's nearly impossible to find a business owner who does not care for saving at the pump nor care for increasing consumption efficiency.
Even 1-person owner-operators are joining the trend. Owner-operators use fuel management tools to monitor cash flow. The system helps them see how much money they are spending in order to make money. In addition, owner-operators are saving money by using fuel systems to fill in fuel tax reports instead of hiring accountants.
Let's return to the question of "Do I need a fuel management system?".
If you want save money on fuel, then the answer is 100% yes.
Sources:
Fleet Financials: 5 Things You Can Do Now to Reduce Fuel Expenses
Government Fleet: 20 Under 40: Fleet's Future Leaders
Work Truck: Effectively Managing Fuel in Truck Fleets
Fleet World: Future of Fleet Survey
American Trucker: Cash Flow Tips for Owner-Operators