Getting Through Winter 2018 | Part 2: Winter Fleet Operations
Fleets are gearing up for winter fleet operations. Recently, weather forecasters predicted that winter 2018 is going to be a big one!
According to their forecasts, this winter will be snowier and colder than normal. In Ontario and Quebec, forecasters are calling for a classic Canadian winter with snowfalls lasting until March. This is because this year's weather system closely matches some of the strongest winters in recent years.
In our second guide for winter 2018, we will take a look at how to improve winter fleet operations.
Common Winter Fleet Operations Issues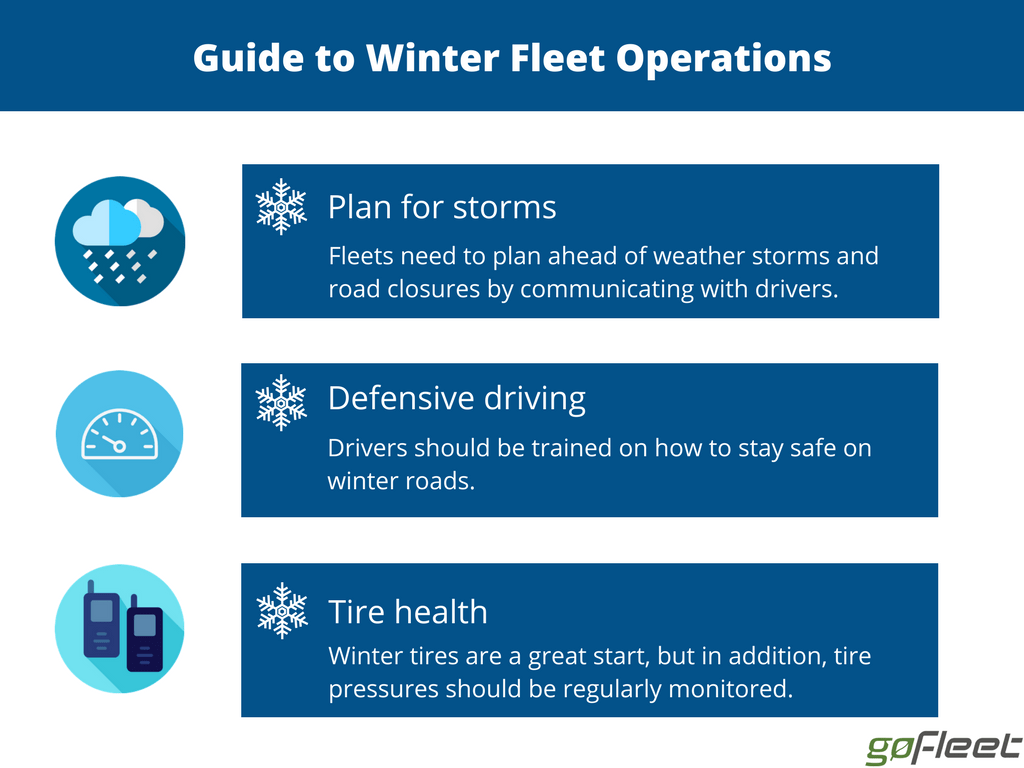 Mother Nature
Issue: Winter weather disrupts business.
Imagine this. A client schedules a job and needs timely service. The truck goes on the road and everything seems to be going smoothly – until we check the forecast. The forecast warns, "Blizzard warning in effect. Traffic will be delayed." Then, the driver calls and says that they are stranded. Ouch!
Winter can be brutal for fleets. Drivers often struggle with weather delays and have to go through unsafe roads. How can fleets balance customer expectations with weather delays?
Solution: Fleets need to plan ahead and regularly communicate with drivers.
Although delays are unavoidable, a big part of winter fleet operations involves tracking and planning for storms. Fleet tracking programs are able to do both of these things.
For example, the Geotab system has a Road Weather Hazard feature. With this feature, fleets can track bad weather and warn drivers ahead of time. Also, the system takes a look at road closures and delays. Dispatchers and drivers can then use this info to avoid getting stuck on the road.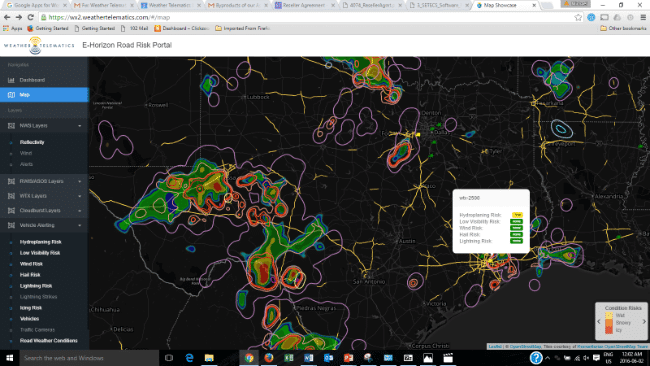 Defensive Driving
Issue: Winter driving is dangerous and drivers need to be extra careful.
Winter is one of the most dangerous times to drive. In an average year, there are hundreds of thousands of crashes due to weather. As a result, drivers are trained to drive defensively.
Some of the best practices of winter driving include:
Making sure all lights, windows and mirrors are visible
Driving extra slow and braking early, especially at intersections and ramps
Keeping a safe distance from other drivers
The challenge, however, is for fleets to get drivers to follow these best practices.
Solution: Companies can monitor and track defensive driving habits.
Fleets are solidifying their safety policies by measuring defensive driving rules. For example, fleets might encourage slowing down on ramps by setting maximum ramp speeds. In order to monitor if drivers are slowing down, fleets rely on tracking software to look at custom ramp speed rules.
Communication
Problem: Drivers need a reliable way to communicate.
One of the risks of winter driving is getting stranded on the road. Unfortunately, there are many cases of stranded drivers each winter.
As a result, a lot of drivers carry winter survival kits in case they get stranded. These kits include enough food and water for a few days. It also includes a reliable radio or phone. In addition to winter survival kits, what are other ways to provide drivers with peace of mind?
Solution: Fleets are equipping trucks with emergency contact systems.
Some fleets are adding a satellite mandown system to winter survival kits. These systems provide a way for stranded drivers to call for help, no matter where they are. "My drivers have asked for a mandown system for a long time. It lets them call for help when their cellphones don't work.", said a fleet manager.
Is your fleet prepared for this year's classic winter?
Links: