Getting Through Winter 2018 – Part 1 | Winter Fleet Maintenance
Winter fleet maintenance is once again a popular topic now that winter is almost upon us!
Oh yes, (Or oh no, depending on your seasonal preference!) winter weather is indeed here. Earlier in November, a record cold temperature was set in Toronto. In other areas, large amounts of snow are already on the ground.
How has the early blast of winter affected fleets? For fleet managers, they got a fresh reminder on why winter fleet maintenance is important. Due to the snow and the cold, fleet managers have their hands full with anything from fuel usage to breakdowns.
Let's take a look at a list of winter issues.
Common Winter Fleet Maintenance Issues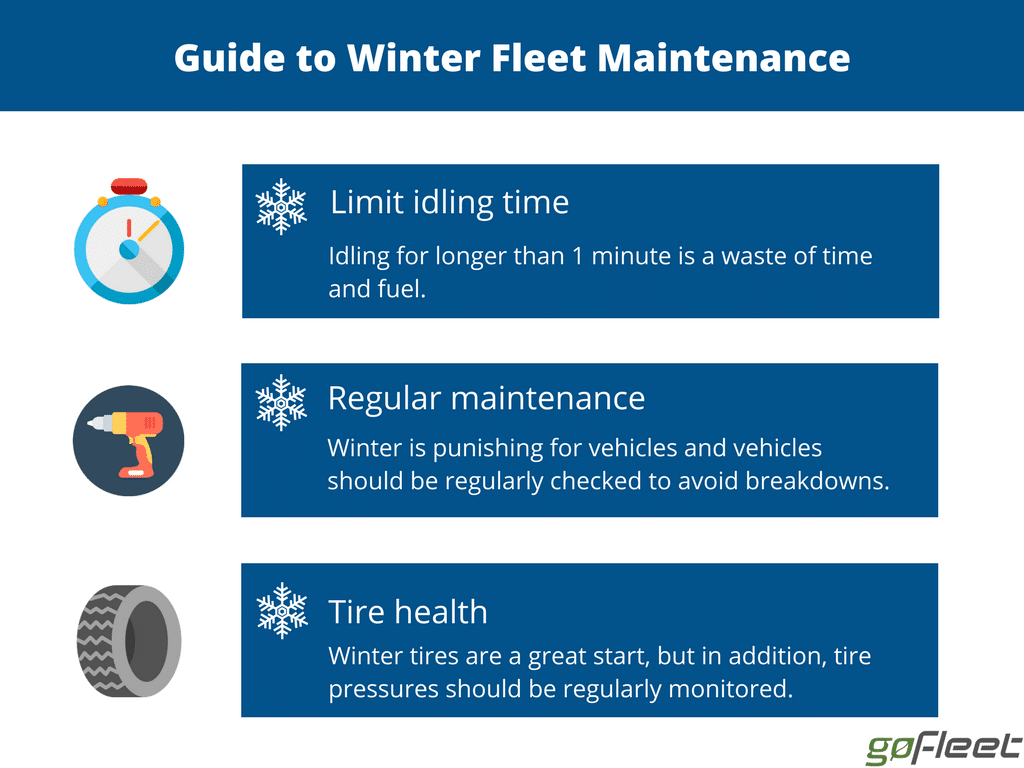 Idling and Fuel Usage
Issue: There is a myth that long periods of idling helps warm up your vehicle.
How long should drivers idle to warm up their vehicle? For some drivers, they leave their vehicle on for several minutes. One driver even left their truck running for 2 hours to try to stay warm! Was idling for several minutes, even hours, effective in keeping drivers warm?
Unfortunately for the idling drivers, the answer is no! Researchers found that modern vehicles only take 30 to 60 seconds to get ready. Anything over a minute leads to wasted time and wasted fuel.
Solution: Educating drivers and using a no-idling policy.
The best solution is education. Some drivers might not know that idling past a minute does not keep them warm. It's not entirely their fault until told otherwise!
As a result, some fleets implemented a year-round no-idling policy. These fleets tracked idling and identified drivers who need to reduce their idle times. These drivers were then trained on how to reduce idling and on alternatives to staying warm.
Maintenance
Issue: Winter conditions can be punishing for fleet equipment.
Winter is punishing for vehicles. Its extreme conditions damage vehicle components. In fact, out of the year, the winter months are the most likely months for vehicles to break down.
Solution: Fleets should create and use a regular winter fleet maintenance program.
In order to prevent winter breakdowns, regular vehicle checks should be performed. For example, some of the best practices include:
Checking lights weekly
Checking oil levels, engine coolants, and tire pressures biweekly
Checking power steering fluids, windshield fluids, and brake fluids monthly.
Of course, like any regular human, check-ups can be easily forgotten and missed. In order to remind drivers and mechanics, fleets use maintenance programs to create regular tasks.
In addition to sending reminders, fleet maintenance programs actively monitor vehicle health. For example, if the system detects that the vehicle batteries are starting to fail, it will send an alert to the maintenance team. This allows the fleet to take the vehicle off the road and fix it before it breaks down.

Tire Health
Issue: Fleets need to equip appropriate winter tires and maintain their tire pressure.
Besides using winter tires, fleets need to actively monitor tire pressures. Even the best winter tires will underperform if it is not taken care of. How can fleets ensure that winter tires will do its job?
Solution: Drivers need to regularly check tire pressure.
The best practice is to regularly check tires. Experts recommend that tires should be checked multiple times per month. In addition to regular tire checks, a good program to use is a tire pressure monitoring system.
Tire pressure monitoring systems include a dynamic duo of a tire sensor and a tire pressure display. The tire sensor reads tire pressures in real time and sends the information to both in-cab displays and in reports. As a result, drivers and managers can fix under-inflated tires before the vehicle caught in an incident.
Check back in for part 2 of our winter 2018 guide!
Links
CP24: Toronto breaks 79-year-old record as temperature plunges to -10.1 C
CBC: Idling your car in winter not worth your time or gas, driving educator says
RAC: Winter Breakdowns
BusinessFleet: Winter Operation and Maintenance Tips for Fleets