Solar Powered Asset Tracking Solution Benefits
Solar Trax
Solar Trax devices are self-charging which makes them the perfect asset tracker to support long-term remote deployments without the need to replace the battery. The devices use a highly efficient solar cell to continuously charge the battery and maximize operating life. With Solar Trax devices you can track your assets under extreme weather conditions, they are IP67-rated for resistance against water, dust, and impact. All firmware updates are done over-the-air, so there is never a need to remove the device from your assets.
Benefits of Solar Powered Asset Tracking
Advanced GPS Tracking Know the exact location of your assets and protect them from theft; devices are manufactured with an embedded and integrated GPS receiver.
Energy Harvesting Highly efficient solar cell to continuously charge and maximize operating life of the internal (and rechargeable) Lithium Ion battery.
Multiple Applications & Cheaper Alternative The solution is suitable for tracking dry containers, non-powered assets, heavy equipment, trailers, among many other items. It is also a much cheaper alternative to other asset tracking solutions.
Automatic Firmware Upgrades Upgrades to firmware are carried out over-the-air, automatically, eliminating the need to ever remove devices from assets.
Built to Withstand Track your assets under the most extreme weather conditions. The weatherproof case of Solar Trax is IP67 certified.
Extensive Inputs and Outputs Multiple inputs allow for interfacing with various sensors to further enhance the solution to be utilized in unique applications.
Useful Asset Information
Solar Trax provides real-time tracking for large and small assets and makes it easy to create geofences around job sites or other areas. There is no limit to the number of assets the system can support. You can easily run reports around your assets using Geotab Exception logic and identify how long assets have been stationary. Generate custom reports by filtering via asset group and date range.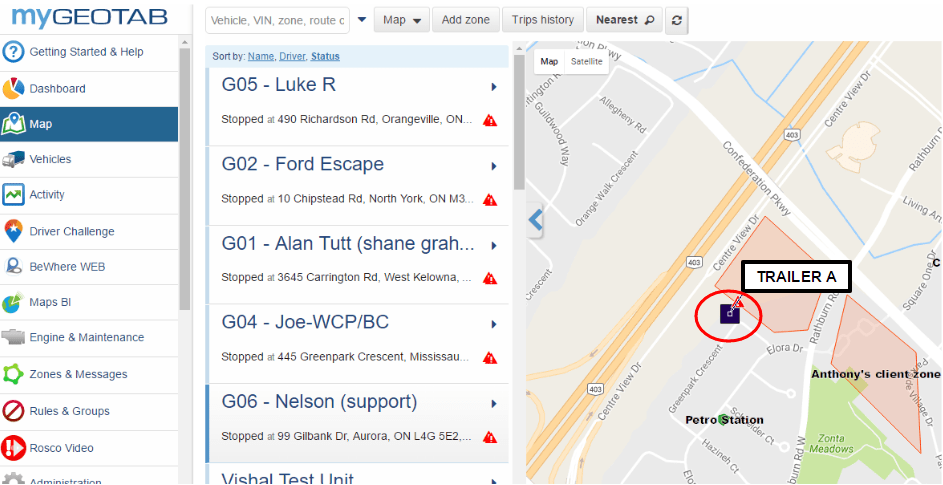 Customers who require frequent data for location, health, and monitoring of their remote assets can be assured that our solar power GPS solution will provide more frequent data for longer periods compared to other asset tracking devices in the market today.