Best Practices for Rolling Out Large Fleets
Large Fleet Rollout
Rolling out a large fleet can be slightly more complex than installing the devices in 5-10 vehicles. But, if you take the right approach with a mix of planning, monitoring and resources, it will help you complete the rollout on time and achieve the quality results you're looking for. The guidelines below will help you better manage your project and provide a general overview of the items it is important to consider.
Objectives
Communication is key; all project objectives should be effectively communicated and understood by everyone involved to make sure the roll-out is on the right track from the start.
These include:
Outlined reasons for the implementation – what needs to change?
Determine short and long term goals
Understand the ROI results that are expected to be achieved
Relate to our 5 main pillars to consider the main focus:
Fleet Optimization, Productivity, Safety, Expandability, Compliance
Create measurable objectives
Planning
Quite often, certain key factors are overlooked, which can have a negative effect on a project before it even gets started. There are many elements to consider when planning a deployment of Geotab GO devices in a large fleet:
Recognize the scale of the project: identify whether it is a national or local rollout, single or multiple locations, and the number of vehicles.
Determine who is involved: from administrative staff to project managers, ensure each individual knows what they are responsible for and has the skills necessary.
Communicate effectively: share documentation within your product team and actively communicate.
Shipment/Delivery of Equipment: Ensure realistic shipping and delivery times are taken into consideration when determining the dates of installation.
Installation Schedule: When planning a large rollout, creating an installation schedule is key. You will need to consider the following: number of installers/team members doing the install, vehicle variations (necessary harness), locations, estimated time per install and vehicle availability.
Example of an installation schedule:

Once installation is complete, it is important a training schedule be put together. We offer training sessions Monday, Wednesday and Friday every week at 2pm EST and you can have your entire team join the sessions.
Kick Off Meeting
Before the rollout, setup a meeting to review the implementation plan to ensure everyone is working towards the same expectations and achieving the same goals. It's also important to clearly set out how changes throughout the project will be communicated and handled between all parties involved. Additionally, this meeting allows you to discuss any concerns your team has and additional items that you may not have considered.
Track Progress
You want to keep the project on track and meet deadlines as best as you can. The better you keep to your deadlines, the faster the rollout, the faster you'll start to achieve savings and increase the productivity of your fleet! It is common to have changes occur throughout the deployment of the devices but as long as you effectively manage these changes you should still be able to stay on track. Hold weekly meetings to keep everyone informed and address any problems.
A completion tracker can be a great way to keep track of of the planned versus actual progress for both the rollout and training. Check out the following example: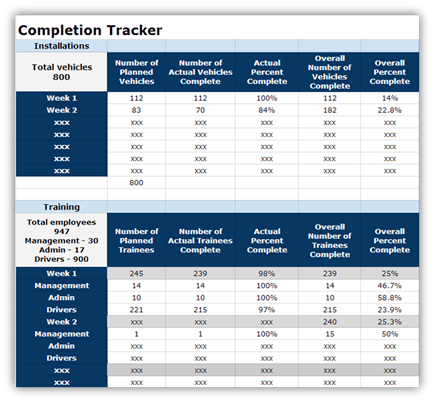 Follow-Up
About a week after rollout, we will set up a time with you to evaluate performance. We will ensure you have everything you need to move forward and will determine anything else you may need from us. We are happy to set up monthly reviews with you to look at ROI results and set up new goals moving forward.
Keep the project simple, set realistic milestones and expectations, deliver on time and keep everyone informed. And don't forget, we are here to help as much as you need! We take pride in getting our customers up and running as fast as possible so they can start realizing just how much time and money can be saved with our solution.
Contact us to speak with one of our trained fleet consultants:
1-888-998-1122 | [email protected]
Original Article By: Laurelle Flewelling, Account Manager at Geotab
http://www.geotab.com/blog/rolling-out-large-fleets-with-geotab-go-devices/