CRR Environmental Services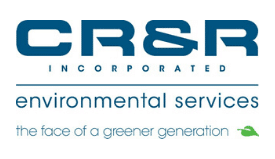 Company
CR&R Environmental Services is a successful and innovative waste and recycling collection company. The environmental service company serves more than 3 million people and thousands of businesses throughout numerous countries. They are known for the way they strive to always re-invent themselves to better help their community when it comes to collecting, processing and recycling waste materials with an increased focus on the environment.
In order to successfully continue to do this, it became evident that they needed to implement innovative solutions.
Opportunity
Even though CR&R was staying on top of using technology and various solutions to their advantage, they still saw areas where they could improve. Specifically with the visibility of their vehicles and drivers, as well as the reliability of the tools they were using.
As a supporter in having cameras throughout their fleet for over 10 years, they found that prior to using the ZenduCAM platform in their fleet, there were issues of reliability and visibility. Specifically, they found that their previous solutions were failing at least 70% of the time. This was evident when fleet managers went to review footage, only to find that the recording was not always available.
Success
With numerous instances of cameras not recording or storing footage, CR&R decided it was time to research and seek out a new solution.
After considering the many options available, they implemented Geotab devices and the ZenduCAM platform as they trusted the reliability and capabilities of the technology. After implementation, they noticed an increased level of visibility, reliability, productivity and reporting. This allowed the CR&R team to not only feel confident in their ability to review possible driving incidents but take the footage and data gathered to update their training and teaching methods. 
Featured Products