Burnbrae Farms – Food Industry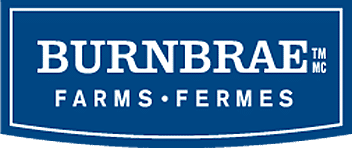 Company
Burnbrae Farms is a fifth generation family owned and operated company for over 70 years that has been working with Canadian farmers who are dedicated to offering tasty and nutritious eggs to communities nationwide. They are one of Canada's leading egg farmers with farms, grading stations and processing operations across Canada. Burnbrae Farms is a family business with a social conscience that strives to lead in their industry in the improvement of healthy living, progressive animal care and environmental sustainability.
Opportunity
Burnbrae Farms monitors a large fleet of drivers in several provinces in Canada which requires them to have impeccable fleet management tools. Burnbrae takes their responsibility to the environment actively when it comes to their fleet management as they are constantly evaluating their trucking routes to find efficiencies to reduce unnecessary carbon pollution.
Furthermore, their drivers are responsible for transporting food products therefore it is imperative to optimize trucking routes while also ensuring drivers are minimizing their idling time to lower fuel consumption and speeding infractions. GoFleet's solution was evidently the best choice in order for Burnbrae Farms to remain compliant and stay true to their mission statement as they required a reliable telematics provider that could help with:
Accurate driver/asset tracking

Lowering idling time

Lowering speeding infractions
After reviewing GoFleet's solution, Burnbrae Farms decided that GoFleet would be able to provide the exact features that they are looking for in order to make their fleet management easier. By leveraging the Geotab system to its fullest extent, Burnbrae Farms is able to monitor driver and asset location, and manage idling and speeding.
Success
The solution that GoFleet provided surpassed expectations for Burnbrae Farms. They rely on the Geotab system for their daily asset tracking operations by using the map feature which allows for real-time view of driver location, whether they are driving, stopped at a customer or office location, or creating an incident such as speeding or idling.
Furthermore, Burnbrae Farms was impressed with the capabilities and ease-of-use of the Geotab system as they relied on it to view the rules that drivers were breaking, which is simply viewed by creating a risk management report. This is a very useful aspect of the system because incidents such as speeding violations can lead to substantial fines up to $10,000. Therefore, by utilizing the reporting features for speeding incidents, Burnbrae Farms can observe which drivers are creating the most incidents in effort to bring that countdown for the fleet as a whole.
Burnbrae Farms was adamant on decreasing their fleet's overall idling time in order to save on fuel costs. Dashboard reports are utilized to receive a summary of your fleet's progress and determine certain trends so that educated business decisions can be made regarding your fleet. Burnbrae Farms took advantage of this aspect of the system in order to monitor idling time and was successful in trying to reduce the time to an average of less than 4 minutes which is saving them over $1000 a week!
Idling Time and Fuel Cost for Last 3 Months (Weekly data view since January 2018)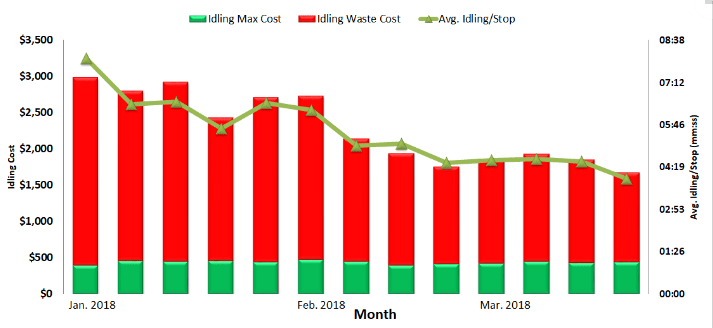 Burnbrae Farms was able to effectively decrease their average fleet idling time which lowers their carbon footprint allowing their company to remain environmentally conscious while also ensuring that there is less wear on the engine, lowering maintenance costs in the long run. Using the information Geotab provides for speeding infractions, driver behavior can be monitored to ensure that minor speeding incidents don't eventually lead to catastrophic accidents and insurance headaches.
Featured Products