5 Tips for Getting Home Safely this New Year's Eve
New Year's Eve is a day full of excitement and celebration. However, all of that celebrating can create a dangerous situation out on the roads.
On New Year's Eve, there are more alcohol-related car accidents than most other nights. In fact, when compared to an average weekend night, there is about 71 percent more alcohol- and drug-related accidents between 6 pm on December 31 and 6 am on January 1st.
Because these crashes are so common, it is especially important that you stay safe when on the roads.
Follow these five tips to ensure you make it home safely this New Year's Eve.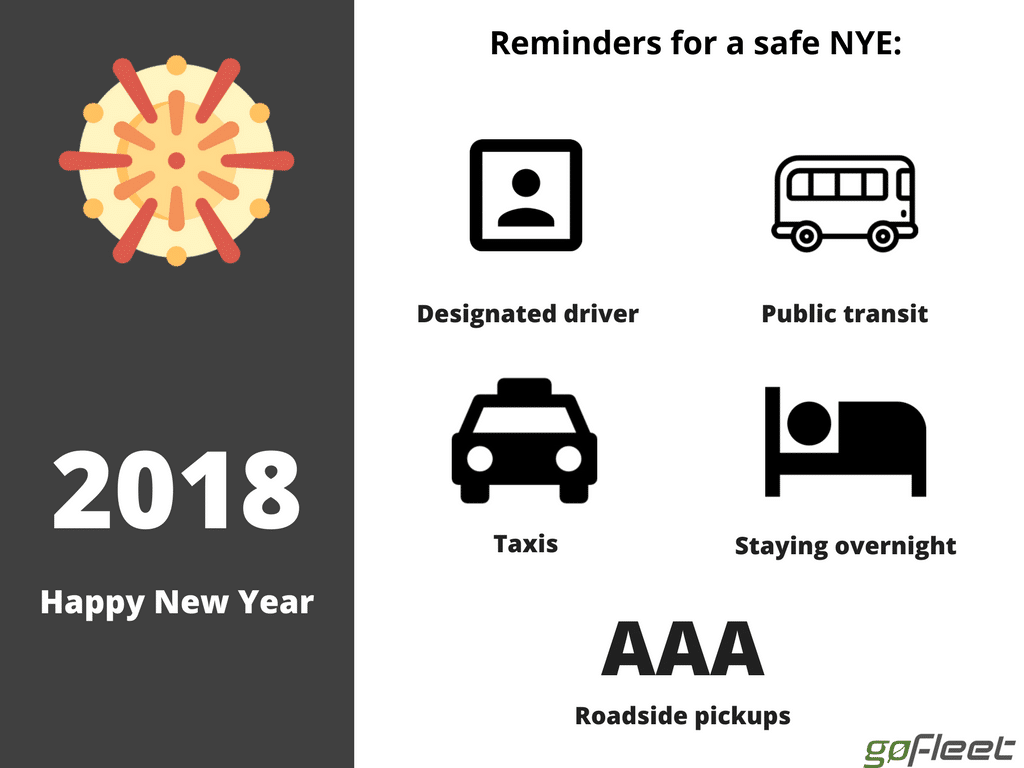 1. Have a Designated Driver
One of the easiest ways to get home safe on New Year's Eve this year is to have a designated driver pick you up and drop you off at home. You probably won't have to pay your designated driver! You can always buy them dinner or non-alcoholic drinks in exchange for a safe ride home. Just make sure you choose someone who won't drink at the party or event you're going to. Even a single drink can be dangerous!
However, if you don't have a friend that's willing to be a designated driver, Dryver offers designated driver services across 76 cities in the United States via a smartphone app. You can easily hire a designated driver pick up a few guests for an event, by the hour, or for order pickup services all through the app. Plus, the driver uses your car, so there's no need to worry about Uber drivers and cabs fighting over who picks up whom.
2. Use Public Transportation
The easiest and cheapest way to get home safe on New Year's Eve is taking public transportation, whether it be using a bus, boat, or subway.
Fortunately, most cities have public transportation, so it won't be challenging to find a safe route home. Also, most major cities offer reduced or free late night services for public transportation on New Year's Eve and other major holidays.
3. Book a Cab or Use a Rideshare Service
Clearly, one of the more popular ways to get to and from a destination safely is taking a cab, Lyft, or Uber. However, more often enough, rideshare services are becoming increasingly more popular than cabs. You can hail a ride and pay for it right from the app.
When you're taking an Uber or Lyft, make sure you avoid the costly surge charge. Usually, during major holidays when traffic is bad or there are fewer drivers on the road, rideshare services charge users a "surge charge," which is usually twice the cost of a normal ride. However, Uber representatives predict that the surge on New Year's Eve will last from 12:30 to 2:30, so make sure you get a ride either before or after!
4. Consider Staying Over
If you can't find a designated driver or don't have the money for a rideshare service, there's no need to worry. If you're at a party, consider staying over until the morning.
Most cases, your friends are already planning on staying over, and it will be easier for your convenience. However, just make sure you ask the host of the party beforehand, to make sure they have enough room for you to stay over. Plus, they might even offer you a ride home in the morning, once everyone is sober.
5. Contact AAA
If you have an AAA membership, you may be in luck. AAA offers pickup service to over 20 regions in the country on New Year's Eve. Although this means that their services aren't available to everyone, you should try to contact AAA and schedule some sort of pick up after your party to ensure a safe drive home. You can also check online to see whether or not their service is available in your area.
Samantha Tung is a contributing writer and media specialist for Caliber Collision. She often contributes content for a variety of car safety blogs.