Remote Diagnostics with OnCommand Connection
Know how your fleet is performing with OnCommand Connection
GoFleet has created a platform for fleet managers to be in tune with their vehicles at all times. Using the Go Device, companies are able to track their vehicles in real-time, measure performance and improve business productivity through reports containing important fleet data.
Maintaining a fleet whether large or small can be challenging when drivers are not in close proximity. This includes the inability to predict drop off times, engine health and basic driver behaviours. As a solutions company, GoFleet understands the importance of constant development encouraging us to offer more than just a solution that records engine diagnostics. Our recent partnership with Navistar On-Command Connection has now allowed the solution to further notify technicians immediately giving them access to the most up-to-date data and the ability to:
Identify potential problems beforehand
Lower repair costs
Increase fleet uptime
How OnCommand Brings You More Service:
The Go device installed in the vehicle detects engine events and vehicle service requirements through data gained from the ECM port. When an alert is detected a message is sent to the Navistar OnCommand customer support center. An OnCommand repair advocate then identifies the closest international dealer, confirms whether the right parts/tools are available and contacts the customer to schedule a maintenance appointment.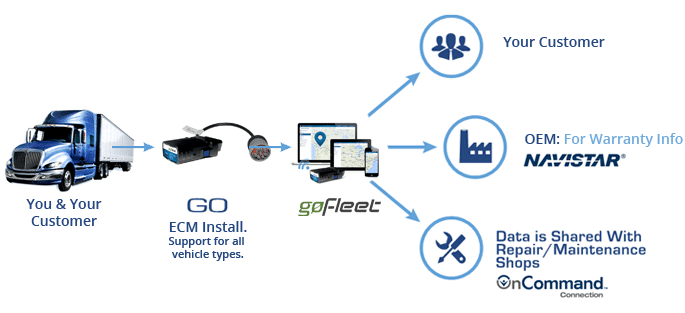 There are many benefits to using the OnCommand Connection service for fleet operations. The first and foremost benefit is the ability to control operating expenses and company bottom line. These can be achieved through the following:
Reduce en-route events by proactively scheduling maintenance and repairs
Map tools that plot trucks locations, nearest dealers, hotels and local towing providers
Generate real-time comprehensive vehicle health reports
Understand fault codes quickly and easily with descriptions in plain English
Gain more insight with fault code actions plans that provide severity information and recommend solutions.
Learn how to maximize fleet servicing with OnCommand Connection & GoFleet.
Generate more revenue and help your customers keep their vehicles in top shape!
Contact 1-888-998-1122 | [email protected]