Fuel Card Integration Saves You $$$
Fuel Card Integration from Fuel BI
Fuel BI is an integration from our partner Fleet Hoster that uses the information Geotab GPS devices pull from the vehicle to cross reference with information collected from a Fuel Card.
When you're operating a fleet, fuel cards and GPS devices can empower you to take control of your fleet fuel expenditures. With the Fuel BI integration, we will automatically capture your fleet card transactions, geocode them, process them against GPS data, and provide you the results in order to better analyze your fleet fuel expenditures. Fuel card integration will help you gain valuable insights with the following tools:
Built in Geotab security settings so your managers or users can only view the data they're permitted to
Fuel expenditure charts and metrics over user selected periods of time
Location analysis with mapping of transaction and vehicle location at the time of purchase
Gain insight with transaction mapping on where your drivers are filling up
Capture gallons purchased vs gallons actually used with fuel consumption tracking
Customized user dashboard, alerts, and charts
Works with all 4 major fuel card providers
In order to provide our customers with the best information possible we pull data from both the fuel transaction and the vehicle's GPS data. From each fuel transaction we can determine the transaction time, merchant location, product information, and driver identification. From the vehicle's GPS data we can determine the log time, vehicle location, and vehicle status data.


*The most important piece is the link between the fuel card provider and Geotab to identify a vehicle. A good match means that a link is successful.


*We look for vehicle logs around the time of the transaction to get GPS data.



We look for an overall increasing fuel level trend around the time of the fuel transaction.
Our fuel card integration software helps you to gain an excellent overview of fuel expenditures and provide you with the tools necessary to pinpoint any suspected vehicles or transactions to prevent fuel theft.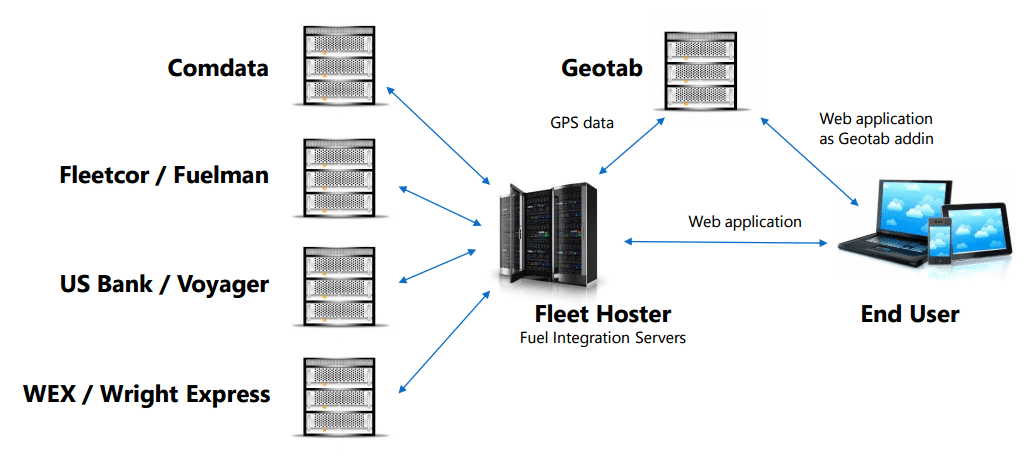 With an easy setup process and easy to read key performance indicators you can start tracking your fuel purchases, referencing them with Geotab data, and saving money in no time.