Enterprise-Focused Fleet Tracking Solutions: Enhancing Efficiency and Profitability
Part Two
Mastering the Digital Pivot: Real-Time Fleet Analytics, Advanced Reporting, and Compliance
In this segment of our comprehensive series on enterprise fleet tracking solutions, we're mastering the "digital pivot", unpacking the profound influence of real-time analytics and visibility, the power of tailored reporting, and the imperative of compliance in today's complex regulatory landscape. 
This journey offers a deep dive into how organizations harness real-time data to supercharge decision-making, leverage advanced reporting tools for strategic insights, and lean on fleet tracking solutions to seamlessly navigate the maze of regulatory requirements. 
Real-Time Visibility and Analytics
These components can significantly impact decision-making and operational efficiency, providing organizations with actionable insights and empower them to make informed choices that drive success.
The Significance of Real-Time Tracking
Real-time tracking offers a live view of the fleet's movements and status. This immediacy allows fleet managers to make on-the-spot decisions in response to unexpected events, such as route deviations or vehicle breakdowns.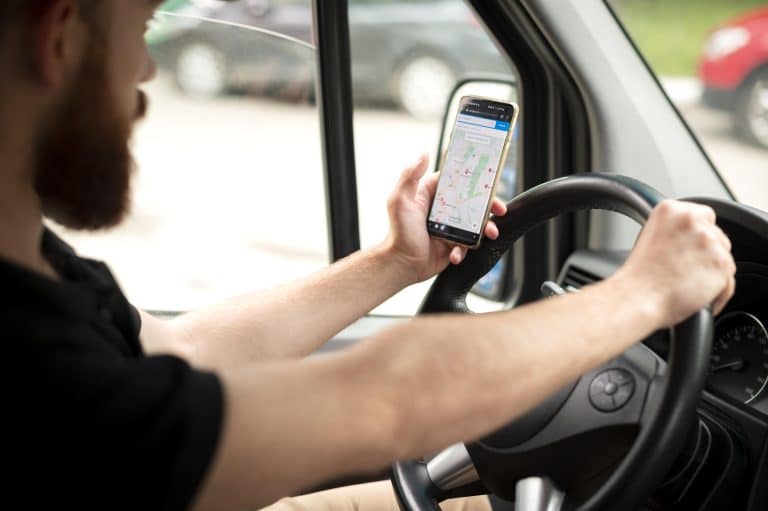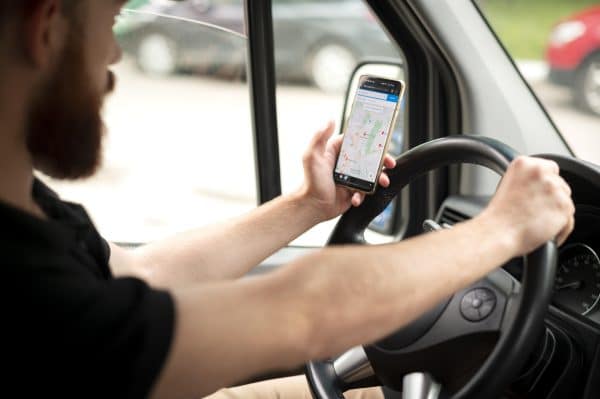 With real-time tracking, organizations can provide customers with accurate and up-to-the-minute information regarding delivery or service ETAs. This level of transparency improves customer satisfaction and loyalty.
This type of tracking also enables route optimization on the fly. When traffic conditions change or new orders come in, the system can quickly calculate the most efficient route adjustments, reducing fuel consumption and delivery times.
When drivers are held accountable for their actions on the road, enterprise stakeholders inevitably see improvements not only in driving behavior, but in speed monitoring, adherence to routes, and compliance with safety regulations. Immediate feedback and coaching can also be provided to improve driver behavior.
Showcasing the Power of Real-Time Analytics in Fleet Tracking Solutions
Fuel Efficiency:

Real-time analytics can identify inefficient driving habits, such as excessive idling or aggressive acceleration. By addressing these behaviors promptly, organizations can realize substantial fuel savings.

Maintenance Alerts:

Fleet tracking systems can analyze vehicle data in real time to detect anomalies or issues that may require maintenance. Early detection allows for preventive maintenance, reducing downtime and repair costs.

Load Balancing:

For organizations that manage multiple vehicles with varying capacities, real-time analytics can optimize load distribution. This ensures that vehicles are utilized to their maximum capacity, reducing the need for additional trips.

Dynamic Scheduling:

Real-time analytics can dynamically adjust delivery or service schedules based on changing circumstances, such as traffic, weather, or urgent requests. This agility enhances operational efficiency.
Examples of Analytics in Motion:
Example 1:
Imagine a delivery company with a large fleet that uses real-time tracking and analytics. When one of its vehicles encounters unexpected traffic congestion, the system immediately reroutes the vehicle to a faster, alternative route. This not only ensures on-time deliveries but also reduces fuel consumption and keeps customers satisfied.
Example 2:
A logistics company uses real-time analytics to monitor the tire pressure of its fleet in real time. When a drop in tire pressure is detected, the system generates an alert, allowing the maintenance team to address the issue promptly. This preventive action prevents costly blowouts and extends tire life.
Example 3:
A food distribution company employs real-time tracking to monitor the temperature in its refrigerated trucks. If the temperature rises above a safe threshold, an alert is triggered, enabling immediate action to prevent spoilage and ensure food safety.
Real-time visibility and analytics are invaluable assets for managing a large fleet within an enterprise. They enable organizations to make timely and data-driven decisions that enhance operational efficiency, reduce costs, and elevate customer satisfaction. 
These capabilities transform fleet management from a reactive process into a proactive and agile endeavor, positioning organizations for success in the competitive business landscape.
Advanced Reporting and Customization
These elements are instrumental in providing actionable insights and tailoring reports to meet the specific needs and objectives of the organization. 
The Power of Advanced Reporting
Data-Driven Decision-Making:

Advanced reporting tools transform raw data into meaningful insights. They generate comprehensive reports that offer a deep understanding of fleet performance, compliance, and operational efficiency. This data-driven approach empowers organizations to make informed decisions.

Performance Monitoring:

Advanced reporting allows organizations to monitor key performance indicators (KPIs) in real time. Metrics such as fuel efficiency, driver behavior, and vehicle utilization can be tracked, providing a clear picture of fleet health.

Trend Analysis:

By analyzing historical data, advanced reporting tools can identify trends and patterns. For example, they can pinpoint recurring maintenance issues or areas where route optimization can yield significant savings.

Compliance Management:

Reporting tools simplify compliance management by generating detailed reports that highlight adherence to safety regulations, hours-of-service rules, and other industry-specific requirements.
The Value of Customizing Your Fleet Tracking Solutions
Tailored Insights:

Customization options allow organizations to tailor reports to their specific needs. This means that reports can focus on the metrics and data points that are most relevant to the enterprise's objectives. For example, a logistics company may prioritize delivery times and fuel efficiency, while a construction company may emphasize equipment utilization.

Industry-Specific Reporting:

Different industries have unique reporting requirements. Customization enables organizations to create reports that align with industry standards and compliance mandates. This ensures that the organization remains in full regulatory compliance.

Flexible Dashboards:

Customizable dashboards enable fleet managers and stakeholders to access the information that matters most to them at a glance. Whether it's tracking vehicle locations, monitoring driver behavior, or assessing maintenance schedules, customized dashboards streamline decision-making.

Scalability:

Customization options ensure that the reporting system remains scalable. As the organization grows or its reporting needs evolve, the system can adapt to accommodate new requirements without the need for a major overhaul.
Examples of Reporting in Motion:
Example 1:
A shipping company leverages advanced reporting to create customized reports that focus on on-time delivery rates, driver performance, and fuel consumption. These reports enable the company to pinpoint areas for improvement and optimize its operations for maximum efficiency.
Example 2:
A construction company uses advanced reporting to track equipment utilization across its fleet of heavy machinery. Customized reports provide insights into equipment downtime, maintenance needs, and overall productivity, enabling the company to make data-driven decisions about fleet management and maintenance schedules.
Example 3:
A public transit agency customizes its reporting to align with regulatory requirements for safety and compliance. Reports generated by the fleet tracking system provide detailed insights into driver adherence to hours-of-service regulations, vehicle maintenance schedules, and accident reporting, ensuring that the agency remains in full compliance with industry standards.
Advanced reporting and customization empower organizations to transform raw data into actionable insights, monitor performance, and tailor reports to meet specific objectives and compliance requirements. 
By harnessing the power of advanced reporting and customization, enterprises can optimize their fleet operations and remain agile in a rapidly evolving business landscape.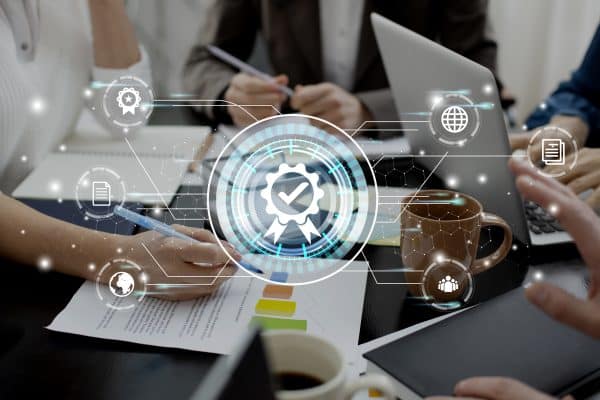 Compliance and Regulatory Support for Fleet Tracking Solutions
Fleet tracking solutions serve as invaluable allies for enterprises in meeting the complex web of compliance and regulatory requirements. 
These solutions provide essential tools and functionalities that not only ensure adherence to industry-specific regulations but also streamline the process of reporting and compliance management. 
Ensuring Regulatory Adherence for Fleet Tracking Solutions
In industries like transportation and logistics, ELDs are mandated by regulations such as the Federal Motor Carrier Safety Administration (FMCSA) in the United States. Fleet tracking solutions with ELD capabilities automate hours-of-service (HOS) tracking, ensuring drivers adhere to driving time limits and rest requirements.
For industries like pharmaceuticals and food distribution, maintaining specific temperature ranges during transportation is critical for compliance with safety regulations. Fleet tracking solutions equipped with temperature monitoring ensure that temperature-sensitive cargo remains within regulatory bounds.
Some industries, including hazardous materials transportation, have strict route compliance requirements. Fleet tracking solutions can enforce pre-defined routes to ensure that vehicles avoid restricted areas and stay in compliance with regulations.
Compliance with safety regulations often involves monitoring driver behavior. Fleet tracking solutions track parameters such as speeding, harsh braking, and seatbelt usage, helping organizations enforce safe driving practices.
Industries with Critical Compliance Concerns
Transportation and Logistics:

This industry faces a multitude of compliance requirements, including ELD regulations, load weight limits, and driver qualification standards. Fleet tracking solutions help organizations in this sector meet these obligations efficiently.

Pharmaceuticals:

Ensuring the integrity of pharmaceutical products during transportation is crucial for regulatory compliance. Temperature monitoring and tracking are essential to maintaining compliance with pharmaceutical industry standards.

Food Distribution:

Similar to pharmaceuticals, the food distribution industry must comply with stringent temperature control regulations. Fleet tracking solutions equipped with temperature monitoring ensure that food products remain safe for consumption.

Hazardous Materials:

Organizations involved in transporting hazardous materials face complex regulatory requirements. Compliance includes adhering to specific routes, documenting hazardous cargo, and ensuring driver training and certification.

Public Transit:

Public transit agencies must adhere to schedules and safety regulations to ensure passenger well-being. Fleet tracking solutions help these agencies monitor vehicle adherence to routes, maintain safety standards, and provide accurate service information to passengers.

Construction:

Construction companies often need to comply with load weight limits and vehicle inspection regulations. Fleet tracking solutions assist in monitoring vehicle weights and scheduling maintenance to meet compliance requirements.
Examples of Compliance in Motion:
Example 1:
A long-haul trucking company uses a fleet tracking solution with ELD capabilities to ensure compliance with hours-of-service regulations. The system automates HOS tracking, reducing the risk of violations and associated penalties.
Example 2:
A pharmaceutical distribution company employs a fleet tracking solution with temperature monitoring. This ensures that medications requiring specific storage conditions, such as vaccines, remain within the mandated temperature range during transportation.
Example 3:
A public transit agency utilizes fleet tracking to monitor bus routes and adherence to schedules. Real-time data from the tracking system helps the agency provide accurate service information to passengers and comply with service standards.
Fleet tracking solutions provide the tools and capabilities necessary to monitor and enforce adherence to industry-specific regulations, ensuring that organizations remain in full compliance while streamlining the reporting and management processes. 
Whether in transportation, pharmaceuticals, or other industries with critical compliance concerns, fleet tracking solutions are essential for mitigating risks and maintaining operational integrity.
Fleet Tracking Solutions — Coming Up:
The journey through enterprise-focused fleet tracking is vast and enlightening. As we've navigated the critical aspects of data security and privacy in this installment, there's still much more to explore. Dive deeper with us in the next segment of this captivating series, where we'll further illuminate the intricacies of fleet management and its undeniable impact on large enterprises. Make sure you're on board for our next exploration, where we dive into data security and the ROI of enterprise-focused fleet tracking solutions. Stay tuned, and witness the evolution of fleet tracking firsthand!