ELD Enforcement | ELD for Light Duty Trucks vs. Heavy Duty Trucks
It has been a few weeks since the FMCSA started enforcing ELD for light duty trucks and heavy duty trucks. Since April 1, officers issued fines for ELD violations. How are carriers doing so far?
Compliance Rates
According to CarrierLists, ELD compliance is high. As of an April 2nd survey, 91% of carriers have complied with regulations. Beyond national numbers, what are some trends?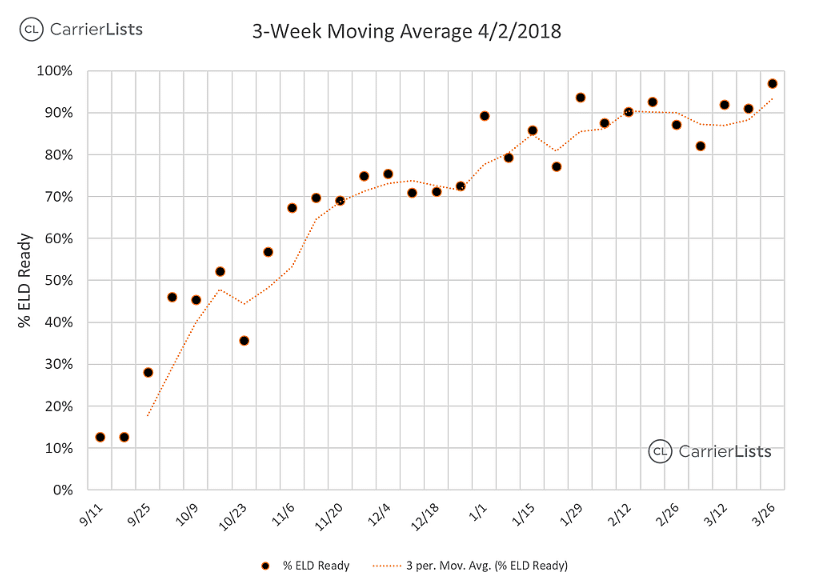 Image Source: Carrier List
Fleet Size
Fleet size used to be one of the biggest factors in ELD compliance. Not anymore! Whereas earlier in 2017 when half of smaller fleets were not compliant, around 90% of small fleets are now compliant.
Location
A bigger factor in ELD compliance is fleet location. According to the survey, some states reported a 100% compliance rate. In other states, however, compliance rates were as low as 60%. In comparison, the average state compliance rate is 90%.
Fleet Type
Finally, fleet type impacts compliance. Fleets that have dry vans and reefer trucks lead compliance rates. Meanwhile, flatbed, tank, and bulk fleets have lower compliance rates.
Summary
ELD compliance, for the most part, has been smooth. Even drivers are warming up to ELDs. In 2017, some drivers and organizations held protests and even complained to the Supreme Court. In 2018, however, many drivers have adopted ELDs without disturbing their daily lives.
One of the remaining challenges for getting ELD compliance to 100% is educating the industry. For instance, one of the biggest questions is if businesses need to install an ELD for light duty trucks.
Are there any ELD exemptions for light duty trucks?
When are light duty trucks exempt from ELDs? This should really be a 2-part question.
Firstly, we have to determine if the light duty vehicle classifies as a commercial motor vehicle (CMV).
A light duty vehicle is considered a CMV if:
Weight: The vehicle and the combined weight of all attachments exceeds 10,000 pounds.
Passengers: The vehicle carries more than 9 paying passengers or more than 16 non-paying passengers.
Liability: The vehicle transports anything hazardous.
If a vehicle meets any of the criteria, it is classified as a CMV. CMVs are required to record hours of service.
Secondly, we need to determine if the CMV is required to use ELDs. Generally, light duty CMVs are required to use an ELD for light duty trucks. However, there are a few exceptions including:
Drivers that keep HOS records for less than 8 days in any 30-day period.
Vehicles that are older than 2000.
Operations that falls under the "short haul exemption". Short haul exemption means that: (1) CDL drivers operate within 100 miles or non-CDL drivers operate within 150 miles; (2) vehicles start and stop at the same location; and (3) drivers drive for less than 11 hours, while taking at least 10 hours of break before their next shift.
Are there any differences between ELDs for light duty trucks and ELDs for heavy duty vehicles?
For the most part, ELDs for light duty vehicles are the same with ELDs for heavy duty vehicles. The biggest difference, however, would be installation.
Most light duty vehicles have an OBDii connector port. ELD devices can then directly connect into the OBDii port.
On the other hand, heavy duty vehicles usually do not have an OBDii port. In that case, installers can use adaptors such as 9-pin cables.
Disclaimer: Although "ELD for Light Duty Trucks vs Heavy Duty Vehicles" contains research notes from the FMCSA, the article is not a substitute for professional legal advice.
Links