Why is it important to control tire expenses?
Tire expenses are the third biggest expense for most fleets. In order to control expenses, fleets must consider capacity, tire pressure maintenance, and tire purchases.
Capacity
Tires can only hold so much weight. Think about table legs. If someone were to pile a mountain of heavy objects, what happens to the table? It collapses, of course.
The same concept applies to tires. For every 10% of overcapacity, tire life is reduced by about 16%. The best practice for managing tire capacity is to set rules on maximum load and to ensure tire specifications can handle such a load.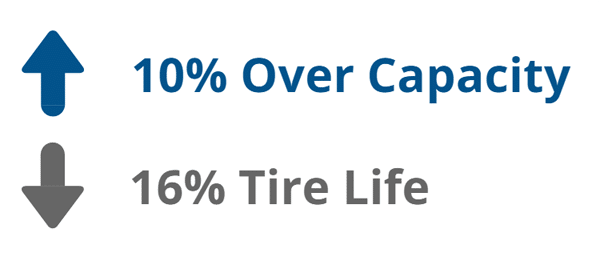 Tire Pressure Maintenance
Tire pressure maintenance is an important part of tire health. In fact, not only does it improve a tire's life cycle, tire pressure maintenance also leads to fuel savings. Consider the following statistics.
Underinflation is the #1 cause of tire failure and leads to almost 40,000 accidents in a year. Also, due to higher rolling resistance, under-inflated tires decrease fuel efficiency. For every 10% of underinflation, there is a 1% decrease in fuel economy and a 7% decrease in tire life.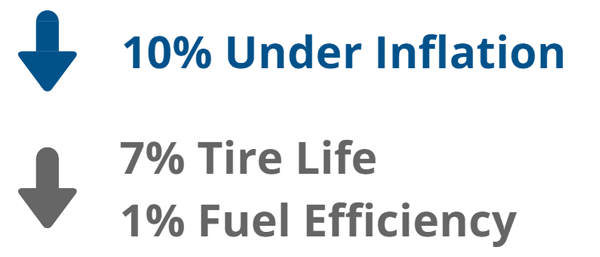 Severe over inflation, on the other hand, is also a problem. It can also cause tire failure as overinflated tires are unable to absorb shock.
Tire Purchases
Tires are becoming more expensive. Michelin, a major tire producer, announced an 8% price increase earlier this year. Michelin explained that rising cost in raw materials has translated to a higher tire bill for fleets.
3 Helpful Technologies
Many fleets are reducing tire costs by investing in helpful technologies. Some of these technologies include Tire Pressure Monitoring Systems, tire maintenance software, and automated tire purchasing.
Tire Pressure Monitoring Systems (TPMS)
Recall the damaging effects of under and over inflation. Fleets developed strict check-up programs to extend tire life.
A popular tool to help extend tire life is a Tire Pressure Monitoring System. These systems are screwed onto tire valves and provide live tire pressure readings. These readings can be generated into a report that measures tire performance. Maintenance managers can then be alerted when there are spikes in tire pressure.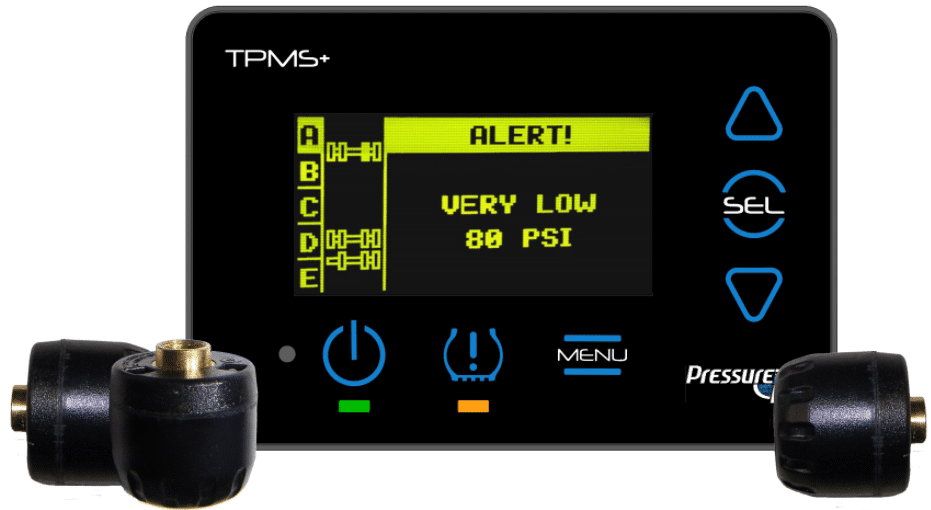 Besides sending reports back to the office, Tire Pressure Monitoring Systems can also alert drivers. The system includes an in-cab display, where drivers can receive real-time readings and alerts for tire pressure and temperature changes.
Tire Maintenance Programs
Just like vehicle tracking, more and more companies are investing in tire tracking.
In fact, look at Michelin. The major tire supplier worked on transitioning into RFID technology over the past 15 years. RFIDs are attachable tags that track objects. Michelin is optimistic that the RFID chips will help fleets manage inventory and reduce inspection time.
Similar to Michelin's RFID program, there is software that allows fleets to manage tires. For example, the Zendu Maintenance software includes a tire maintenance program. This program receives tire pressure data and automatically schedules a maintenance check-up.
Automated Tire Purchasing
Tire purchases require careful planning. Fleet managers need to find a balance between a fit with their business needs and a fit with their budget.
Fleets can find the best fit by using an automated tire purchase systems. These programs automatically trigger tire orders when current inventory is low. Tire vendors can then submit proposals. From here, purchasers can review tire specifications, cost, and warranty in order to make the best decision.
Want to learn more about these technologies?
Check out our Tire Pressure Monitoring System

Maintenance Management & Purchasing Software.
Sources:
Government Fleet: Managing Tire Expenses
Pamplin Media: What is a Tire Pressure Monitoring System
Truck News: Tire Prices Set to Increase
Waste DIVE: Michelin Adds RFID Tags in Tires to Provide Fleets with Cost-Saving Data
Consumer Reports: How to Save Money When Buying Replacement Tires