Telematics has come a long way from simply just GPS tracking. One of the top reasons so many of our customers reached out to us for help, was to reduce accidents and increase safety within their fleet.
Telematics is now highly used to reduce insurance and liability costs, by reducing the number of accidents that occur. Nowadays, a small fender bender can end up costing you $1,000 or more to repair – which is why so many fleet managers look into telematics for their fleet.
Telematics helps lower accident-related costs in four key areas:
Minimizing personal injury with in-vehicle audible coaching for speed and seatbelt use.
Reducing vehicle damage with in-vehicle audible coaching, promoting positive forward and reversing driving habits.
Improving general liability rates with monthly risk management driver scorecards.
Helping to manage driver-related workers' compensation claims.
With telematics coaching tools, we can encourage safer driving habits, such as: accelerating and braking smoothly; driving within the posted speed limit; and backing into parking spaces instead of reversing out of them. In the fleet world, we actually train drivers to reverse in when they arrive at a destination — it's much safer and greatly reduces the risk of accidents.
Telematics technology can also be useful after an accident, if unfortunately, one occurs. Instant accident notifications and detailed second-by-second data make it possible to take crucial and timely action steps. For example, if a vehicle has been hit while parked, our unique recording technology can help prove no-fault to the insurance provider.
To take accident reduction and elimination even further, check out our new Fleet Dash and Driver Camera Integration.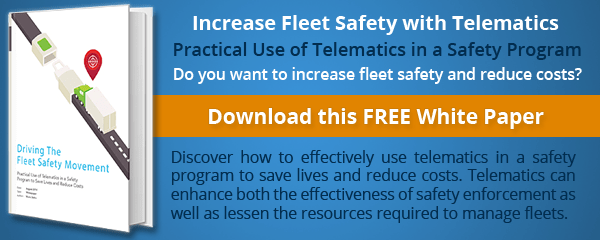 Source:
Geotab Blog: https://www.geotab.com/blog/telematics-benefits-greater-good/