Benefits of Using a Man Down System
Man Down System Benefits
Emergencies often occur all of a sudden. If you own a business, you surely need to ensure protection and safety of your employees. This becomes more important if your employees have to stay outdoors for longs hours. In such cases, man down systems can come to your rescue. These are modern day alarm systems that have gone a long way to shorten the time between trouble recurrence and rescue.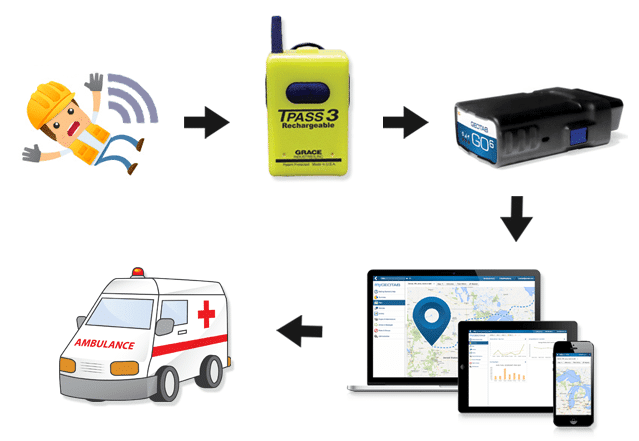 Thanks to their capability to detect the exact location of the individual, where he or she has encountered some problem, such devices can transmit the necessary information to the security centre from where help could be rendered in real time.
Man down systems use the best of hi-tech technology to relay such information. Thanks to them, faster communication is achieved and the location of the person in distress is determined with precision.
There are several benefits of using man down systems;
Firstly, they are handy devices with a panic alarm button, which requires the user to simply press it when they sense or face some kind of trouble.
Secondly, these devices give lone workers peace of mind by offering them maximum security. With the use of modern technology like ultrasound waves, infrared radiations and global positioning system, transmission of SOS calls and their reception becomes a fast process, which in turn ensures optimum security during times of duress.
The third best thing about man down systems is their automatic response. In an emergency situation, a worker may not be able to press the panic button in case he/she has become unconscious. This is when a typical man down system would use its sensors to activate its signal transmission automatically within 25 seconds. If a worker is still for some time and has an angular orientation of more than 45 degrees with the ground, the alarm is capable of sending signals on its own. For instance, if a worker is attacked or inhales poisonous fumes, and falls to the ground after becoming unconscious, after a brief beep, an alarm would be activated. The brief beep period acts as a warning to the wearer that an alarm will be activated soon. This way, activities that can trigger false alarms like when one is tying his shoe laces can be avoided.
Apart from being extremely reliable and capable security devices, the man down systems are also cost effective as you can install them at a fraction of what it would cost you to use other tracking measures like CCTVs etc. So, start using them today to offer your employees a secure way of working, which in turn would get reflected in higher levels of productivity.
Cellular or satellite based communication hardware is required to alert emergency contacts when working alone in remote areas. Typical 900Mhz and other radio communication protocols do not provide sufficient signal range to radio alerts in these man-down applications. For these applications an integrated system between a man-down system and a capable fleet tracking system offers the best economical solution. The cellular/satellite radio capability of the fleet tracking system offers a means of communication for a man down system to communicate an alert on emergencies. The fleet tracking system also offers the additional capability of knowing where to dispatch emergency response.
Working with Oil & Gas, Mining and Forestry industries, Go Fleet offers an affordable and powerful integrated Man Down and GPS Tracking solution. To demo or learn more about the solution visit Fleet Tracking System.