ELD Myths and Facts: Part 2
More Mythbusters
Last time, we saw the Mythbuster team test the myth of if a coin-drop from a tall building could kill a pedestrian. This week, we look at a common traffic myth: do "weavers" save time?
Let's face it. Almost all of us had to (or wanted to) rush to a destination. Some of us try to save time on the road by weaving into the least crowded lanes, much to the annoyance of neighboring vehicles.
Does this save time?
If you missed Part 1 of ELD Myths and Facts, check it out here.
Now let's look at Part 2 of common ELD myths.
Only Big Fleets Will Be Affected
In fall 2016, small and large business fleets answered an ELD implementation survey. The survey found that 81% of large fleets implemented ELDs while 33% of small fleets implemented ELDs.
The Reality
The mandate oversees any drivers who fill out Duty of Records for 8+ days over the month. This means that any business that falls within these guidelines, regardless of owning 1 truck or 1000 trucks, need to comply. This, however, doesn't have to be viewed in a negative light.
Here's a real life example. Ronnie Sellers is a business owner of a 3-truck operation. He was way ahead of compliance mandates and installed ELDs in 2011. He is satisfied with his decision and commented that he "would not run paper logs".
The ELD Rule Will Never Go Into Effect
Some people insist that the ELD mandate will be overturned. The mandate is heavily opposed by the Owner-Operator Independent Drivers Association (OOIDA). The OOIDA filed several appeals to a few courts and sent a petition to the Supreme Court.
In fact, in 2011, the OOIDA successfully challenged the mandate and delayed it. If it was thrown out before, does this mean that businesses should wait out to the last minute?
The Reality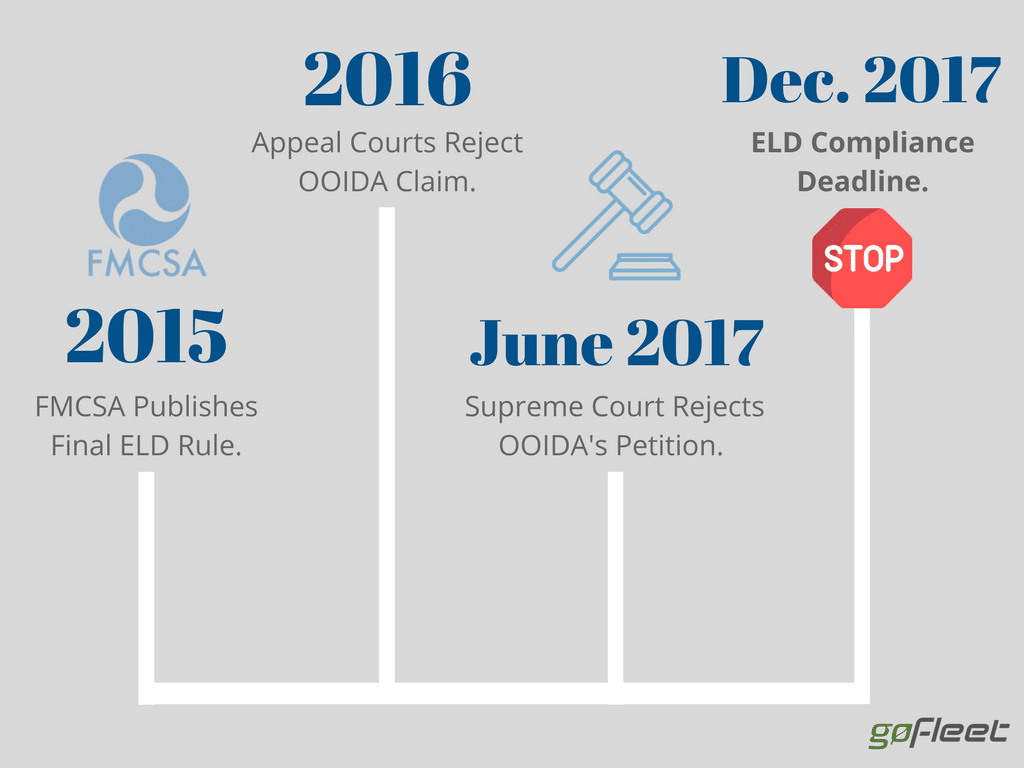 Since 2011, the FMCSA addressed concerns and released its final ruling. In October 2016, the appeals courts sided with the FMCSA and rejected the OOIDA's appeal. The appeals court ruled that ELDs are in the best interest for public safety and for law enforcement.
The last challenge opposing the mandate was the OOIDA's petition to the Supreme Court. The Supreme Court decides to only hear a handful of cases out of thousands of appellants. In June 2017, the Supreme Court declined to hear the appeal and ended OOIDA's challenge options.
The Cost of ELDs are so High That it Will Close Businesses
Truckers criticize ELDS as a cash grab. They fear that they will need to pay thousands of dollars for hardware and will need to pay heavy monthly fees. No one likes expensive bills, just like this angry driver and his traffic fine.
The Reality
Compliance does not have to break the bank or require tens of thousands of pennies. There are cost-effective ELD compliance solutions available.
For example, instead of spending thousands of dollars to re-wire trucks, businesses can explore options such as plug-and-play devices. These devices are a fraction of the cost of hardwired solutions and can be self-installed to reduce start-up fees.
Also, many businesses have found that ELDs provided benefits that outweigh costs. In a survey, respondents found that ELDs decreased log violations by 84% and helped control customer expectations for job times.
As well, these companies reported other benefits such as improved monitoring and usage of drivers, driver convenience, and a decrease in operating costs.
Join us next time for our trilogy finale as we share one last Mythbusters clip and tackle a final set of myths.
Sources:
MH&L: ELD Implementation Differs Between Large and Small Fleets
Trucks.com: Truckers Grapple with Switch to Electronic Logs
Supply Chain Dive: Courts Uphold ELD Mandate
Overdrive: Supreme Court Rejects ELD Appeal, Ending OOIDA's Challenge Options
Logistics Viewoiunts: ELD Survey: The Data, the Facts,
and How ELDs Affect Carriers