How Businesses Choose GPS Fleet Tracking Hardware
For businesses, choosing the right GPS fleet tracking hardware is a tough decision. In today's market, there are a lot of great options. How do fleets pick the right company?
Let's take a look at a survey. In this survey, businesses shared the most important factors when evaluating different solutions.
Survey of Important GPS Fleet Tracking Hardware Criteria
As shown by the survey, fleets look at multiple areas before finalizing a solution. Let's review some of the most important areas.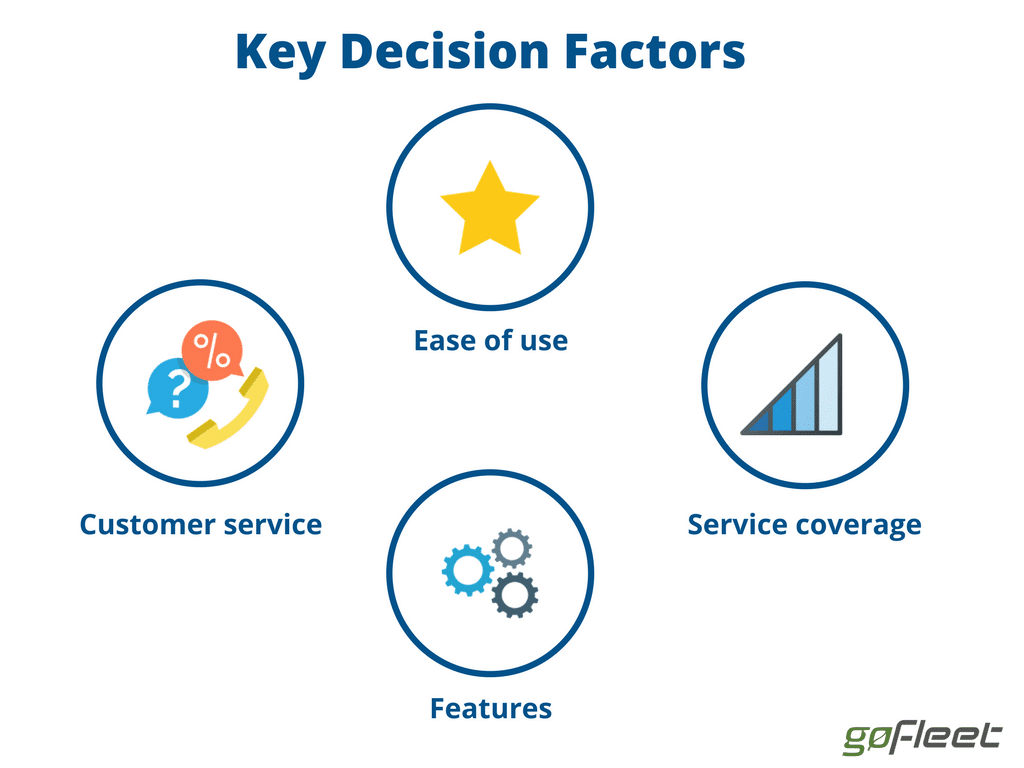 Ease of Use
Vehicle tracking should not be difficult. One of the key concerns for fleets is learning how to adapt to the program and how to teach staff. "Some of our staff struggle with advanced Excel reports", said a fleet manager. "We're looking for a program where it would be easy for our staff to design and view reports."
What is a good way to design easy-to-use reports? Here's a typical process. Fleets decide on which reports they care about the most. Then, they (or their provider) would create those reports. As a result, a clean dashboard of relevant reports would be presented.
Tarn Bhui is a Product Expert at GoFleet. "Users care about accessing the most useful reports," said Bhui. "By customizing reports and showing only those reports, fleets found the service to be easier to use."
Customer Service
Another big deciding factor is the level of customer service. As with any technology, there might be hiccups with GPS fleet tracking hardware and software. When this happens, who can provide quick and satisfactory support?
Every service provider has some sort of customer service. Another big factor, however, is getting support beyond solving technical problems.
For example, GoFleet proactively works with clients to help them succeed. "Everything is data-driven in our process," said Bhui. "Our clients set their performance targets. We would review performance trends and compare them with set targets. Then, our support team uses the data to make policy suggestions and ensure our clients reach their targets. Clients love our data-focused consulting."
Service Coverage
Service coverage is another big concern when it comes to GPS vehicle tracking hardware. Some people ask, "can vehicles be tracked at all times?". Some of these people were disappointed when they discovered that they didn't get service in certain areas.
It's important to pick a provider that has service flexibility. "In our process, we take a look at the areas where fleets operate", said Bhui. "Because we work with all major cell providers, we would use the best provider based on a fleet's operation area."
For some fleets, they go to areas without any cell coverage. How can these fleets still get service? In order to serve these areas, satellite tracking is used. Satellite tracking does not rely on cell signal and can track fleets that travel to remote areas.
Software Features
And of course, fleets care about what the device actually does. A lot of fleets understand that GPS tracker hardware does a lot more than location tracking. Some of the other common uses include driver training, dispatching, and maintenance improvement.
Because of the different options, one of the first steps is to ask what are the expected results of using vehicle tracking. Once this is figured out, fleet management solution providers can then recommend what features can fill project needs.
Link