Preparing for Winter with Snow Plow Trackers
Snow plow trackers are a great way to prepare for winter. And yes, as the Starks on Game of Thrones would say, winter is coming!
Snow plow businesses were extremely busy during 2016's winter season. Last winter saw a significant amount of snow. In fact, there were storms all the way into May. The biggest snowstorm of the year was Winter Storm Argos. Argos left several feet of snow in both the US and in Canada.
According to successful snow removal businesses, the most important best practices include:
Record keeping. Snow plow businesses need to keep an accurate record of when service was provided. In case of a dispute, effective records can save the business from liability.
Rules. Businesses need to set firm rules for their employees. Since employees are working remotely, they need to know what is acceptable. This includes payroll policies, driving policies, and vehicle use policies.
Safety. Employees need to be trained on how to operate equipment and how to be safe. Employees should also recognize when storms are too heavy and when service needs to be stopped.
Legality. Contracts are important. This is because contracts protect snow removal businesses from liability. A good contract includes things like service scope, snow pile areas, and slip & fall clauses. This ensures that both parties understand each other's responsibilities.
How fleets used snow plow trackers to prepare for winter:
Accurate record keeping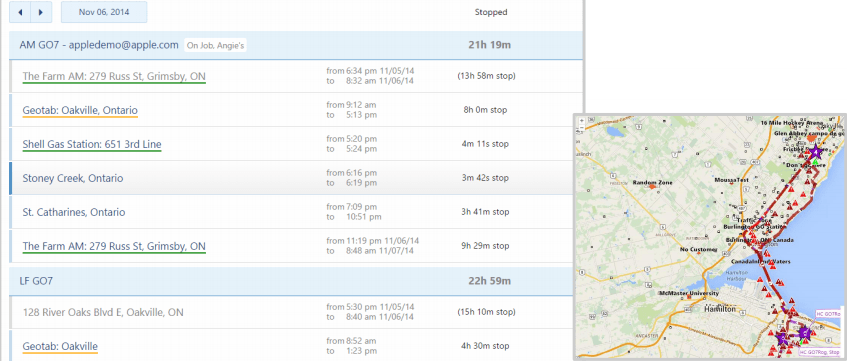 Snow plow trackers are powerful tools. They are able to show reports on where and when vehicles operated. In case there is a need to go back and check vehicle location history, these reports provide a good record.
For example, there was a snow plow company that received a customer complaint. The customer claimed that no service was ever provided. The company was able to retrieve records and verify that their vehicles were at the job site. As a result, the customer withdrew their claim.
Electronic Timecards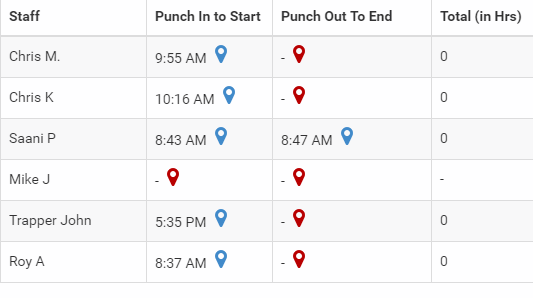 When it comes to timekeeping, supervisors need figure out their employee's work hours. In a perfect world, supervisors can rely on employees to accurately report hours. However, this doesn't always happen. Many companies were victims of time traud where employees claimed false hours.
Electronic time cards are a useful timekeeping tool. It helps verify that employee hours are accurate. This is done by checking when employees turned on their vehicles and when they are on the job site. This helped businesses increase payroll accuracy.
Spreader Control Monitoring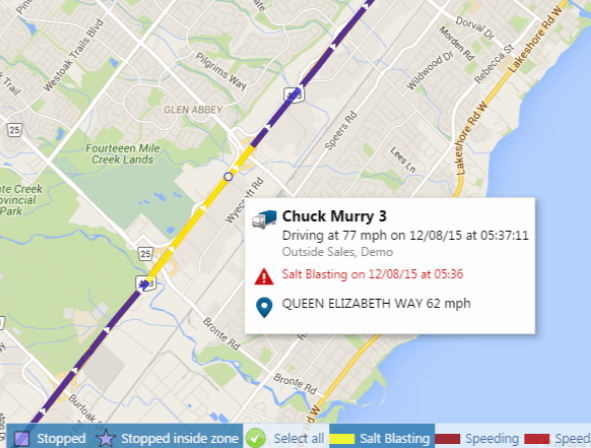 A huge issue in snow removal is preventing liability. Over the years, there have been an increasing number of court cases around road salting. These claims can get rather large. As a result, snow plow fleet tracking is being used to help defend against claims.
One of the most useful tracking add-ons is spread control monitoring. This tool provides a valuable range of data. For instance, businesses can get reports on which roads were salted, when it was salted, and how much salt was used. As a result, this gives companies an easy and cost-effective way to protect themselves in court.
Links
https://weather.com/storms/winter/news/winter-storm-season-so-far-january-2017
http://www.hortica.com/wp-content/uploads/2015/11/Snow-Cover.pdf
https://www.gofleet.com/snow-removal-winter-maintenance-vehicle-tracking-systems
https://www.gofleet.com/product/spreader-controller-monitoring/