GoBeacon Tour: Asset Tracking Beacons
Many businesses, even those without a fleet, need tracking services. For instance, some businesses have valuable assets and need to monitor them with asset tracking beacons.
In this post, we will tour asset tracking beacons.
Firstly, we introduce asset tracking beacons and their users.
Then, we explain how asset tracking works.
Finally, we highlight the most important software reports.
What are asset tracking beacons and who are their users?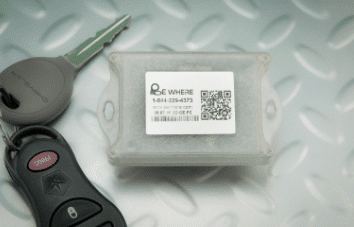 Asset tracking beacons are small asset tags. They monitor location data as well as other conditions such as light level, temperature, and movement.
GoBeacons, in particular, are designed for business use. The beacons combine a small 33mm x 41mm x 12mm size with a high quality multi-year battery life and durable manufacturing.
As a result, GoBeacons are used in a variety of different businesses. For example, some industry uses include:
Manufacturing: Warehouses use beacons to efficienize their supply chain by tracking inventory, tools, and equipment.
Medical services: Medics use beacons because they need to preserve and locate emergency assets.
Cold chain management: Food storage and suppliers use beacons to comply with food safety standards.
How does it work? (WiFi/Bluetooth Alternative)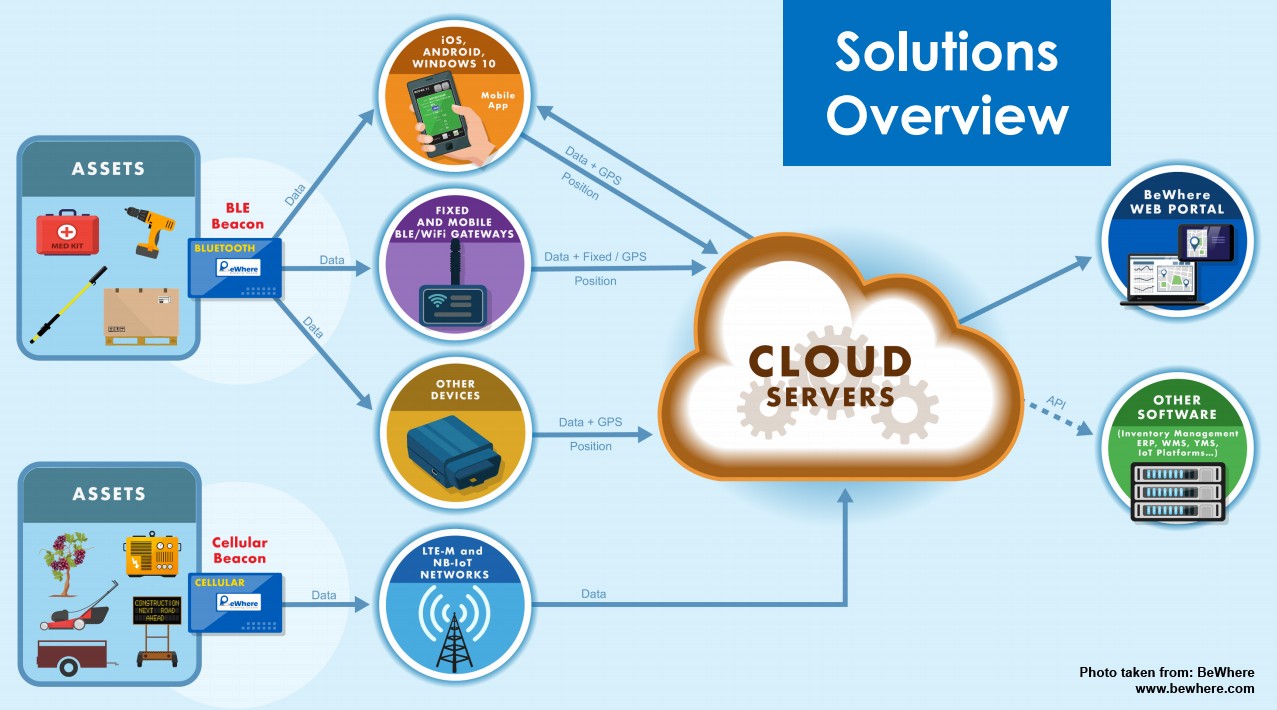 Wi-Fi/Bluetooth beacons have a 3-stage process including: installing devices, installing receivers, and logging into software.
Installing Devices
Firstly, beacons are installed onto an asset. Most installers choose to use zip ties or screws to secure the beacons. However, for discrete installations, some installers enclose the beacons in a case and sometimes use spray-paint to camouflage the unit.
Installing a Receiver
Secondly, a receiver is installed near the beacon. Receivers include tablet & smartphone devices, modem Gateways, and in-vehicle Geotab devices. Receiver devices collect data from beacons and uploads them onto the beacon software.
Using a Software
Thirdly, users log into a portal to view their assets. Users can access this data on either a standalone BeWhere portal or on an integrated myGeotab platform.
The Cellular Alternative
Another beacon device is the cellular model. The biggest difference between this device and the WiFi/Bluetooth device is that the cellular device contains a SIM card.
As a result, the cellular device works without a receiver and connect directly to asset tracking software. In other words, users can skip the second step in the WiFi/Bluetooth alternative where they need separate smartphone, tablet, Gateway, or telematics units.
Software Highlights
Finally, let's review some of the most important software features.
Dashboard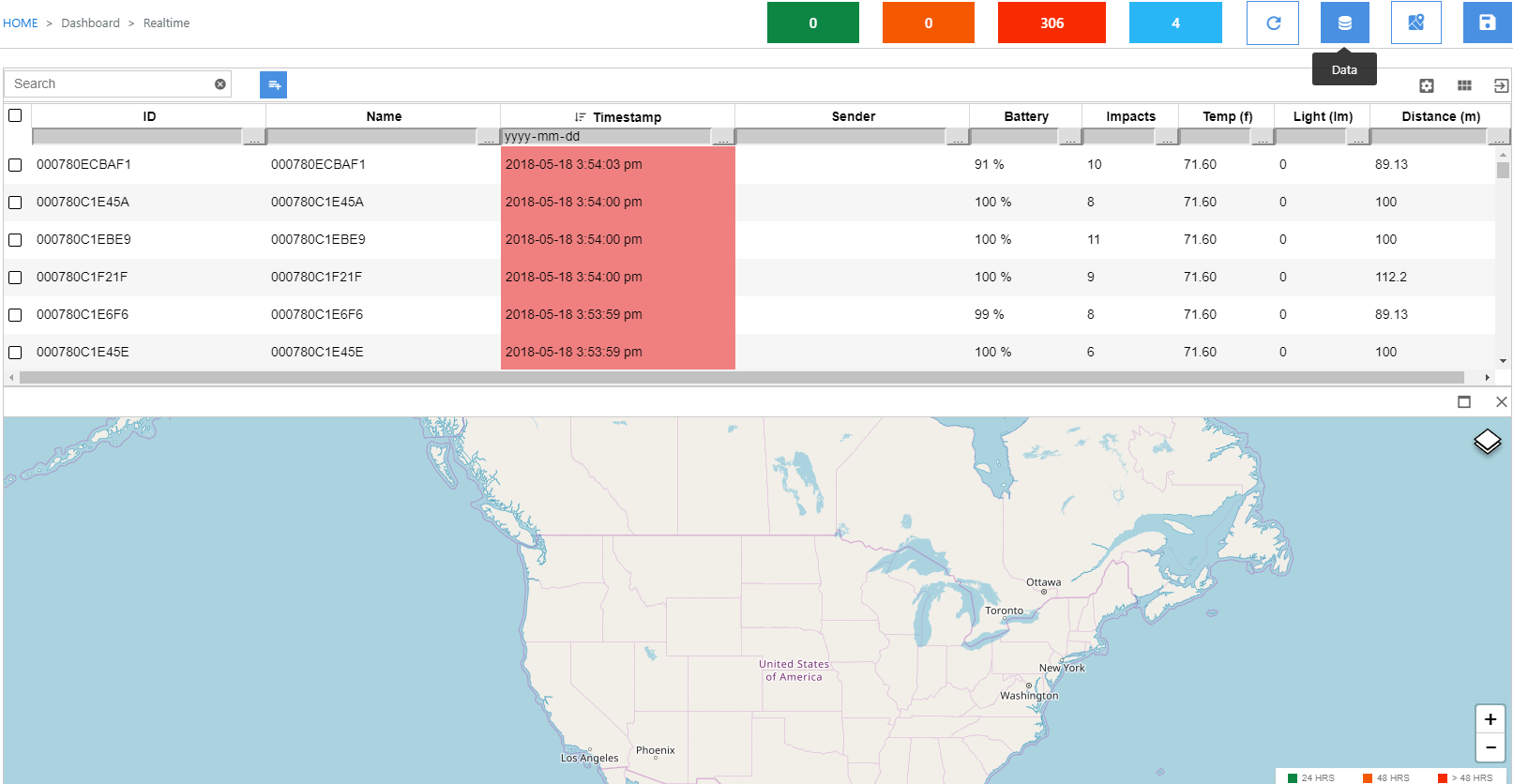 The Dashboard is the beacon's homepage. Users can view a list of all of their assets, see a live map, and review asset conditions.
Asset Map
The Asset Map shows all beacons on a live map.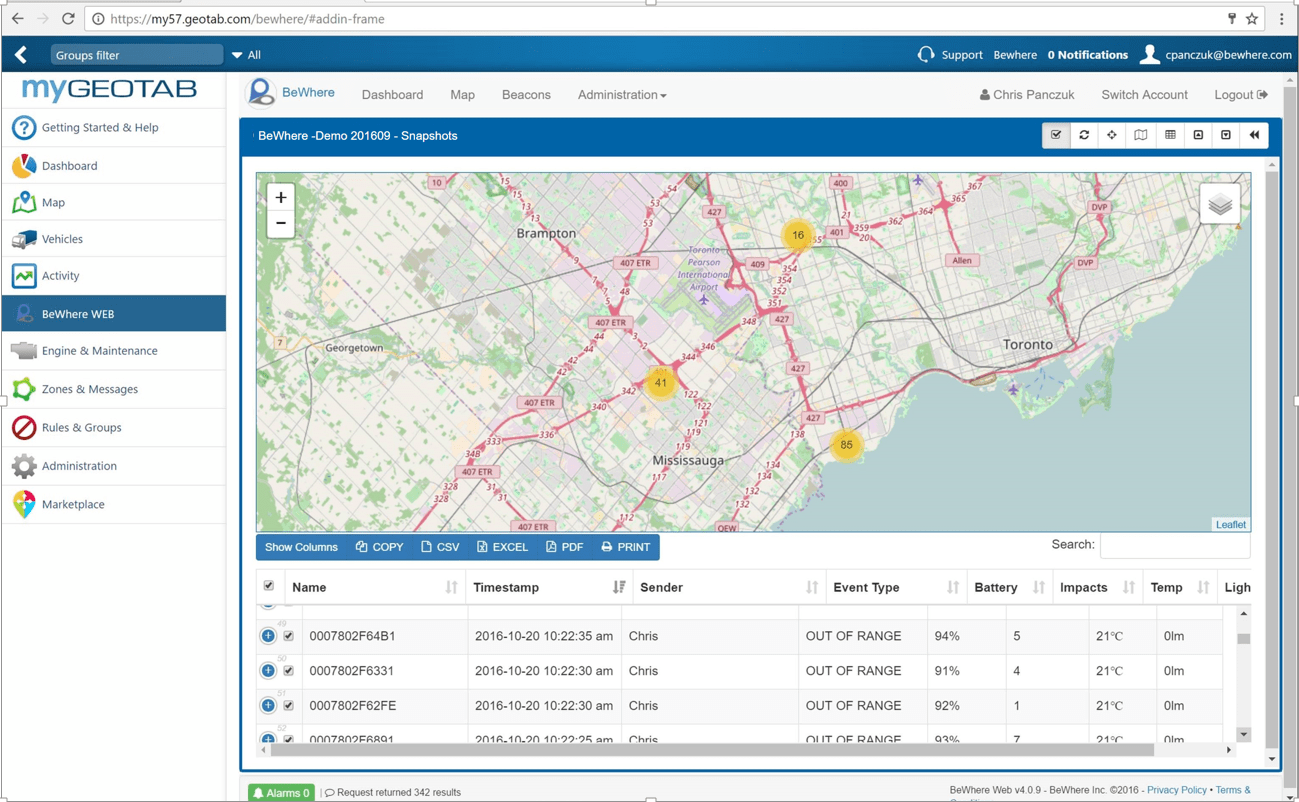 First, let's take a look at the web platform. The web portal's map displays beacons over OpenStreet or over satellite. It's a useful tool to take an asset location snapshot. For example, some businesses use this tool to check which facility contains a certain asset.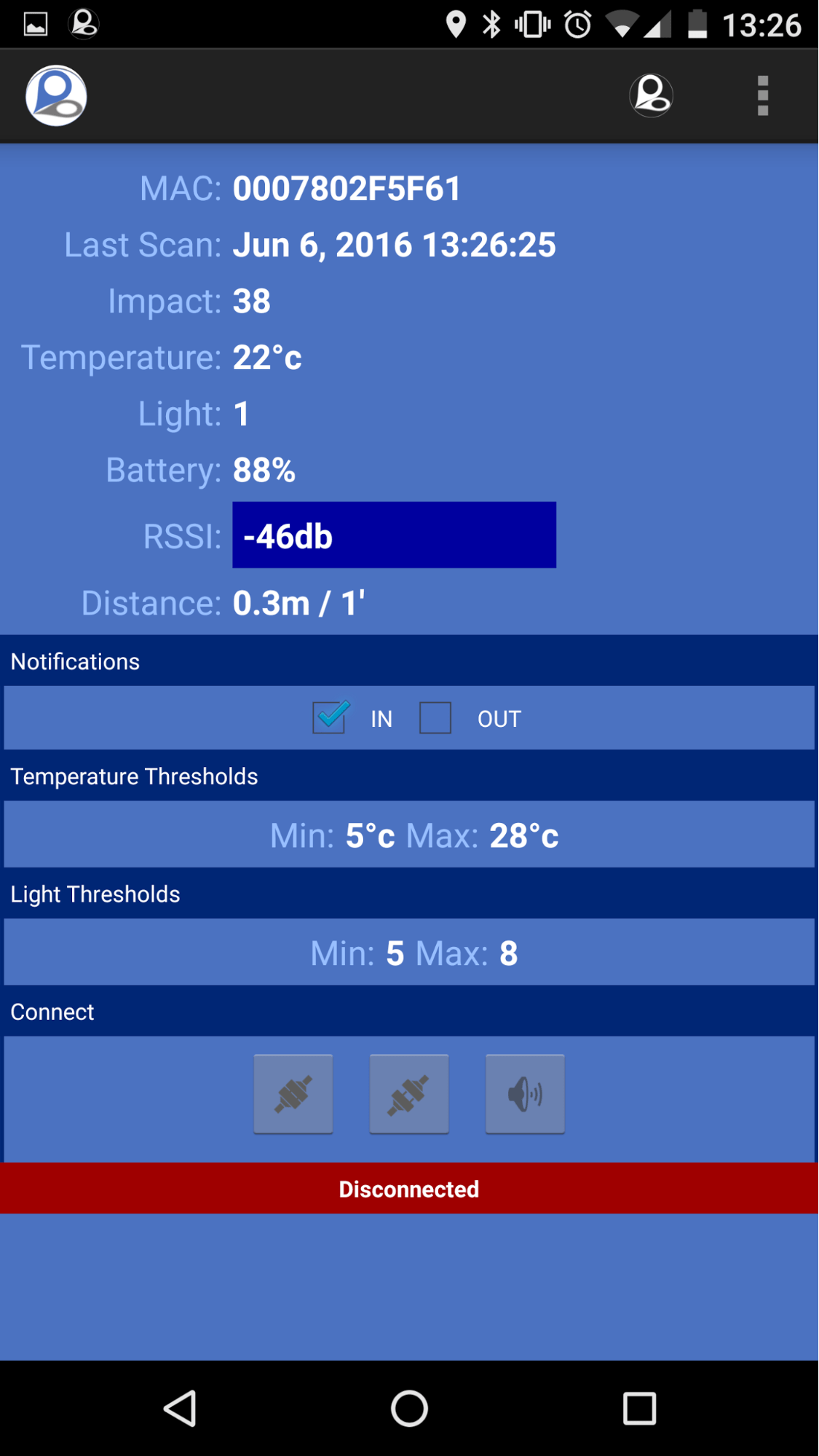 Second, let's take a look at the phone app. The phone app helps track individual assets. For example, if an employee needs to locate a specific asset, they would use the app to see a proximity indicator and activate the beacon's LED and buzzer.
Conditions Report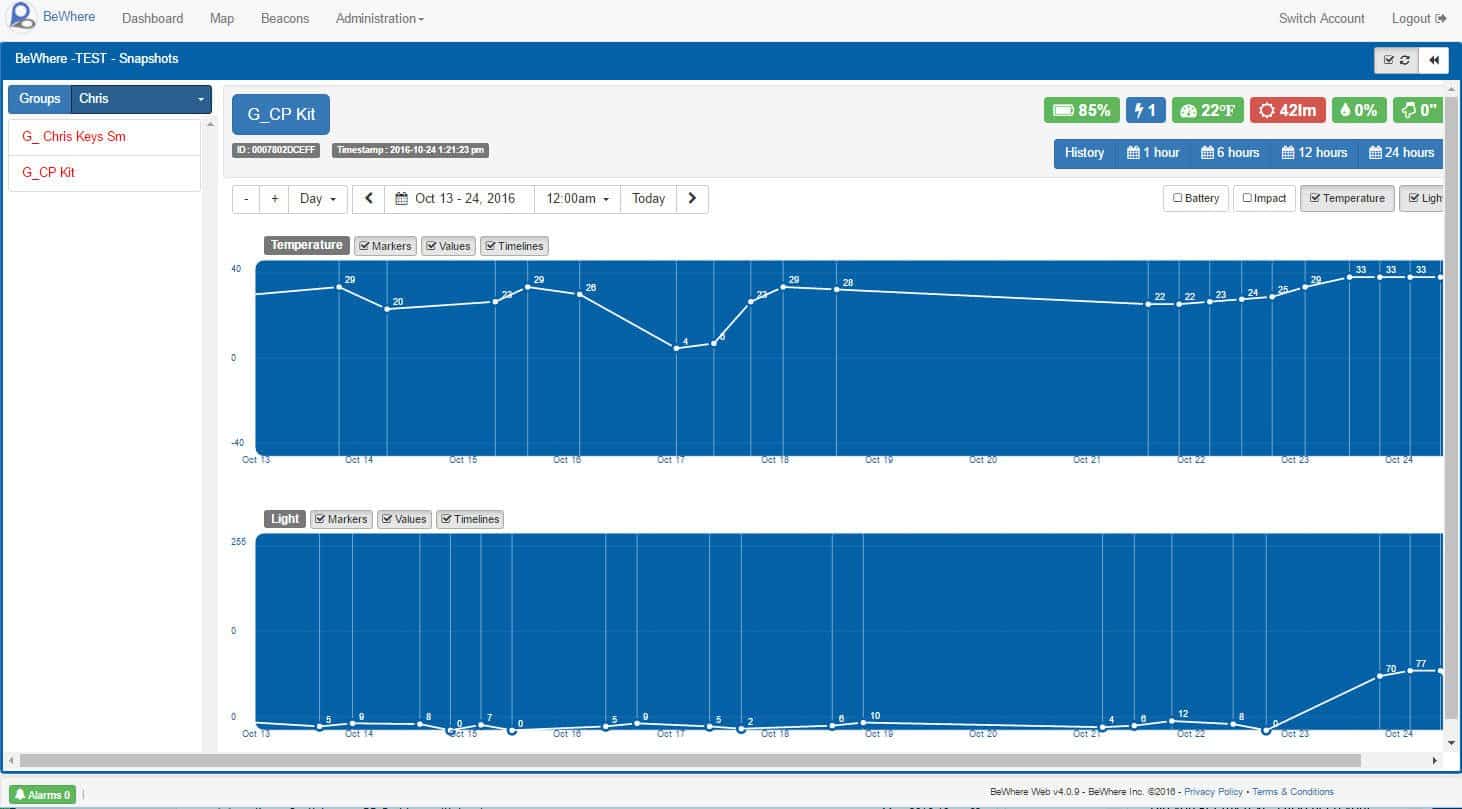 Finally, the beacon's Conditions Report collects non-location data. For instance, some businesses need to review an asset's temperature, light exposure, and crash reports.
Click here to view a GoBeacon presentation slide.
Links