ZenduCAM AD Plus – Dual Facing Dash Cam
Secure the safety of your fleets with real time video telematics solutions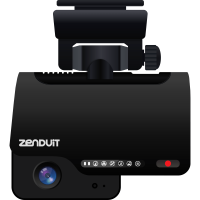 Take Control of Your Fleet's Operations and Safety
The ZenduCAM AD Plus Dash Camera seamlessly integrates with popular fleet management platforms like Trax and Geotab to improve your safety programs and fleet operations. The AD Plus continuously captures video events of drivers with AI and Advanced Driver Assistance Systems (ADAS) functionality, allowing fleet managers to review incidents in real-time to conduct on-the-go driver coaching.

Easy to Install
Get started in minutes with a plug-n-play 3 channel dash camera

Supports Live Video Streaming
Upload video playback and crucial events in real-time

All in One Coaching Application
Insights enabled for the Fleet Managers and Drivers

Harsh Driving Detection
Get notified of all critical road and driver-facing events

ADAS Enabled
Prevent accidents before they can happen

Driver Facing Camera with Facial AI
To authenticate drivers and detect risky driving behavior
Detect risks, prevent accidents
Using industry-leading Advanced Driver Assistance Systems (ADAS) and Advanced Computer Vision algorithms, ZenduCAM AD Plus Dash Camera detects unsafe driving behaviours such as distracted or drowsy driving, premature lane departures, tailgating and more, with high accuracy.
Book a Demo
Alert and coach your drivers in real-time
ZenduCAM AD Plus AI and Data Analytics models are designed to simultaneously monitor unsafe behaviors such as tailgating, speeding, no seatbelt, and other vehicle movements. In-cabin alerts are triggered based on critical events helping managers and drivers to correct their operations on the go.
Book a Demo
Take informed decision with in-depth analytics
ZenduiT's proprietary safety scorecards, risk reports, benchmarking tools and in-depth analytics offer holistic, real-time insights to help you understand how your fleet is performing, enabling you to prioritize safety initiatives, increase productivity and protect your bottom line.
Book a Demo
Use AI to automate driver assignment and authentication
ZenduiT's AI-powered Driver Recognition technology allows fleet managers to remotely identify the driver reliably, eliminating potential manual authentication schemes. Trips are automatically assigned to your drivers after authentication without manual intervention reducing administrative work.
Book a Demo
Facial AI to detect distracted driving
Powered by ZenduiT's Facial AI technology, dash camera can detect crucial driver distraction events such as drowsy driving, texting/eating while driving, driving without seatbelt with total accuracy. Our cameras can prevent multi-million-dollar lawsuits against your fleet that are often the result of driver violations.
Book a Demo
Easy to set up, simple to use
The dash camera comes with an easy-to-set-up plug-and-play installation which does not require any specialized training. The dash camera also comes with an additional third channel to connect another video camera which can capture video of what is happening in and around your vehicle.
Book a Demo
Technical Features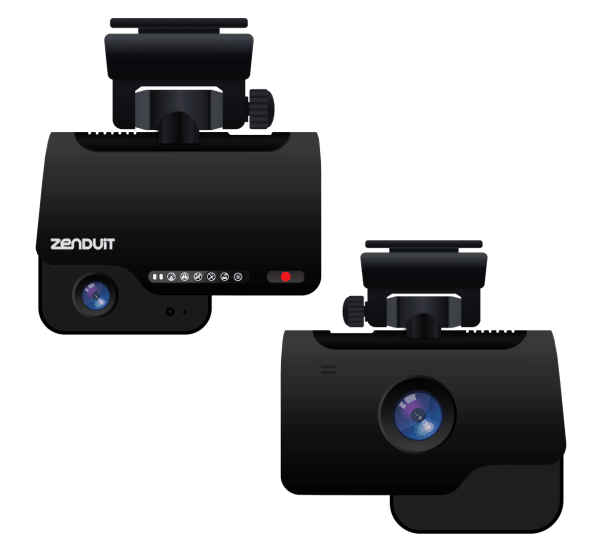 Supports up to 3 channels of video recording
Supports real-time tracking, live streaming, video playback, and event upload
Built-in AI event detection with ADAS and DSC capabilities
Harsh driving detection with 6-axis G -sensor (Harsh Acceleration, Deceleration & Sharp Turn)
Built-in Bluetooth, Wi-Fi, and LTE modules
Data retention for up to 1 year
Dual TF card storage with dual-stream recording (HD and SD Recording)
FAQ
What is a Front and Rear Dash Cam / Dual Facing Dash Cam?
A dual-facing dash cam (also commonly referred to as a front and rear-facing dash cam or front and rear dash cam) has one lens that faces the road, and a second lens positioned in-cab (facing the driver) in a single camera module. Attached to the vehicle's windshield or rear-view mirror, the camera simultaneously records events both behind the wheel and on the road, offering twice the efficiency – and twice the safety – of a singular lens.
Having the ability to view what's on the road, as well as who is behind the wheel, helps protect your drivers, your assets, and your business from risk and liability, from the most common to the unexpected..
When does the dashcam start recording?
The fleet tracking dashcam starts recording as soon as the ignition is turned on.
What events are captured?
This dash cam captures the events and risks that you consider important, including harsh braking, distracted or drowsy driving, speeding, and so on.
Can videos be live streamed?
The ZenduCAM AD Plus Dash Cam provides live video streaming capabilities, giving you real-time visibility into your fleet, drivers, and assets.
Can the dash cam record audio?
Yes, however this feature can be turned off based on your preference.
Is it possible to record at night or in lowlight?
The road-facing lens uses natural ambient light and leverages any artificial light from its surroundings. The driver-facing lens supports nighttime recording.
How is the dash cam installed?
The ZendCAM AD Plus can be installed on your windshield in seconds. If you're unsure about installing it yourself, we can help!
Documentation